Asian Baby Shower Theme Ideas

---
BABY SHOWER EBOOK:
PRINTABLE BABY SHOWER HOSTESS SURVIVAL GUIDE
---
Asian Baby Shower Theme Ideas
Asian theme baby boy baby shower may just be the perfect balance between cool and cultural.
Dinah Wulf creates a traditional Chinese party with creative and unconventional highlights. This baby shower includes favorite Chinese treats but also timeless and universal motherhood staples.
Asian Baby Shower Decorating Ideas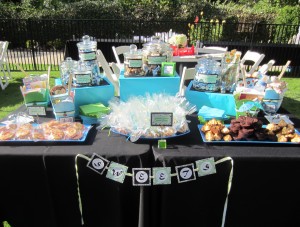 Since this baby shower is for a baby boy, traditional Chinese colors of red, golden and black were replaced by bright blues and greens. Dinah invested in blue trays to store the various desserts. She also invested in large jars of different shapes and sizes for this candy and dessert banquet. To keep everything accessible, Dinah changed up vertical placements for the desserts. Desserts located in the front are kept lower and lie directly on the dessert table. Dessert and candies located in the back are placed on top of boxes wrapped in sky blue paper. This makes the candies and dessert in the back higher vertically than the dessert in the front, which make for easy to manage reaching and storing. Paper napkins and utensils are also in greens and blues.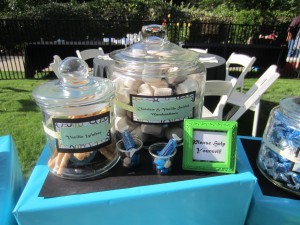 The jars are placed on a simple black cardboard paper on top of the boxes. To make the labels for the jars, Dinah cut out scrap book paper and cut out slits on both the left and right sides. She had a pastel green ribbon go through both ends to create a simple and stylish finish to the labels. All pieces of candies were coordinated in shades of blues. They included classics like Tootsie Rolls, lollipops, and Hershey's kisses. Guest tables and chairs were kept classic with black tablecloths and contrasting white chairs.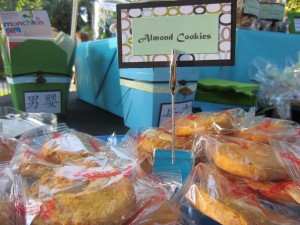 Asian Baby Shower Theme Ideas
To go along with the traditional Chinese theme, dessert menu included favorite Chinese desserts such as almond cookies, chocolate-dipped fortune cookies, and wafers. Almond cookies were individually wrapped. This makes for wonderful goodies to take home.
Center pieces included adorable take-out boxes. The take out boxes were either in sky blue or forest green. Ribbons, alternated colors of blue or green, lined the boxes and included beads and charms . Traditional Chinese letters spelling out "mother", "father" , "baby boy", "family" and "happiness" were written out onto the boxes.
Inside the boxes were little goodies for mom and baby-to-be and included basics such as small stuffed animals, baby bottles, pacifiers, children's books, and other small toys. There were also some baby onesies and socks!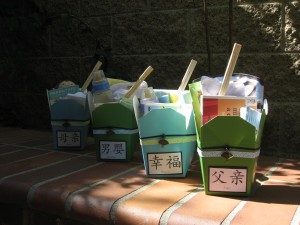 Dinah, this was such a wonderful welcoming to come across. To see more creations by Dinah Wulf vist her website : http://www.diyinspired.com
Article written by writer, Sara Khan
Shop for cute Asian Baby Shower Favors here.

---
Free Printable Miso Cute Onesie Iron-On


Free Printable Miso Cute Onesie Decal For Your Asian Baby Shower
Make an adorable "MISO CUTE Onesie"
Here's How: Buy a plain white or pastel colored onesie and iron on the term "MISO CUTE"
** I made a FREE sample of the wording which you can easily print from home! - Simply click on the wording to download onto your computer and then print it onto iron-on transfer paper (which you can find at any home store or craft store) Click on wording to download
---
Click the pic to grab this free printable of the popular "Guess the size of mommy's waist" game! Print, trim, pop into an 8x10" frame, place on a table with yarn and scissors - and you're all set! Have guests cut the yarn to the length they think will fit around mommy's belly! So fun!

---