How To Make An Adorable
Fondant Baby Animals Cake
---
BABY SHOWER EBOOK:
PRINTABLE BABY SHOWER HOSTESS SURVIVAL GUIDE
---
DIY Instructions for the Baby Animals Cake:

I first made a cream cheese pound cake so I would have a solid base to support the fondant and the animals.  

Then I used store bought fondant on part of the cake in the interest of saving some time.

And homemade marshmallow fondant on the other parts, such as the animals and the weaving on the bottom layer. 

The bottom layer is a 10" x 10" x 2" square cake, and the top layer is a 6" x 3" round cake.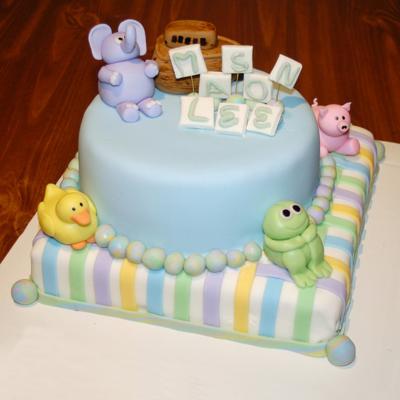 I love the contrast of using 2 different shapes of cakes. It is as if the top round cake is sitting upon a platform.

I covered the bottom square cake in white marshmallow fondant and then weaved multiple pastel colored strips into a basket weave over the white fondant.

After covering the top layer with baby blue fondant, I set it on top of my bottom layer and added hand rolled balls that I made by combining the left over strips from basket weaving.

I mixed it only partially to get a marbled look.

The top layer ended up covering almost all of the weaving that took nearly an hour to do.

I didn't think about it enough to figure that if I put a 6" round on top of a four inch square that I would only have 4" showing of the bottom layer.

It was originally going to be a "Noah's Ark" theme but I ran out of time to duplicate the animals which I made a day or two before with fondant and left out to dry.

The baby's name is on flat square block pieces that I made with gum paste and then placed them on silver wire at varying heights in front of the ark figure.

This is only the fourth fondant cake I have made and out of all of them, this baby animals cake is my favorite!
---
Reader's Comments For Baby Animals Cake

Just too cute!
by: Carol
This is the cutest thing I have seen in ages for a baby shower. I love the baby animals rather than plastic human babies all over the cake. I just wish you were closer because I have a baby shower to attend this month and I bet the planners would just love to have a cake like this for the mother-to-be!

Awesome
by: Kim
This cake is so cute it makes me wish I could have a baby shower to get one. Maybe I'll just aim for an invite. :o) Beautiful job, wonderful color combination.

Great Theme
by: Scott
Love the animals and the ark. Should be a winner here.

Adorable
by: Jane
This cake is so adorable. The letter blocks with the name is a clever idea.

lots of love
by: T Hill
It must have taken lots of love and time to make this adorable cake. Precious with all the hand made animals. Then the weaving of the ribbon absolutely perfect!!! And delicious!!!

Yummy
by: Anonymous
Wow now that cake looks sweet.
When you cut it send me a slice.
Great Job

TOOOO CUTE!!
by: Anonymous
I love this cake. Very cute and creative!

Love it!!
by: Anonymous
This is a great Cake! Artistic and a great use of color!
See more Animal Baby Shower Cakes
---
Click the pic to grab this free printable of the popular "Guess the size of mommy's waist" game! Print, trim, pop into an 8x10" frame, place on a table with yarn and scissors - and you're all set! Have guests cut the yarn to the length they think will fit around mommy's belly! So fun!

---