Adorable Farm Animal Cake Instructions
This cute Baby McDonald Farm Animal Cake was submitted by Trisha from Sherwood, AR. Below are her instructions for making the cake:
---

Farm Animal Baby Shower Pictures
Farm Animal Cake Instructions:
About 4 days ahead of time we made the fondant farm animals. I found a package from Michaels to make the farm animals with the correct colors and amounts you would need.


About 2 days ahead of time, we made the Gingerbread barn. My husband made a pattern for the barn out of paper. I used a Gingerbread cookie mix out of a box, rolled it out, and cut the pieces out using a pizza cutter.


We also cut out the windows and window shutters before baking. We let it set for a day and then glued the pieces together using Royal Icing.


The shingles are made from Graham crackers 100 calorie packs and glued on with the Royal icing.


The fence and food trough is made from pretzel sticks and Royal icing.


The hay is shredded wheat.


The grass is coconut mixed with a few drops of green food coloring.


The dirt is crushed graham crackers.


I made two 9x13 cakes, crumb coated, and iced them. Then we placed all of the parts where we wanted them. We iced the barn after it was placed on the cake with the straight side of the #47 icing tip to make it look like the wooden slates on a real barn. Then we trimmed off the barn with white icing.


Below are some detailed pictures of this cute cake!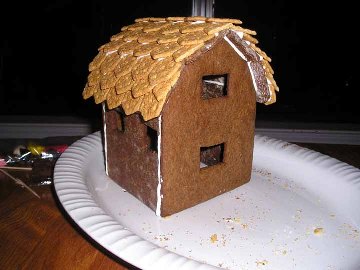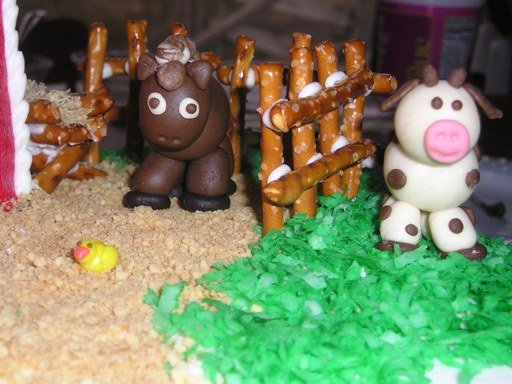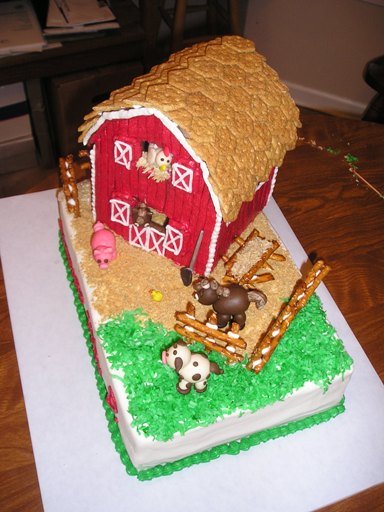 This cake is adorable and I am sure the guests just loved it! It is great the way you used Mason jars as the utensils holder and added the cute bale of hay with the cow on top. The farm animal theme is such a cute theme that allows for so many creative possibilities!
Some more cute farm animal decorating ideas are:
Serve chips in cowboy hats and place the dip on the top of cowboy boots.


Roll utensils in red or blue napkins and tie with strips of burlap or pieces of jute.


Cut cookies and sandwiches into farm-themed shapes by using cookie cutters.