Cute Butterfly Ideas And Party Supplies
Below are creative tips for decorating, food ideas, party supplies and favors. From time to time we come across outstanding companies that carry adorable products. If we feel that they will add value to your shower, we will recommend them and their cute products to you! Enjoy!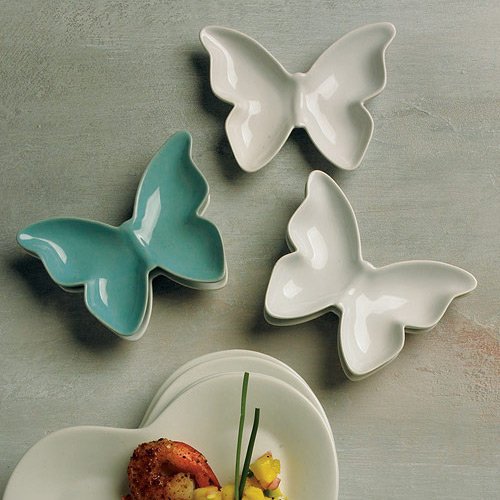 Cute butterfly dishes can be used for snack, dips, prizes or cute favors!
Decorations

Purchase artificial butterflies from a craft store and decorate plants, trees and shrubs with the cute critters
Hang butterfly nets around
Cut out cute butterflies and polka dots from pastel colored tag board or construction paper, tie thread through them and hang from the ceiling
Have butterfly shaped soap in the bathroom for guests to use
Fill a butterfly net with all kinds of cute baby essentials (onesies, socks, lotions, bibs and pretend butterflies) - use it as a centerpiece. This also doubles as your gift to the baby!

Float butterfly shaped balloons around the room

Place butterfly shaped floating candles in a birdbath or a large bowl of water
Flowers in pretty vases also make a beautiful presentation. Butterflies love flowers!
Always pay a visit to your nearest dollar store. Sometimes you can find real treasures there! Look for prizes, gift bags,
candles, paper goods, etc.


Food
Serve some cute butterfly cupcakes!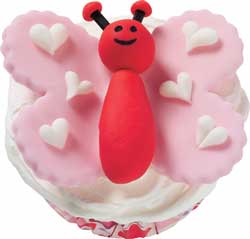 Prepare colorful foods such as fruits, berries and veggies - garnish with pretty flowers
Cut cantaloupe and watermelon into cute flower shapes using a mini flower cookie cutter. Skewer them onto wooden skewers and alternate between grapes and the melons

Favors/Prizes
Cut sugar cookies into cute butterfly shapes wrap in cellophane and tie with a cute bow
Wild flower seed packets make great favors
Place several Hershey's Kisses in pretty organza bags. Tie on a little butterfly tag or charm and attach a tag saying: Butterfly Kisses from baby to you!

Paint terra cotta pots and plant cute little flowers in them. You can also add an artificial butterfly too!
These adorable diaper butterflies were submitted by one of our readers! Click on the picture for complete instructions: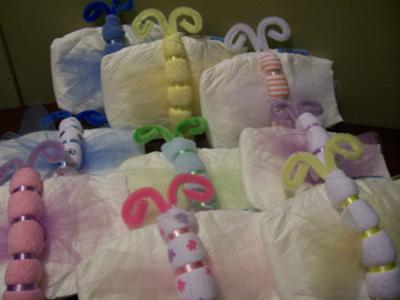 Where would you like to go next:

Return from Butterfly Party Supplies - See more Baby Shower Themes
We Have Tons Of Cute Butterfly Cakes