Survivor Baby Shower Theme
Jungle Theme
Host a shower with a "Survivor Baby Shower Theme" and Take celebrating to a whole new level
---
BABY SHOWER EBOOK:
PRINTABLE BABY SHOWER HOSTESS SURVIVAL GUIDE
---
If you're tired of the same old run of the mill baby shower, kick it up a notch and host a jungle baby shower! Just remember, if you are the hostess, be sure to consult with the mom-to-be to make sure this is okay with her! We've got a bunch of cute and clever baby shower ideas below!
At this "safari baby shower", guests will be challenged and forced to eat things they have never experienced before! Say goodbye to the norm! Have fun and remember, It's A Jungle Out There!
This crazy theme sarcastically symbolizes the "survival" of becoming a new mom! It is also perfect for a couples baby shower! Look at these adorable jungle-themed baby shower items! We thought they they would be the perfect solution to creating the cutest safari baby shower!
---
Survivor Baby Shower Theme
We made up some wild jungle water bottle labels and other cute jungle goodies - you can find them over at our printable site. Click on the picture to take a peek.

Jungle Baby Shower Supplies

---

FREE Printable Elephant Baby Shower Decorations


---

Decorations For A Safari Baby Shower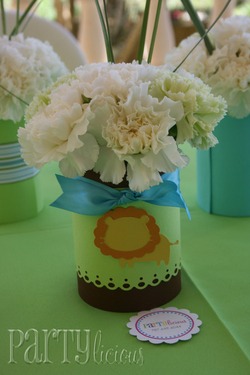 See pictures of this popular safari baby shower from Partylicious!
Transform this jungle baby shower into a total "Survivor-style" atmosphere! This works great for an outdoor baby shower!
Start off by adding stuffed monkeys and parrots to trees and bushes.
Place tiki torches all around to symbolize the "torches" on Survivor
Look for big leaves and greenery at your local craft store to give your party a jungle feel

Hand out safari hats

Have a bon fire

Play survivor style jungle music


Jungle Baby Shower Food

Serve mock Mai Tai's for the mom-to-be (and real one's for the guests!)
Have a BBQ with teriyaki chicken and pineapple skewers served over rice.
Have a coconut cake (since this is what most of the Survivors eat while they're out there)
We have several cute jungle cakes in our cake gallery to inspire you! (click on pictures to see the cute cakes and get instructions for making them!)
Be sure to take a peek at all of our Jungle Diaper Cakes
---

Games, Prizes and Favors For A Safari Baby Shower


Play the "food challenge" game where blind folded guests have to guess which type of baby food
they are eating.


Play the limbo game


Play the dirty diaper game


Hand out "survivor bandannas" (like they receive on the show) as favors. If you want to go a step further, wrap a little gift inside like gummy worms, gummy bugs, chocolates, soap or candles.


Kind of silly but... for prize ideas, hand out items the Survivor contestants on the show win in challenges. Rice, matches, water, snack foods, etc.
---
Click the pic to grab this free printable of the popular "Guess the size of mommy's waist" game! Print, trim, pop into an 8x10" frame, place on a table with yarn and scissors - and you're all set! Have guests cut the yarn to the length they think will fit around mommy's belly! So fun!

---