Baby Shower Hostess Survival Guide -

The Best Baby Shower 
Ebook & Printables
- 
To Save You Time & Money
---
Baby Shower Hostess Survival Guide


If you are looking to take your baby shower planning to the next level, we have created an amazingly helpful Survival Guide filled with tons of printable goodies and fun ideas!

We bundled the cutest, most requested ideas from our website and created printable water bottle labels, favor tags, labels, activities and more!
By the time we are done with you, you will be all set to host the perfect (low-cost) baby shower!
---
The baby shower hostess survival guide is bursting at the seams with popular baby shower ideas, printable decorations, 17 best-selling games, scrumptious recipes and so much more!
HERE'S THE FULL SCOOP ON WHAT'S INCLUDED: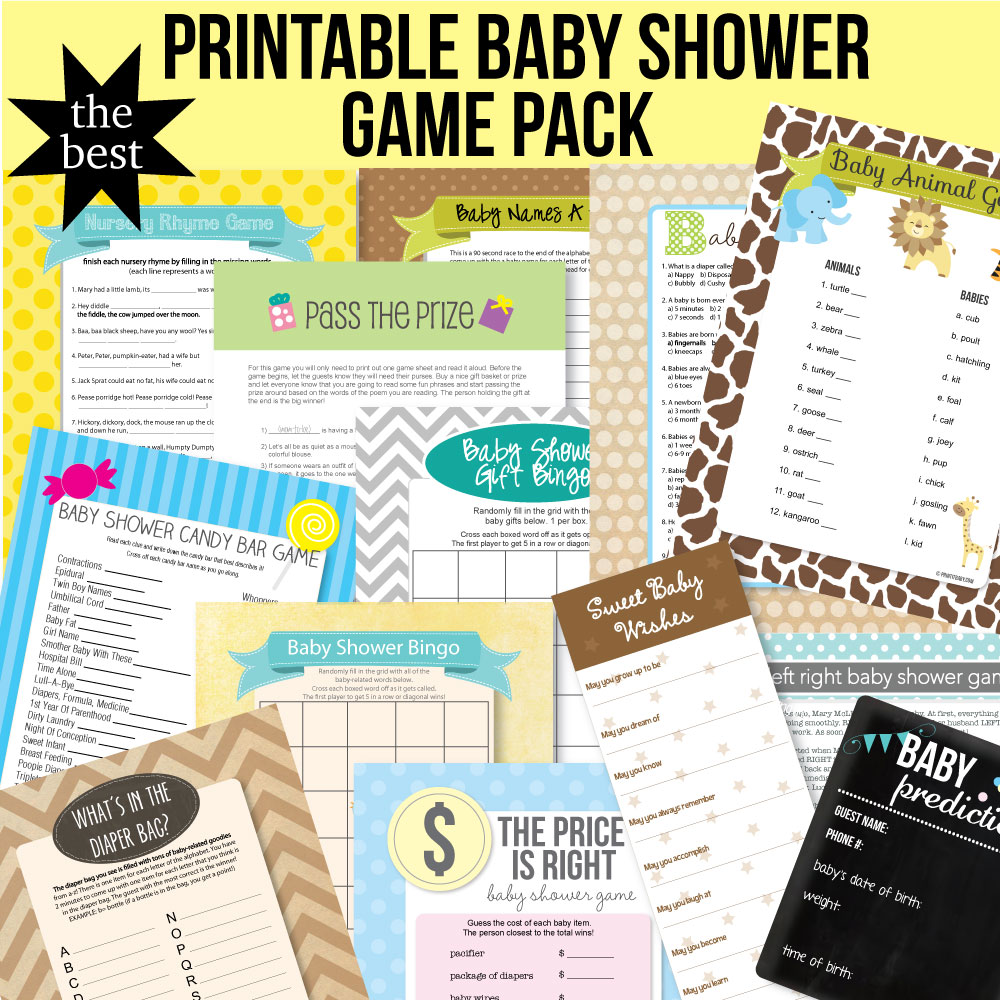 17 Printable Games: You can cross baby shower games off of your to-do list  - we have included our mega pack of best-selling, printable baby shower games - all which will make your planning so much easier! Instant access. No waiting.
---
Printable "Gift List" Tracker
A printable, 8.5x11" gift tracker list to keep track of all of the baby shower gifts and who brought them. This makes writing thank you cards a cinch! And... It is so much fun to tuck this away in the baby book and look at it years later! Print off as many as you need. Comes in black and white polka dot.
---
Printable "Books For Baby" Cards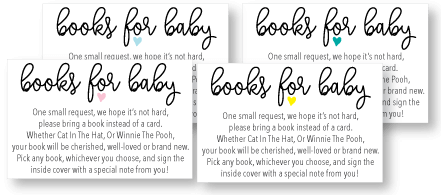 "Books For Baby" cards are the latest trend in baby showers! They are the perfect way to stock the baby's library with classic books.
Tuck a card into each baby shower invitation before sending them off. This lets guests know that they can bring a book instead of a card. The saying on the card is:
One small request, we hope it's not hard, please bring a book instead of a card. Whether Cat In The Hat, Or Winnie The Pooh, your book will be cherished, well-loved or brand new. Pick any book, whichever you choose, and sign the inside cover with a special note from you!
Each card measures 2.25 x 3.5" and comes in yellow, blue, pink and teal - to match any theme. Print onto white cardstock. You can print unlimited copies. 
---
Printable "Wishes For Baby" Cards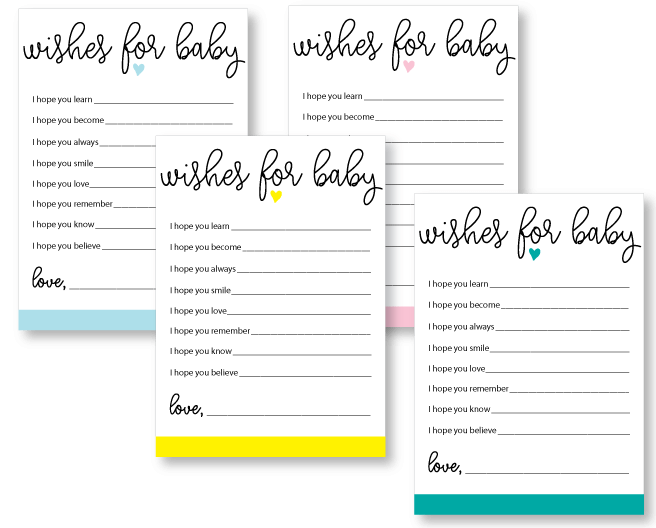 This is a sweet way for guests to give the baby their well wishes and advice. Tuck the "Wishes For Baby" cards in the baby book for years of cherished memories. Cards measure 5 x 7" and you can print as many cards as you need. Pink, yellow, blue and teal cards are included. 
---

CUSTOMER LOVE
My baby shower was a hit from start to finish !!! Thank you so much for sharing your creativity. I followed the Baby Shower Boot Camp instructions. I purchased the Baby Shower Party Pack ($19.95) and it was well worth every penny. I was hesitant to purchase it at first, but it certainly saved me time, money and a ton of stress. I could go on and on, but I'm sure you receive hundreds of emails expressing similar gestures of gratitude. Thank you so much for your expertise and genuine gift for making showers like ours a success. This is the first baby born in our family in nearly 14 years. - Nikki


---
Printable Mini Champagne Labels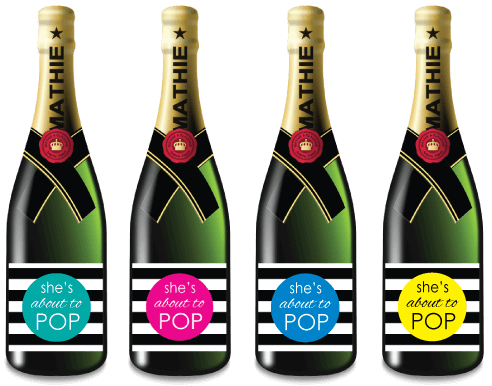 These mini champagne labels make the perfect baby shower favors and you can jazz them up by tying a bow and cute straw to each one. The label colors you will receive are teal, yellow, pink and blue and they measure 3" x 2". Print onto sticker paper (a full label sheet,) cut out and apply to 175 ml mini champagne bottles.
---
Printable Diaper Raffle Cards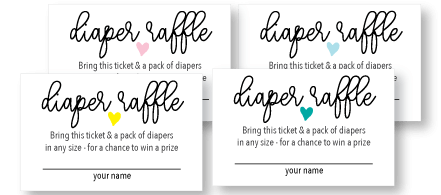 Tuck a diaper raffle card into each invitation to let guests know they can bring a package of diapers if they would like to be entered into a diaper raffle. This is a wonderful way for the mom-to-be to stock up on diapers, and it gets the guests excited to win a prize!
The cards measure 2.25 x 3.5" - come in pink, yellow, blue and teal - and you can print unlimited copies.
The wording on each card is: Bring this ticket and a pack of diapers in any size - for a chance to win a prize.
---
Printable Favor Tags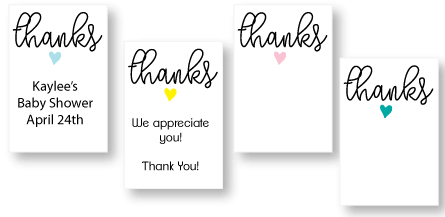 You can customize these favor tags with any wording you would like (the "Thanks" part cannot be changed.) Add to favors and prizes! Colors included: pink, blue, teal and yellow. Tags measure 2 x 3" and you can print unlimited copies.
2 easy baby shower favor ideas are:
Champagne Favor Idea: add the tags to the mini champagne favors (above) with the wording: "Baby ____ is almost here! When you hear the news, open your bottle and give a cheer!" 
Hershey's Kiss Favor Idea: print off the candy kiss labels (below) add to the bottom of Hershey's Kisses, bundle up the Kisses in a cellophane bag, add a cute bow, place the bags in the paper treat cones (below) and add a favor tag that says "Kisses From Baby!"
---
Printable Candy Kiss Labels

Hand these cuties out as baby shower favors, or place in candy dishes on the tables at the baby shower. Come in pink, yellow, blue and teal - print as many as you need!
---
Printable Water Bottle Labels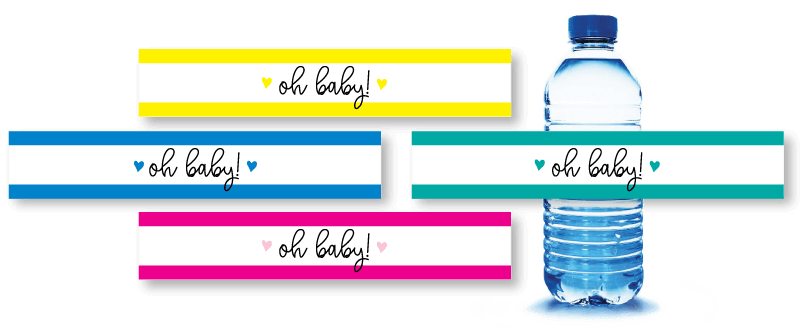 Turn ordinary water bottle labels into festive decor by adding these printable baby shower water bottle labels. Print, trim, add to water bottles and you're all set! Come in yellow, pink, blue and teal. Print unlimited copies.
---
Printable Treat Cones
These treat cones are so easy to assemble and they make the cutest favors or snack holders! My favorite way to use them at a party is to have them next to a candy station - where guests can scoop assorted candies into their cones! Come in pink, blue, teal and yellow. 
---
Baby Shower Ebook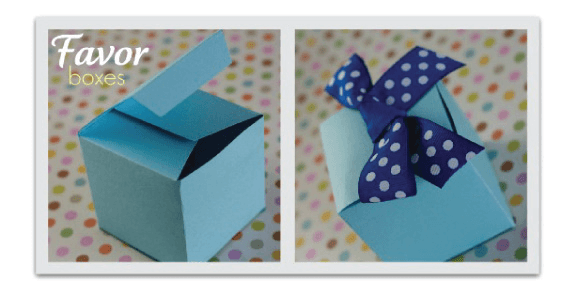 Last but definitely not least is the 6 page ebook that is overflowing with scrumptious recipes, popular decorating ideas and fun templates - such as the favor boxes above!
---
CUSTOMER LOVE

Love your site! Buying party theme packages is very convenient and takes the worry out of planning a great event! Your site raises the bar by making all your needs downloadable and you can't beat the price for all that you get! I also love the creative ideas and tips that are available on your site! I would love to see bridal and wedding themes! I'm posting your link on my Facebook page! - Leslie

---
Get The Baby Shower Hostess Survival Guide
All of your worries taken away in an instant! No more activities to plan, no more menu planning to worry about, favors will be taken care of! Your stress will melt away!
Your items with be emailed to you as soon as you place your order - AND ... you get to keep everything forever - so you can print off tags, labels, etc, anytime you have a baby shower! 




---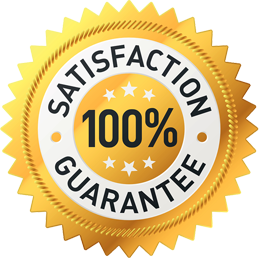 We offer a 15 day, hassle free, refund policy

SEE MORE FUN PRINTABLES FROM THE SHOP


Home

› Baby Shower Ebook