Cowboy Diaper Cake
by Jacqueline
(Nashville)
This cake is made with 66 pampers swaddlers, a baby bottle, 3 custom burps and 2 Christmas ornaments.


How To Make A Horse & Buggy Diaper Cake
western diaper cake
by priscilla sandoval
(vernon tx )
This is a cute 3-tiered western diaper cake with the baby's name on it.

Roll each diaper up and secure with a rubber band. Bunch all of the rolled diapers up and secure with a cute ribbon that matches the theme of the diaper cake.

Do this for each tier of the cake - using less diapers for each tier.

Add embellishments such as a badge, a cowboy hat and some shredded kraft paper.

You can even add using baby items that the mom-to-be will need once the baby is born. These items could include: nail clippers, baby booties, socks, onesies, baby shampoo, baby bath wash, soap, lotion, a baby brush, and maybe even a cute western-themed baby outfit.

This diaper cake makes such an adorable centerpiece! It not only makes a perfect baby shower decoration - but also a wonderful gift!

Some other cute ideas for a western-themed baby shower are

*to serve cookies and have a little sign labeled "Cow Chips."

*Use bandanas for placemats and napkins

*You can even wrap silverware in bandanas and tie with a cute ribbon

*Serve chips out of cowboy hats

*Place a vase of flowers inside a cowboy boot

be creative and have fun!

Join in and write your own page! It's easy to do. How? Simply click here to return to Diaper Cakes.
Blue Country Western Diaper Cake
by Becky Dixon
(Tell City, IN)
Cowboy Diaper Cake

Hello, I make diaper and towel cakes of all sizes and styles. I thought I'd share some of my designs.
Join in and write your own page! It's easy to do. How? Simply click here to return to Diaper Cakes.
WHAT'S NEW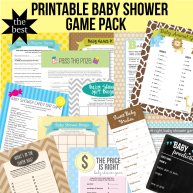 Get instant access to our popular baby shower game pack - 17 baby shower games that you can print from home! We picked the best games - baby shower bingo, the price is right, left right game, candy bar game, baby animal game, pass the prize, baby shower mad libs, baby predictions, sweet baby wishes, and more! It's all over at our printable site PrintItBaby.com ...