Pink Diaper Cake
by Katherine McEachin
(Walden, NY)
Pink Diaper Cake


How to make a Diaper Cake:
I made this cake from 60 rolled diapers (secured with rubber bands), the layers are held together with cake dowels.
I wrapped the baby blanket around the bottom and secured with straight pins (with colored balls on the ends so they are easy to remove).
I used ribbon and pre-made bows to decorate it and secured the ribbon by using glue dots (only on the ribbon, no glue dots on the diaper)
The bunny on top is secured using the straight pins. The base is a cardboard cake round covered in Fanci-Foil. Included with the diapers is Desitin, a bottle of California baby shampoo/bodywash & a bottle of california baby lotion.
I have a diaper cake business and this cake was ordered by one of our good friends for her daughter-in-law.
It was so much fun to make (which is why I went into this business!) and even more special to be making it for a dear friend!
Elegant Yellow Poppy Diaper Cake
by Jennifer Salle
(Yuba City, CA)
Elegant Yellow Poppy Diaper Cake

With this 3 tier cake I used 92 Pampers newborn diapers. I used my cake pans size 12, 9, and 6 for easy assembly. I strategically layered the diapers in the pan until the correct fullness was achieved then secured with a elastic cord for easy removal. I continued this on the other tiers.

I found coordinating yellow with white polka dots gross grain ribbon and yellow poppies. The ribbon is secured by glue dots for easy removal and the flower stems are pressed into the diapers for stabilization and easy removal as well. I like to keep things simple, yet elegant.

Baby Sophia Diaper Cake
by Nathalie D
(Wellington, FL)
Pink and Brown Baby Diaper Cake
I made this Baby Sophia Diaper Cake with size 1 Pampers Swaddlers diapers.

I bought a 92 ct box but did not use all of the diapers. I will give my friend the remaining diapers along with her present so she'll have the complete box.

The middle is supported with a 12 inch plastic cake dowel.Three diapers are wrapped (jelly roll style) around the top-middle-bottom sections of the dowel and secured with rubber bands.

The remaining diapers are also rolled up and secured with rubber bands (each). I started by building the bottom layer first. Each row of diapers is secured with white ribbon to hold them together.

Once I constructed a 3 tiered cake, I stuffed matching tissue on top and placed a baby doll snuggly in them middle (with matching hair bow on top).

I decorated ear tier with ribbon and also made a ribbon with baby's name on it for the baby doll to hold so the baby's name could be displayed on the cake (mommy-to-be was not sure if she wanted to share the name at the time of her shower so the ribbon was not permanently affixed).

This cake was so much fun to make!
A Purple Pearle Diaper Cake
by Angela
(Encino, California)
A Purple Pearle Diaper Cake
A Purple Pearle Diaper Cake

I made a traditional cake using pampers size 1 diapers. I rolled up the diapers and and used product in the middle such as baby powder and shampoo.

I wrapped a baby blanket around the bottom layer and used baby clothing to decorate around covering he diapers.

After the cake was complete I added accent decorations such as crystallized pacifiers, little boots, ribbon, flowers, and my signature letter of the baby's name.

I placed the final product on top of a hat box I found at a local store where more babies clothing was displayed.
Princess Theme Diaper Cake
by Jamie Budda
(Wilkes-Barre)
This is a 4 Tier Princess Themed Diaper Cake.

It was baked using 200 disposable diapers, 1 Keepsake Pillow, 1 Pair of Baby Booties, 3 Johnson & Johnson Travel Packs, 6 Washcloth/Spoon Lollipops, 2 Bibs, 3 Bodysuits and topped of with a Porcelain Disney Princess Carriage Money Bank.

The cake is trimmed in pink ribbon with thin gemstone ribbon, pink straw paper as icing, 1 wooden princess crown and 1 wooden princess plaque.

Baby Girl 3 tier easy diaper cake
I rolled diapers and placed small rubber bands around each one. I put the diapers standing upright side by side until I made the tier as big as i wanted and to secure them in place I wrapped the tier tightly with a receiving blanket using a safety pin to hold the blanket in place.

I did that with each tier, i added a few outfits and wash clothes etc hidden within the diapers in each tier as well. I then used flowers with clips to hold them in place on the top and cut out and used glue dots to stick the letters to the receiving blankets.

I bought some pacifiers and just sat them on one tier and i used the glue dots to stick the baby product samples along the baseboard as well.

Overall it gave it a clean finished look, it was very easy to do :) In fact this was my first time ever attempting to make a diaper cake and the person I gifted it to LOVED it :)

Baby Girl 3 tier "easy" diaper cake
Join in and write your own page! It's easy to do. How? Simply click here to return to Diaper Cakes.
Baby Girl Four Tier Diaper Cake
by Relda H
(Winter Haven, Florida)
How to Make This Baby Girl Four Tier
Diaper Cake...

I made this cake for my daughter's baby shower.

I rolled 110 newborn diapers.

Formed each layer and wrapped and tied it with ribbon.

Added a bottle, a bib, a receiving blanket and baby washcloths, socks and booties helped to add to the cakes "Fantasy of Pink".

The embellishments are too numerous to count (it was for my granddaughter, so there was a lot of extra).

Decorations included baby scrapbook stickers to brighten it up and make it more interesting.

The top is a small Baby's First Doll and a little girls wand.

I included silver baby charms as well.
Baby girl diaper cake
by Tina Estep-Bowles
(St. Albans, WV, USA)
Ingredients:

85 disposable diapers (sz. 1)
(4) receiving blankets
(2) sets of diaper pins
Baby bottle bank: Contents - vinyl bib, snack cup, powdered milk container, key rattle, key rattle, brush & comb set, baby bottle
(2) pair Baby Phat booties
(1) pair pink newborn clogs
(6) rubber-tipped feeding spoons
Trial sizes of:
Baby shampoo
Baby wash
Baby powder
Baby lotion
Desitin
Comb & brush set
Nail clippers
Medicine dropper
(3) freezable teethers
(1) pacifier clip
(2) pacifiers
(6) head bands
(1) nasal aspirator
(1) rubber-tipped fingertip toothbrush & case

Roll diapers and secure with rubber bands. Using baby bottle bank as center support, layered diapers around and secured with large rubber band. Folded receiving blankets, two on bottom layer and one each on second and third layers, and secure with diaper pins. Wrapped different ribbon around each layer. At first I attached all the little goodies with double-sided tape, but some were a little on the heavy side for tape, and I hit them with a spot of hot glue and it worked fine and held up well.

Got lots of compliments, and mom-to-be was absolutely thrilled!

Baby girl diaper cake
Join in and write your own page! It's easy to do. How? Simply click here to return to Diaper Cakes.
Pink and Green Cakes Made From Diapers
by Amber E.
(Troutdale,Or.)
Pink and Green Diaper Cake
Pink and Green Cakes Made From Diapers

I made these diaper cakes for my uncle's girlfriend and her sister in law, whom I'd never met before the double baby shower.

They are due 10 days apart. They had no themes for their baby girls on the way. I made a 3 tiered diaper cake for each of them out of 1 pkg. of size 2 Huggies pure & natural diapers.

I like them because they are quality diapers with less dye than most others.I used a poster tube for the support in the middle and cardboard cake circles for in between layers and bottom of cakes. I rolled each diaper with goody clear rubber bands.

I used a extra large rubber band to hold the diapers on the bottom layer and a large for the middle tier and a medium for the top tier. I glued all the ribbon layers together before placing on the diaper cake and only hot glued the very ends that overlapped.

I took receiving blanket and shaped and stuffed them down in the tube from the top, then took the teddy bears and attached them with clear goody rubber bands.

I banded their arms together to hold the blanket and then their tails to the back.. no one could figure out how they were staying on so well. I took the original ribbons off the teddy bears and redecorated them with ribbons I was using for the cakes. I think they turned out cute.

Join in and write your own page! It's easy to do. How? Simply click here to return to Diaper Cakes.
Pink & Purple Baby Girl Diaper Cake
by Arlene W.
(Kearney, MO)
Pink & Purple Baby Girl Diaper Cake

This is a diaper cake I made for the daughter of a friend who was expecting her second baby, a little girl! I tried to keep everything for the cake either pink or purple. I used the following:

16" cardboard cake round
16" white paper doily
120-140 Pamper's Swaddlers Size 1 diapers
120-140 clear hair bands
Ribbon (I used 3 different widths)
large container of baby powder
4oz plastic bottle filled with Starburst
2 rattles
1 ring toy
1 teether
1 musical crib toy
comb & brush set
3 caps
2 pacifiers & clip
6 pair socks
6 onesies
2 pair shoes
approximately 12 clip hair bows
3 premade bows for the front

Use the cardboard circle topped with the paper doily as a base. All diapers were rolled and secured with the clear hair bands.

Place powder in center of base and circle it with rows of diapers...I used yarn to cinch each circle of diapers snug as I went.

I also rolled the onesies the same size as the diapers and used them in the place of diapers throughout the tiers. Make second tier of the cake the same way, just not as big in circumference.

For the third tier I placed the plastic baby bottle in the middle (filled with Starburst for mom). I had to place the nipple to the inside of the bottle and remove the bottle cap.

When the base cake is completed use the ribbon of your choice (I used 3 different ribbons in different widths) to encircle each tier, and secure with hot glue, making sure not to get any hot glue on the diapers.

When that is finished just decorate with all the baby items. I used small bows made out of my smallest ribbon used on the cake, and straight pins with round glass/plastic heads to secure the items to the cake, and of course the little hair bows were just clipped to the ribbon around the tiers.

I placed the musical crib toy and one of the rattles as a topper, and placed the 3 purchased bows down the front of the cake. The mother to be loved it!
Join in and write your own page! It's easy to do. How? Simply click here to return to Diaper Cakes.
Baby Diaper Cake
by Beth N
(Upstate NY)
Baby Diaper Cake

The babies are made of all diapers and then I dressed them in an outfit.

I started off by rolling several diaper together into a large circle and securing with a rubber band and a little bit of tape. This made up the head.

For the body, I took 2 diapers and rolled them together. I made 3 of these. Then I stacked the rolls on top of each other and secured with tape and rubber bands.

For the arms and legs I took single diapers and rolled them up.

It was a challenge to dress this little diaper baby. But once I got everything secure and properly in place, it turned out great!

Guests could not believe that I made the entire thing our of diapers! After the shower, the mom to be got to keep the diapers and the little outfit!
WHAT'S NEW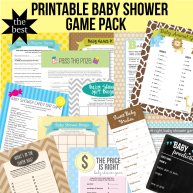 Get instant access to our popular baby shower game pack - 17 baby shower games that you can print from home! We picked the best games - baby shower bingo, the price is right, left right game, candy bar game, baby animal game, pass the prize, baby shower mad libs, baby predictions, sweet baby wishes, and more! It's all over at our printable site PrintItBaby.com ...