Cute Turtle Diaper Cake
by Racheal Bratten
(Kentucky)
How To Make A Turtle Diaper Cake
I create pre-made Diaper Cakes, this one was specially made for a lady whose shower theme was Turtles.
What you need:
- 1 Pack Of Diapers (Size 1)
I Used Huggies
- Ribbon In Your Choice Of Colors
You Will Need 4 Yards Of Each You Would Like To Use
- Scissors
- Hot Glue Gun
- Needle And Thred
- Small Rubber Elastic Hair Bands
You Can Find These At Wal-Mart In The Hair Section You Will Need One Pack Which Contains Around 200 Of Them In Any Color
- Cremp Paper
This Can be Found At Wal-Mart Or Any Craft Store It Is Simply Gift Basket Filler
- Floral Wire In A Rather Thick Gauge
- Wooden Animal
Sold At Wal-Mart And Craft Stores
Start by rolling each diaper, stretch it out on a table and begin to roll the end that would be the front of the diaper by rolling it toward the inside so that the outside that guests will see is smooth.
Tightly roll it, once rolled use the small elastic bands slide one over the top and the bottom of the rolled diaper, continue on each diaper until you've rolled them all.
On a flat surface (you may need an extra set of hands) place about 26 to 28 diapers on the table standing on there ends push them all together and see if it creates a circle you may need to add some or take some away to make it perfect this will be the bottom layer of the cake, with someone helping you use the floral wire to wrap around the center of the diapers and twist it so that the diapers remain secure make sure to twist the wire together enough so that it wont come loose clip the wire and move this layer to the side.
For your second layer do in the same way but this time only using between 16 and 18 diapers put them all together to make the circle then use the wire to secure them together.
And the top layer will use between 8 And 10 diapers secure these together.
Once all layers are complete start back with the bottom layer, tuck the wire in between two diapers in the crease so it doesn't snag your ribbon. For the ribbon I used on this diaper cake I sewed it together so it would stay in place.
Take each color ribbon you would like to use on the bottom layer a doing one
at a time wrap it around the layer letting it meet in the back and then cutting it to fit leaving and extra 2 inches do this with every color.
After cutting over lap the two pieces of ribbon that are largest the top piece and the bottom piece and tack them together using thread and needle then use the ribbon you've chosen for the center and tack it to the center where the larger top and bottom ribbon meet.
Do this with each tier. After you've tacked all your ribbon together place it on the tier you made it for INSIDE OUT to where you are looking at the back side of the ribbon pull it tight with your hand and tack it in the back with the thread and needle so that it remains tight once you've tacked it pull it off of the layer and continue to sew it together one sewed cut off the extra ribbon and flip it outside in then slide it back over the diaper layer this will allow for the ribbon to have a finished look where it has been placed together.
Do this for each layer.
Once each layer has been sewed and placed on the diaper tier stack each layer together to create the Diaper Cake. If you wish to add the small bows that I did use floss ribbon to make them tack them with thread so that they wont come undone and then tack them to the ribbon that wrapped around the cake wherever you desire.
To create the bows on the front simply make an '8' out of the ribbon and tack it in the middle with thread then make one slightly smaller in a different color in the same way and tack them together with thread attach to ribbon on diaper cake.
Once complete use your hot glue gun to attach the animal you've chosen to the center tier of the cake.
Add the crepe paper to each tier and use small pieces of the floral wire to make 'U's to secure the paper so that it doesn't fall off do this on each layer.
Your Turtle Diaper Cake is complete.
This type of cake can be made in any color scheme and done with any kind of animal even done with a painted first initial of the baby. It's fairly easy to make and the mommy-to-be will be sure to love it not only because it's adorable but because it's hand made by you just for her..
- Best Wishes
Crocodile Rock Diaper Cake
by Kimberley Dickson
(New Brunswick, Canada)
For an undetermined gender, critter themed baby shower

For this Crocodile Rock Diaper Cake you will need;

2-84pk. #1 Pampers, ouch less mini hair elastics, a crocodile hand puppet, 6 pack of child sized hangers, wide ribbon, fancy yarn, fishing twine, 2 pack of soothers, 4 pack of facecloths, 2 pairs of booties, a pair of mittens, a bug garden stake, a mobile-like butterfly, a digital thermometer, a bib, sleeper, hooded towel, small pack of wipes and a platter.

Procedure;

- Rolled both packs of diapers (picture side in) and held them together with the ouchless elastics

- Glue gunned the ends of the ribbon together and stuffed the diapers, standing on end into the ribbon center until full. Diameter of your glued ribbon, depends on your desired tier size but remember this has to be big enough to sit a stuffed, 3 month sleeper on the second tier and you must leave enough diapers left to stuff your hand puppet sleeper

- Put the fancy yarn of your choice around the ribbon?s middle, could also use a narrower ribbon

- Stacked them all together on a platter

- Held them all with the bug garden stake through all three tiers

- Used the hangers to make a support for the alligator with some of the hangers going lengthwise across the top to stick the alligator hand puppet on and some going through the body to support the frame, using the bottom of those hangers (in the area of the sleeper?s bottom) to stick it between diapers of the second tier, tying him to the cake and posing him with fishing line

- Then decorated the alligator with; soother in his hand, pair of mittens on his other hand, a bib around his neck, a facecloth rolled up in his arm and a pair of booties on his feet

- Used two of the facecloths to wrap the wipes with yarn (or ribbon) and rolled up the hooded towel, tying it to the top of the wipes and then to the top tier of the cake with the fishing line then stuck the booties through the line on the top which tightens and secures it more

- Tucked a digital thermometer between the diapers and tied on the remaining soother with fishing line, hung a mobile butterfly and the last facecloth over some of the fishing line.

This was a very fun project to do and so much more personal than just handing someone a few bags of diapers. You?re only limited by your imagination when doing these. Everything is usable.

This cost about $80 dollars to make and the mother-to-be absolutely loved it. It was the hit of the shower.
Cute Puppy 2 Tier Diaper Cake
by Melissa
(Jacksonville, FL)
This cute diaper cake was created by Melissa.

This cake was wrapped in white tulle, perfect for gift giving.

25 Pampers Swaddlers diapers - Size 1 (up to 15 lbs)

Mary Meyer puppy squeeze toy

Matching puppy onesie sized 3-6 months

Fisher Price brush and comb set

3 Baby spoons

Johnson and Johnson baby head-to-toe wash

Johnson and Johnson baby shampoo

The diapers and all products are usable, which makes the cakes a practical gift.
Join in and write your own page! It's easy to do. How? Simply click here to return to Diaper Cakes.
Pink Pop Tiger Blanket Diaper Cake
by Terra Moore
(Garland, Texas)
Pink Pop Tiger Blanket Diaper Cake Instructions

Each tier of this diaper cake is wrapped in a pressed Amy Coe receiving blanket and then tied off around the diapers with layers of coordinating ribbons.

Ty Pluffie Tiger Cat is situated on top with hidden rubber band, so it doesn't fall off when moved.

Crisp hand tied bows, crinkle paper and 3D floral sticker embellishments were added for decoration.

Johnson's products were tied off with coordinating bows and placed along sides and backside as to not interfere with design elements.

Ingredients:
65-70 premium brand Pampers Swaddlers Diapers (size 1)
3 – Amy Coe Pink Pop Flannel Receiving Blankets
1 – Ty Baby Growlers Pink the Tiger Cat Pluffie
1 - Johnson's Baby Powder (1.5 oz.)
1 - Johnson's Baby Lotion (1 oz.)
1 - Johnson's Baby Shampoo (1.5 oz.)
1 - Johnson's Baby Wash (1 oz.)
1 - Soothing Naturals Lotion Sample
Lots of cute floral embellishments and high quality ribbons

With all its vibrant colors and interesting patterns, this diaper cake was a lot of fun to make.

I didn't use any glue, tape, staples, adhesives or pins on the diapers, so they're all completely usable.

I layered the diapers in different sized baking pans and then used 1 large rubber band per tier to hold them in place.

The tiers slide down onto a support tube attached to the cakeboard, so all the layers stay in place and no assembly is required.

The Amy Coe blankets come as a set, so it was easy to design and layer color combinations.

The original version took me about 4 hours to complete, but I'm a perfectionist at heart. =D

Enjoy!
4 Tier Frog Diaper Cake
by Jean Lang
(St. Paul, MN)
4 Tier Frog Diaper Cake

This diaper cake is 4 tiers with a frog sitting on top. I used

91 Huggies Diapers size 1-2
Froggie Hooded Bathing Towel
Blue Receiving Blanket
Johnson's Take along packs of:
Shampoo
Desitin
Baby lotion
Baby power
Baby wash
Soothing naturals lotion
Froggie Hooded Bath Robe
Froggie Bib
3 Washclothes
2 pair of booties
Carter stuffed bunny rabbit
Teething Ring
Stuffed Frog
Froggie Buddy Blanket
2 Gerber Spoons
Pack Wet Ones
Pack of Butt Paste
Onsie
8 plastic links (colors yellow, blue & green)

Diapers aren't rolled so that the cake is easier to take apart for the new parents. I do diaper cakes on the side for fun.
Pink Hippo 4 Tier Diaper Cake
by Jean
(St. Paul, MN)
This is a Pink Hippo 4 Tier Diaper Cake with a large pink hippo sitting on top. Diaper cake is 25 1/2 inches high.

The diapers are not rolled but held together with a rubber band and then decorated and further held together with pink ribbon.

I attached to the diaper cake:
95 Huggies Diapers size 1-2
Carter Blanket
2 Sleep N Play - Size M
Johnson's Take along packs of:
Shampoo
Desitin
Baby lotion
Baby power
Baby wash
Soothing naturals lotion
Carter Onsie - Size S
Carters bib
Carter hat
Carter stuffed My First Doll
Teething ring
Bunny Blanket Buddy
2 Gerber Spoons
Bright Starts - Chime Along Friends
Bright Starts Rattle & Shake Bar Bell
Bright Starts Teething Ring

Diaper Cake is wrapped in cellophane, with curling ribbon and gift tag.
Brown Monkey Diaper Cake
by Cherice
(Patuxent River, MD)
This brown monkey diaper cake was for my cousin's shower. I wanted to get her some really useful things for the baby as well as do something creative.

I was already passing down to her the bouncer, exersaucer, tons of clothes, etc. so I was in desperate need for an idea.

Then I thought of a diaper cake. So I searched online and came upon this website and all of the wonderful ideas! The baby's nursery theme is "Baby Cocoa," which is a jungle-type theme so I wanted to play off of that.

This is my very first diaper cake. It wasn't too hard, but took some time. I'm sure the length of assembly will be less for any future ones now that I know how to do them.

I used an 84 pack of Size 2 Pampers, rolled and rubber banded them. In the bottom layer, I placed the diapers around a container of wipes and a tube of Desitin (still in box) and filled in bare spots with diapers as necessary.

Then I wrapped the whole bottom layer, after securing with 2 large rubber bands, with 4 layers of tissue paper for a smooth working surface. For the middle layer, I did it of all diapers, plus 3 rolled up sleep-n-plays, and 2 pairs of rolled up pants.

Then I wrapped the middle layer with a blanket and secured with a large rubber band. For the top layer, I surrounded a bottle of baby wash with diapers, then wrapped that with 2 layers of tissue paper.

I wrapped each of the layers in color-coordinating ribbons that I had bought at Jo-Ann's and the Dollar Tree. I secured the ribbons with glue from a glue gun. Nothing is holding the different layers together, but I figured they would be easier to transport if I could take them apart.

Once I stacked the layers, I used a glue gun to glue down the Spanish moss and shiny crinkle shred on the bottom and top layers. On the top, I used the moss and crinkle shred to cover the bottle of baby wash that stuck out of the top layer. Then, I used the bottle to hang the monkey on.

Believe it or not, after searching both Target and Wal-Mart, I finally found this monkey at the Dollar Tree. I took some of the iridescent ribbon and wrapped it through the plastic tag loops on the shoes and then hooked the ribbon onto the monkey's arms.

I left the tag on the shoes just in case they need to exchange. I placed the cake on a large, rectangular cake board and hand-painted a wooden "Family" sign that I had bought at the Dollar Tree and painted with acrylic paint.

I glued down the "Family" sign and the crinkle shred with a glue gun. My cousin asked that everyone bring a book for the baby in lieu of a card, so I included one of my favorites from my childhood.

I didn't include this in the picture, but on a nice piece of cardstock, I typed up the cakes "ingredients" and attached it on the back.

I hope that this diaper cake helps those of you out there looking for ideas! I had a lot of fun and can't wait for an excuse to make another one! :)
Join in and write your own page! It's easy to do. How? Simply click here to return to Diaper Cakes.
Pink Teddy Bear Diaper Cake
by LaDeana Owens
(Rock Springs, Wyoming)
Pink Teddy Bear Diaper Cake
for baby Addyson Grace

The wonderful thing about baby shower dipaer cakes is that everything used to make them can be given to the new mom to use for her baby.

Start by rolling 103 diapers (the diapers can be all one size or range in sizes (ex: newborn, 1-4) if you choose to use different sizes - a good idea is to make one tier newborns, the next tier size 1 diapers, etc. This way the tiers will be even.

Roll each diaper in a log shape and secure with clear elastic bands. (you can find these in the hair accessory aisle of any store)

Arrange the diapers in a circle as shown in the picture. We added a baby bottle to the middle of the diaper cake. You can add anything you want to the middle to surprise the mom-to-be when she unwraps it (bottles, baby socks, mittens, bibs, rattles, teething rings, etc.)

Wrap folded receiving blankets around each tier of diaper and secure with a cute matching ribbon. You can make things stay in place by adding a tiny dot of glue from a glue gun.

Embellish with pretty artificial flowers such as pink Gerber Daisies, head bands, a cute name sign (which can be hung on the nursery door afterwards) - and top off with a soft fuzzy pink teddy bear!

Enjoy!
3 Tiered Polka Dot Puppy Diaper Cake
by R Rasmussen
(Olathe, KS)
Puppy Diaper Cake
Directions for making this 3 Tiered Polka Dot Puppy Diaper Cake:

I bought the 12" cardboard cake rounds (7 in a pack) and used the 12" for the bottom layer.

I then cut 11" for the middle layer and 10" for the top layer.

I rolled up size 2 diapers and secured them with rubber bands and hot glued the ribbon(s) together around the diapers (no glue on diapers just the ribbons).

I then hot glued wired ribbon on the cardboard rounds that sat on top of the diapers to look more like piped frosting.

I placed bath items on bottom layer, robe and matching slippers, bath toys (duck, crab, octopus, etc) and the baby wash, lotion, shampoo and desitin (all travel sizes).

The next layer was a mixture of sleeper, slippers, bib, stuffed animal and some toys.

On the top layer I placed a puppy with a ribbon I tied around him to match the ribbons around the diaper and put the baby powder in his lap.

I scattered decorative blue diaper pins on the layers and under the ribbons.

The picture was taken right after I completed it since the shower is not until June 1.

It was really a lot of fun making it and I think my daughter will love it!
Pink Bear Cake
by Cori Roberts
(Columbia, Mo U.S.A.)
Pink Bear Cake

Ingredients:
80 stage 1 diapers
rubber bands
double sided tape
8 ft of pink & black zebra print two " wide ribbon
2 'punk princess' pink pacifiers
2 pacifier clippies
Johnson's take along travel pack
1 teddy bear with a pink bow
i pink rattle
two pink teethers
two Johnson & Johnson soap bars (they smell delicious)
pink gum
i baby q-tip box (under bear)
2 bottles (one inside, one outside for decor)
1 large rectangular piece of cardboard / poster board(thick)

This is the first time I've attempted to make a diaper cake, and its for my daughters shower. I went with zebra print ribbon because she loves pink and black zebra print.

I rolled and rubber banded the diapers together, using one bottle at the bottom center. I used double sided sticky tape to hold the ribbon on, and some of the decor. I spent approximately $75.00 on the ingredients. Had fun making it!
Join in and write your own page! It's easy to do. How? Simply click here to return to Diaper Cakes.
Animal Diaper Cakes
by stella lagoidou
(komotini,greece.)
Elephant Diaper Cake
For these baby animal diaper cakes I made 2 tier cakes using 25 disposable diapers.

For the middle you can use a card board paper towel roll or use a baby bottle.

Roll each diaper and secure with rubber bands. Line the rolled diapers around the center object (I really think the baby bottle works great and the mom can use it for the new baby)

Secure all of the diapers with a large rubber bang and/or a pretty ribbon.

Do the same thing for the top tier.

Decorate with needed baby items such as baby toys, baby wash, shampoo, a baby blanket, towels, socks, a bib, and top with a cute stuffed animal.

For a wonderful tutorial video showing you "how to make a diaper cake" Click Here.

See more cute baby shower diaper cakes
Join in and write your own page! It's easy to do. How? Simply click here to return to Diaper Cakes.
WHAT'S NEW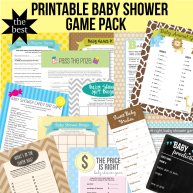 Get instant access to our popular baby shower game pack - 17 baby shower games that you can print from home! We picked the best games - baby shower bingo, the price is right, left right game, candy bar game, baby animal game, pass the prize, baby shower mad libs, baby predictions, sweet baby wishes, and more! It's all over at our printable site PrintItBaby.com ...