Red, White and Blue Diaper Cake
by Deborah D
(Massachusetts)
Red, White and Blue Diaper Cake


I used 30 size 2 diapers, one 8 oz bottle for the center, a 12 inch round card board, and a 12 inch doiley.
I also used 1-1/2 inch red ribbon with white stars, blue crinkle paper and blue carnations with white daises.
I used a red, white and blue beanie baby teddy bear with a small round glass bowl filled with jelly beans.
The cake was 2 tiers high and was used as a centerpiece along with 5 more cakes(all different) for a boy baby shower.
Red Diaper Cake
by Heather
(Conway, Arkansas)
Dixie Jean's Red Diaper Cake!

You will need:

Two packages of Pampers Swaddlers diapers, a total of 176 diapers.

Start from the bottom and work your way to the top rolling the diapers and securing them with a rubber band.

Use as many as you want on each level to your desire, and continue working your way to the top.

I chose to make a five tier cake for a centerpiece on the main table and it looked fabulous!

I bought several different ribbons, colors that we used in her nursery to accent the cake.

Just wrap the ribbon around the diapers and secure with a pin in the back of the cake.

I used red roses to accent the top and the rose stem just went right between the diaper and stays secure so there is not any hot glue and the diapers can be used and the ribbons can be used to make bows for the baby's hair.

I sat the cake on a piece of foam core that I cut into a circle to set the cake on.

This red diaper cake has been used for two showers since I made it! It was very popular!
Ahoy Baby Diaper Cake
by Morgan
(Litchfield Park, Az)
Ahoy Baby Diaper Cake

I used about 165 Newborn Diapers. Rolled each one and secured with rubber bands. I used a Bottle of champagne for the center base of my cake. Secured each rolled pamper around the bottle.

Found adorable "Pirate Themed" fabric and wrapped around each tier, added wooden Pirate accents found at Hobby Lobby along with cute colored ribbon to match my theme.

When all finished and set up, I displayed it on a large oval mirror and added baby products such as lotions, shampoo, powder and little outfits. For the topper I used a glass skull head with a little eye patch for some extra touch.

Last, I added at the top of each tier, plastic gold coins. Also, put the name of the "New addition". Along the base of the cake I added some blue confetti like paper (what you put in gift bags)for an ocean look.
Join in and write your own page! It's easy to do. How? Simply click here to return to Diaper Cakes.
WHAT'S NEW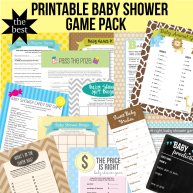 Get instant access to our popular baby shower game pack - 17 baby shower games that you can print from home! We picked the best games - baby shower bingo, the price is right, left right game, candy bar game, baby animal game, pass the prize, baby shower mad libs, baby predictions, sweet baby wishes, and more! It's all over at our printable site PrintItBaby.com ...