Zebra-Striped Baby Shower Cake
by Lunja
(Murrieta)
Zebra-Striped Baby Shower Cake
{The Winner In Our Baby Shower Cake Contest!}


This Zebra-Striped Baby Shower Cake is a 2 tier Cake
The bottom tier was made using a 12inch double layer square.
The top tier was made using a 8inch double layer square.
The whole cake was all frosted & fondant.
The baby shoes & pacifier were made by using fondant.
The baby bottle & rattle were both made from rice crispy treats & then covered in fondant.
The whole cake was all "BLINGED OUT" with silver drajees
Return to Jungle Baby Shower Cakes.
Jungle Baby Cake
by Shanna Shaw
(Midland, Tx)
These Jungle Baby Cakes were made with a 12, 10, & 8 inch rounds. The lady I made this for gave me the napkin (included in the picture) to make the cake look like it.

I did one in tiger, one in zebra, and the other giraffe.

They are all covered with fondant, and the animal prints cut from other rolled fondant and placed on top.

The cupcakes were made with the new Wilton reusable cupcake holders and purple butter cream used to ice them to tie the purple from the napkins into the cakes.

The lady was very pleased! She had a stand to display them on, but I am sorry to say I didn't get a picture of them displayed on the stand!


Thank Heaven for Little Rock Stars Cake
by Kristienne Bottorf
(Orlando, Fl.)
This 'Thank Heaven for Little Rock Stars Cake' was for my friend who is a singer in a band.

She didn't want anything "Girly," so I came up with this idea. I baked and iced the 8" cake and then covered it in fondant.

I made the zebra strips and stuck them on with a little piping gel. I made the bow and baby from fondant also.
WHAT'S NEW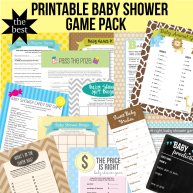 Get instant access to our popular baby shower game pack - 17 baby shower games that you can print from home! We picked the best games - baby shower bingo, the price is right, left right game, candy bar game, baby animal game, pass the prize, baby shower mad libs, baby predictions, sweet baby wishes, and more! It's all over at our printable site PrintItBaby.com ...