Baby Diaper Cake For Twins
by Angela Caver-Fiala
(Ferguson, MO, USA)
Hi There!


I made a 3 tier diaper cake made of Pampers Swaddlers New Born-40 count diapers.
My supplies are:
Diapers-40 Count
One 12 to 14 inch dowel
Skinny Ribbon
Bag of Rubber Bands, medium thin one
A 7 inch to 10 inch cake rounder scalloped edge
1 bag of colored Shredded paper
A Bunch of bright, thick (about 1.5 to 2 inch) and thin good quality Ribbon
2 Cashmere Soft Baby Rattles
Tape
A bag of Foam Letters
One clear Cellophane Bag
1. Roll tightly the diaper from the folded edge (butt area) to the top (waist area).
2. Now, cut a piece of skinny ribbon, after wrapping a section of it around the diaper middle.
3.Wrap the ribbon around and tie it in a knot or bow. Continue until each diaper is rolled and wrapped with ribbon.
4. Take the cake rounder and place it on a flat surface, then start the third tier consisting of 20 diapers. set them around in a circle fashion, then pull some of the thick ribbon around the entire tier, cut it long enough to wrap in a bow, then wrap in a bow
5. Take your dowel, center it, and insert the dowel vertically (straight up and down) through the diapers.
6. Now, make your next tier of 13 diapers the same way, then lift up the tier and center it over the first tier, then just push it all the way through, until it lands level like a cake layer, on the top of the first tier.
7.Take 7 rolled and wrapped diapers, repeat. Now, you should start to see the 3 graduating towers. Now the fun part-take your thick and thin ribbon and wrap it around the tiers, then cut and tie. Be creative as you can.
8. At the top tier, use the Foam Letters to create baby names, etc., then add the plush rattles and finally sprinkle the colored shredded paper for the "icing".
Join in and write your own page! It's easy to do. How? Simply click here to return to Diaper Cakes.
Twin Pink with Brown Polka Dot Diaper Cakes
by Carmen Rodriguez
(Houston TX)
These "Twin Pink with Brown Polka Dot Diaper Cakes" were made with Huggies size 1 diapers.

(I like to use size 1, because mom usually gets too many newborn diapers at the baby shower)

This gives mom time to enjoy the diaper cake at home for decoration until it is time to take apart.

I start off by rolling all the diapers with small clear rubber bands.

I use an 8oz bottle and put a large rubber band around the bottle and insert the rolled up diapers in the middle to hold the diapers in place.

The top tier has 7 diapers and the bottom tier @ 20.

Since it is held with rubber bands I use ribbon to decorate and to cover the rubber bands.

Diaper cake 1 ingredients
comb/brush
3 washcloths
pacifier/ do not open package/let mom do that.
"I love Mommy" bib
1 pair of pink mittens
1 pair of white mittens

I used pink mittens on the outside and put white mittens on inside and just twisted them and used tiny rubber band to hold together and they look like little flowers. Which is on the I love mommy bib, and stuck them under the top tier.
I also did not open pacifier, You want mom to open and sterilize for baby. So I kept in package and glued some ribbon onto package to make it look nice.

Diaper cake 2 ingredients

3 washcloths
1 pink/white key teether
3 pair of socks
Socks I tied together with string of beads. I did not use anything else, so that I would not damage socks

After I am done with the Diaper Cakes I use a cardboard and cut it round, probably @ 1 1/2" bigger and cover with tissue paper and I then cut up lots of squares and twist the squares to make them cute and glue to covered cardboard to decorate around the bottom of cake.
Twin Diaper Cake
by Tammy H.
(Kelowna, BC. Canada)
Frog & Duck Twin Diaper Cake

THINGS NEEDED FOR TWIN CAKE

BABY ITEMS
(This cake is a theme cake frog = green = boy
duck = yellow = girl)
(3) Receiving blanket (1- solid yellow, 1- solid green, & 1- yellow/green)
(2) Hooded Towels (duck & frog)
(2) Infant socks (duck & frog)
(4) Wash Cloths ( 1- yellow, 1- Orange, 1- green, & 1- blue/green)
(2) Spoons (1- green, 1-yellow)
(2) Booties (duck & frog)
(2) Onesies (duck & frog)
120ml Shampoo
(2) Bibs(duck & frog)
Clip and wiggle friend
Teething Keys
Stuffed animals ~ Duck and Frog
(6)Rubber Duck
(6)Rubber Frog
Lg. Chocolate bar
(4) bobble head animals
(2) Sock Rattles (duck & frog)

SUPPLIES:

"It's a girl" 2" ribbon
"It's a boy" 2" ribbon
Hot glue gun
Mini cloths pins (white and green)
Green curling ribbon
White curling ribbon
String
2-sided tape
Green Transparent paper
Yellow Transparent Paper
Med. Clear Elastics
Straight pins
Foam sheets (orange, yellow, white, green, brown, black, blue, light blue, pink, red, blue/green)
Saftey Pins (small and med.)

STEP 1 ~ BORDER

-(I won't get long winded here because I make borders as a personal preference) I first draw pictures in my sketch book. If I like it I will go over it with ink. Then I will RE-draw it on a tracing paper. This becomes my stencil because I will draw what I using a carbon need paper on the foam with the picture flipped so that the carbon marking doesn't show.

- HOWEVER, if I feel I will probably be using this drawing again, I will make a cardboard stencil.

- I will then put it to the side ready to put on once I have the tier covered.

STEP 2 ~ COVERING TIERS

(Plug in glue gun)
This is a twin cake… I wanted the cake to be divided right down the middle. I used the string around the base of the cake. Folded the string in half… there's my halfway mark. Lightly marked both sided with pencil.

- I usually start with the bottom tier. I took the FROG- hooded towel. Folded it into 4 wrapped it around HALF the cake with the excess I neatly folded it behind. I secured the frog hooded towel in place from pencil mark to pencil mark. (making sure there's no wrinkles)

- REPEAT… with the Duck hooded towel. Opposite side pencil mark to pencil mark.

- If there is a space showing between the two… first, release a little of the folded part OR unsecure the top part of the hooded towel in front use a small safety pin to join the two towels, then re-secure both towels. (You should now have the bottom tier divided in half by two hooded towels) Repeat the above with the solid receiving blanket on the second tier.

- Top Tier you will need to fold the 3rd and final receiving blanket several times to make it fit properly.

(I at this time attach the boarder)

ATTACHING STUFFED ANIMALS (Frog and Duck)

- take 4 pieces of string approx 10" (e)... where the string securing the tiers crossing on top Slide the string under. Take Frog first (stuffy) place where you want it and Tie down each leg separately. Then take the duck REPEAT. Now you will see that the two animals aren't sitting straight… simple solution take the two sided tape place it between the two (will not damage the stuffed animals)

RIBBON

-Take both the "it's a boy" and "it's a girl" 2" ribbon. This ribbon have little foot prints and little hand prints. I cut the girl ribbon straight down the center of the foot and hand prints leaving you with one print of each.

- With glue (hot) dab glue on the second foot / hand print of the boy ribbon. MATCH the girl ribbon to the boy ribbon. When you attach the girl ribbon to the boy it will look like the ribbon continued without a flaw only thing is it's now half boy half girl ribbon.

- Now that your receiving blankets are on. Center the ribbon on to the cake so that it too is dividing the cake. Do the same to the back. (LOOKS GREAT)

DECORATING (frog side = boy side)

- Tuck in the frog bib under the frog. It will not lie nicely, therefore use push pins where needed.

- Using mini cloths pins clip on the booties to the receiving blanket and a bit of the hidden rolled diaper (second and third level)

- Fold onesie and roll. Put elastics on both sides. Take two different colors of green curl ribbon, tie on both sides, and curl. Cut a 10" piece of string feed it through the back of the onesie ribbon. Pull up a diaper (not too much just enough to get your fingers in) put one end of string though the elastic of the diaper and tie the string ends together. Replace diaper… onesie will fall into place.

- Take sock rattle, fold it not inside out but enough that the frog head is showing. Put a push pin in the back and push it into place on opposite sides of the bib.

- Take bath froggies place the randomly everywhere but only on the frog side of the cake.
-(lolly pop will be explained later) Place lolly pop where you see fit.

- Take frog socks and place them on top of each other over the ribbon in FRONT of the cake on frog side.

(duck side = girl side) Try to follow the same as the frog side.

- Place head band between duck booties secure with push pins. Place hair elastics on both side of the duck bib (so that it looks like the duck has ears)

- Baby shampoo is yellow therefore it belonged on the yellow side.

(back and front)

- Place bobble head animals in random places. I found that sitting 2 in front and 2 in back with a tier separating them worked the best.

WASH CLOTH LOLLY-POP

NEED:
Elastics
Spoon
Ribbon
Transparent paper
(2) Wash Cloths (different colors)

- lay one wash cloth flat in front of you. Fold into one side into the center, opposite side into the center. Fold again over lapping the two sides. Fold one more time HOLD.

- wrap two elastics around the outside of the wash cloth.

- REPEAT folding

- take the rolled and roll it with the ready to roll wash cloth (combine the two together) HOLD.

- take spoon hold it behind the so called messy looking side of the roll.

- Take (4) elastics 1- cross it so that its sort of holding the spoon in place. 2- Cross it the opposite way (spoon will be better secured) 3- across the middle 4- straight down.

- cut a rectangle piece of transparent paper

- Holding transparent paper - place good side of lolly-pop into your palm (while you're holding the transparent paper)

- gather at the bottom. Secure with elastic. Then tie curling ribbon (curl)
WHAT'S NEW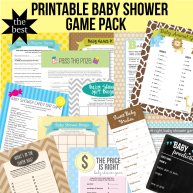 Get instant access to our popular baby shower game pack - 17 baby shower games that you can print from home! We picked the best games - baby shower bingo, the price is right, left right game, candy bar game, baby animal game, pass the prize, baby shower mad libs, baby predictions, sweet baby wishes, and more! It's all over at our printable site PrintItBaby.com ...