How To Add Pizzazz To Your Baby Shower Punch Recipes

This site is filled with many tasty baby shower punch recipes to make your baby shower a success!
But the secret isn't all in the punch itself - it's also how you present it! There are so many cute and creative ways to serve beverages! Here is one of my favorites!

Candy Rimmed Mason Jars
For A Baby Shower

Start by using a classic baby shower punch recipe such as:
Baby Shower Slush Punch
In a saucepan, dissolve: 2 1/2 cups white sugar, 6 cups of water and 2 packages strawberry or raspberry flavored gelatin - boil for 3 minutes
Stir in 1 (46 oz) can pineapple juice, 1/2 cup lemon juice, 1 quart orange juice
Pour equal parts of the punch into 2 separate containers and place into the freezer - freeze for at least 24 hours
When ready to serve, take one of the frozen containers out of the freezer and add one 2 liter bottle of Sprite or 7-Up
Stir until slushy
This punch will go fast! Be sure to have an extra 2 liter of Sprite or 7-Up on hand so you can quickly whip up the 2nd batch
---
Here's how you make these DIY candy-rimmed glasses so you can serve your yummy baby shower punch in style:
Liven' up the party with colorful, sprinkle-rimmed glasses! You can use any kind of sprinkles you'd like! So cute and festive!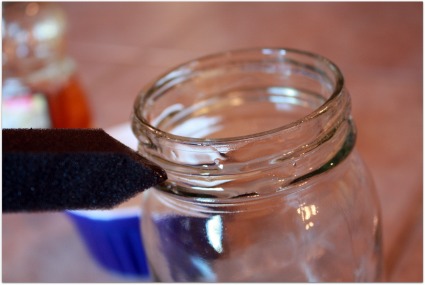 Lightly brush the rim of any glass with honey.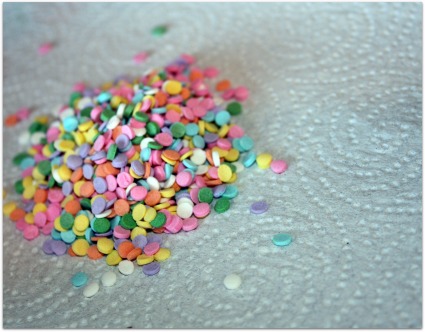 Roll the rim of the glass around in the sprinkles!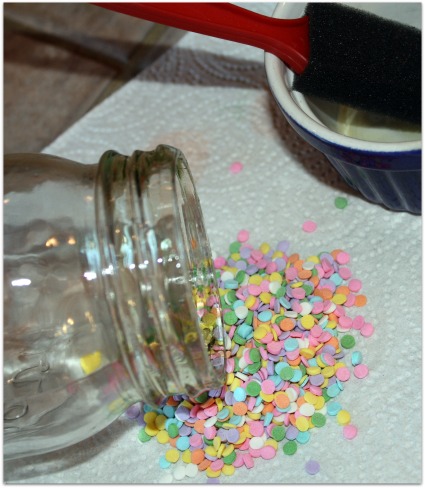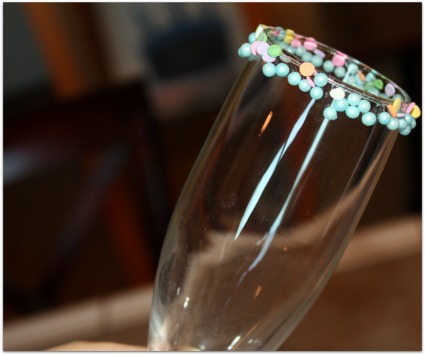 Looks cute on champagne glasses too!
A fast and easy way to add a bit of flair to the baby shower!
Where would you like to go next: