The Best Baby Shower Punch Recipes! Delicious Blue & Pink Punch Ideas

Mix up some colorful, thirst-quenching baby shower punch by picking from the popular shower punch recipes and ideas below!



Below are several deliciously easy baby shower punch recipes that your guests will love! Pink punch, blue punch, red punch, you name it!

---


Pink Baby Shower Punch Recipes
---

Pink Lemonade Baby Shower Punch With Ginger Ale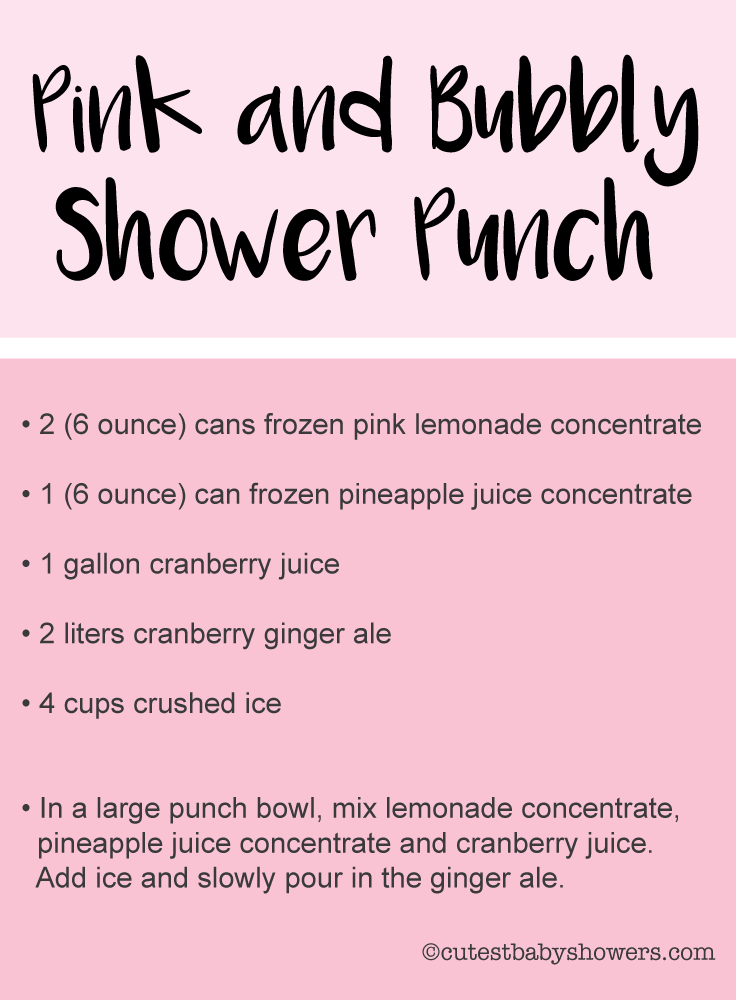 Pink & Bubbly Shower Punch

In a large punch bowl, mix lemonade concentrate, pineapple juice concentrate and cranberry juice.
Add ice and slowly pour in the ginger ale.
---


Pretty In Pink Punch Recipe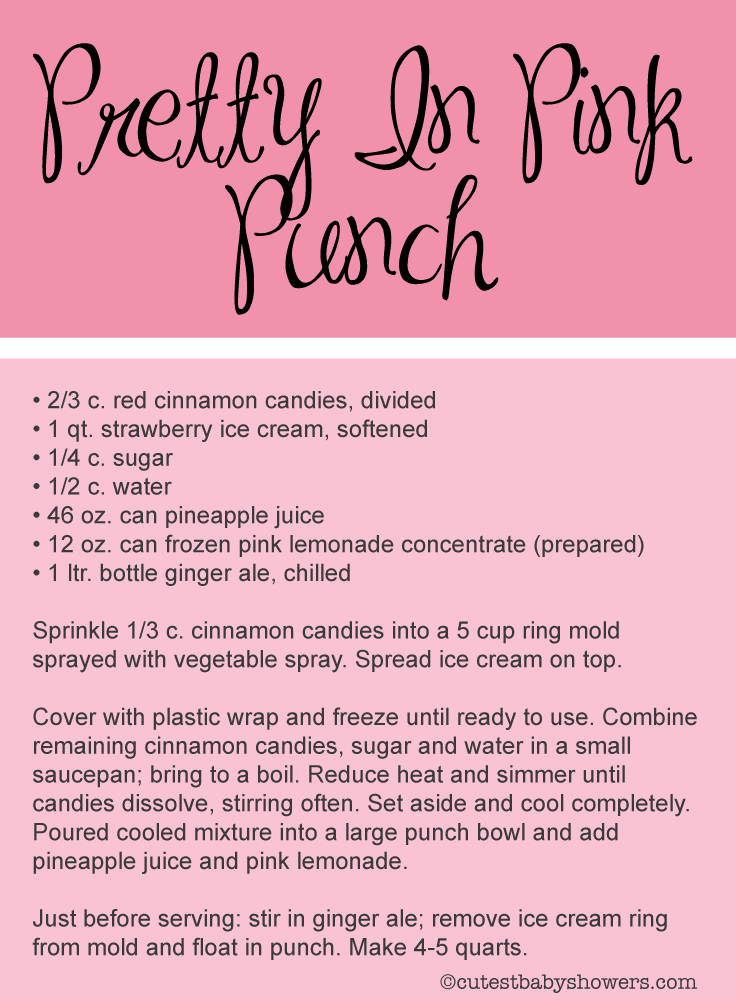 How To Make Pretty in Pink Baby Shower Punch
2/3 c. red cinnamon candies, divided
1 qt. strawberry ice cream, softened
1/4 c. sugar
1/2 c. water
46 oz. can pineapple juice
12 oz. can frozen pink lemonade concentrate (prepared)
1 ltr. bottle ginger ale, chilled

Sprinkle 1/3 c. cinnamon candies into a 5 cup ring mold sprayed with vegetable spray. Spread ice cream on top. Cover with plastic wrap and freeze until ready to use. Combine remaining cinnamon candies, sugar and water in a small saucepan; bring to a boil. Reduce heat and simmer until candies dissolve, stirring often. Set aside and cool completely. Poured cooled mixture into a large punch bowl and add pineapple juice and pink lemonade.
Just before serving: stir in ginger ale; remove ice cream ring from mold and float in punch. Make 4-5 quarts. This baby shower punch makes a wonderful presentation!
---

Printable Mini Baby Shower Clipart

Make your punch pretty! Grab our popular mini baby shower clipart here! Perfect for adding to toothpicks, lollipop sticks straws and skewers!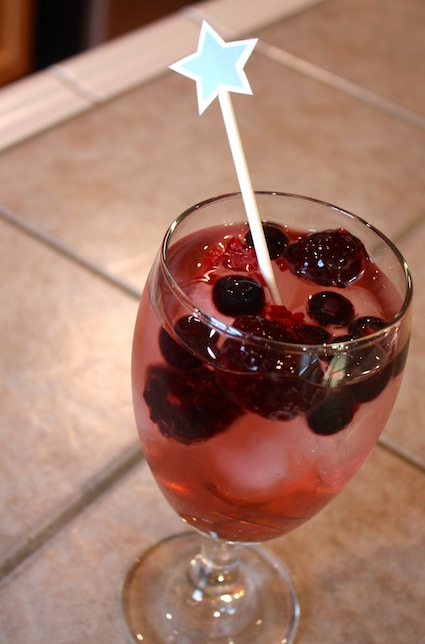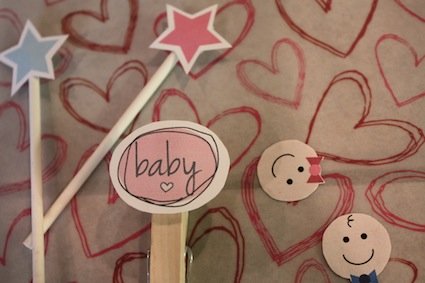 ---

Pink Peppermint Punch
How To Make Pink Peppermint Punch
1 quart peppermint ice cream, Dreyer's is wonderful
1 cup cold milk
2 liters ginger ale, chilled

Place ice cream in a punch bowl, and allow to soften slightly.
Blend in milk and ginger ale. Stir until frothy. Serve at once, or keep chilled until ready to serve.
---
---

Festive Candy-Rimmed Mason Jars
An easy way to add pizzazz to your shower punch is to decorate glasses with candied sprinkles! When they are filled with colorful baby shower punch they will look even more festive! And it makes the punch taste even yummier! Click here for complete instructions.
---

Fizzy Raspberry Pink Punch With Sherbet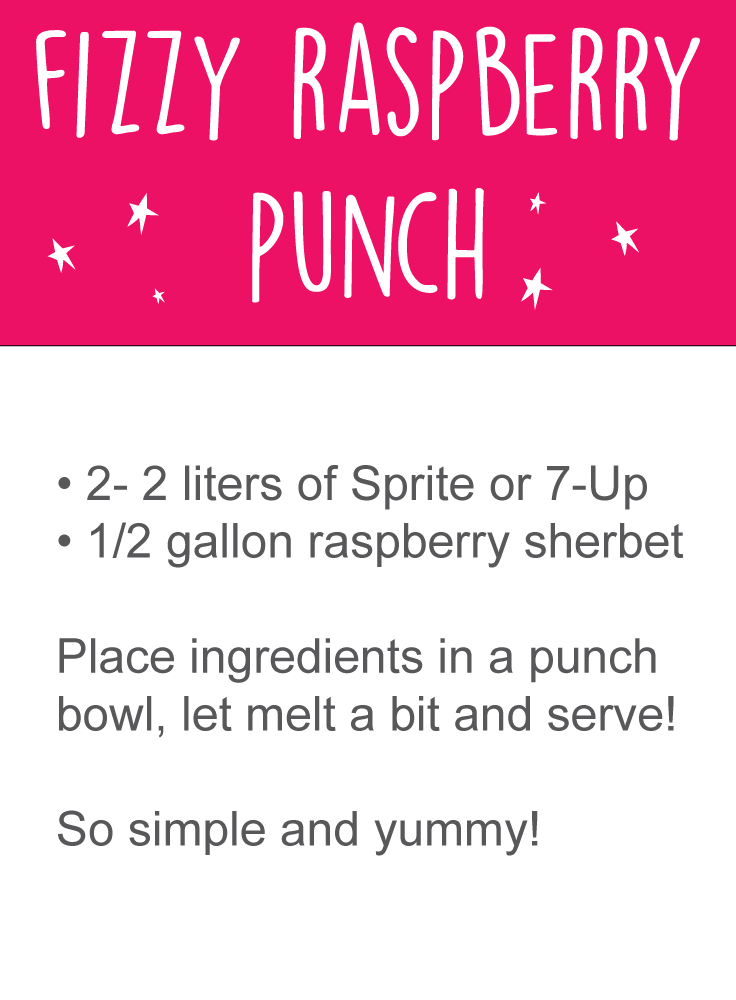 Easy Fizzy Raspberry Punch Recipe With Sprite
2 - 2 liter bottles of Sprite or 7-Up
1/2 gallon raspberry sherbet

Place ingredients in a punch bowl, let melt a bit and serve! So simple and yummy!
---

Free Printable Pregnancy Punch Labels


I whipped up some FREE printable Pregnancy Punch pitcher labels just for you! They come in pink, blue, green and brown and you can choose to have them say "with alcohol" or "non-alcoholic." Add your favorite punch to a cute pitcher, drape a ribbon around the neck of the pitcher and attach the label to the ribbon.
Visit our Pregnancy Punch page to print them our for free!



---



Blue Punch Recipes For A Baby Shower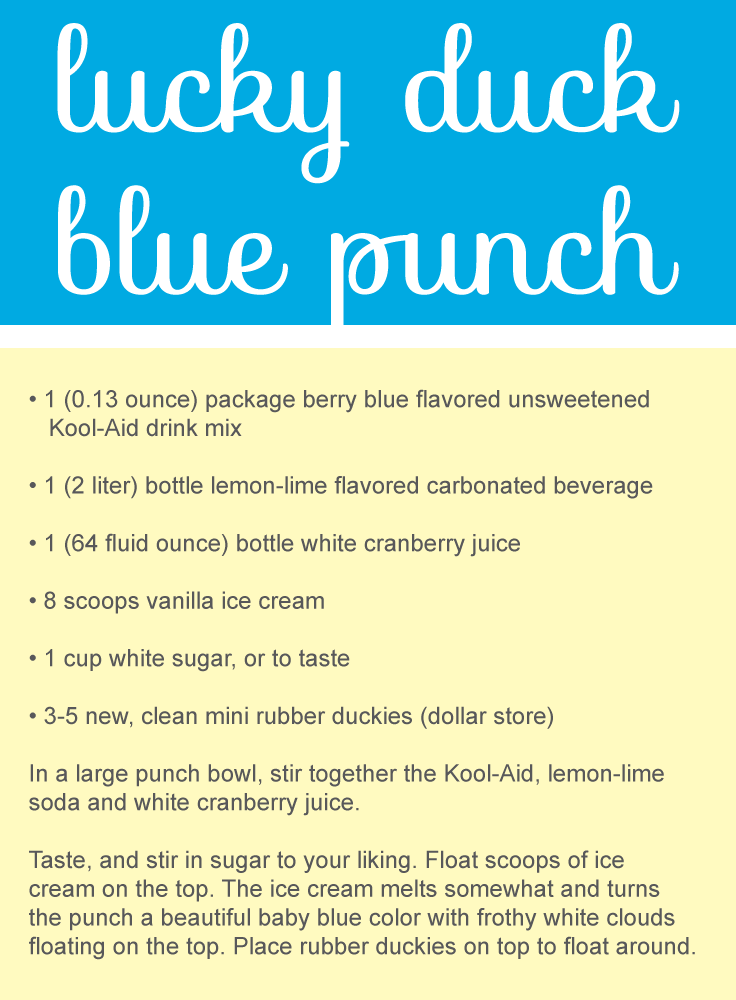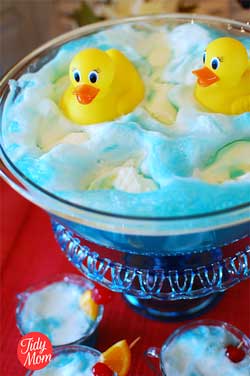 Image Source: Tidy Mom
Lucky Duck Blue Baby Shower Punch
1 (0.13 ounce) package berry blue flavored unsweetened Kool-Aid drink mix
1 (2 liter) bottle lemon-lime flavored carbonated beverage
1 (64 fluid ounce) bottle white cranberry juice
8 scoops vanilla ice cream
1 cup white sugar, or to taste
3-5 new, clean mini rubber duckies (dollar store)

In a large punch bowl, stir together the Kool-Aid, lemon-lime soda and white cranberry juice. Taste, and stir in sugar to your liking. Float scoops of ice cream on the top. The ice cream melts somewhat and turns the punch a beautiful baby blue color with frothy white clouds floating on the top. Place rubber duckies on top to float around.
---
How To Make Blue Hawaiian Punch For A Baby Shower

2 (0.13) packages unsweetened berry blue Kool-Aid
2 cans frozen Bacardi pina colada mix
1 liter bottle club soda
2 c. sugar (if using unsweetened Kool Aid)
2 qts. cold water

Combine Kool Aid, sugar and pina colada mix in punch bowl. Stir until sugar dissolves. Add 2 quarts cold water and stir. Immediately before serving add 1 liter of club soda.
---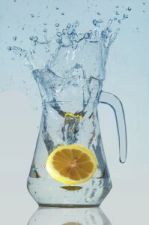 Detox Water: A simple way to make water taste delicious!
Serving punch at a shower is a staple that everyone loves! It is simple and tastes great! It is always a good idea to have some alternative drinks on hand as well.
A great suggestion for serving water is to have 2-3 pitchers of water - in one pitcher place lemon and lime slices - in another pitcher place freshly sliced cucumbers - and in the third pitcher place strawberries, raspberries or oranges.
This gives the water a wonderful flavor without all of the sweetness! Another easy baby shower punch tip is to blend frozen berries, pour into ice cube trays and freeze - add to fresh lemonade or sparkling water!
---


Our Famous Printable Water Bottle Labels
Be sure to have plenty of water available at the shower for those who are non-punch drinkers. We have designed several cute baby shower water bottle labels to jazz things up!
---

One More Popular Punch Recipe For A Baby Shower


Slushy Punch

2 1/2 cups white sugar
6 cups water
2 (3 ounce) packages strawberry flavored gelatin mix 
1 (46 fluid ounce) can pineapple juice 
2/3 cup lemon juice 
1 quart orange juice 
2 (2 liter) bottles Sprite or any lemon-lime flavored carbonated beverage 

In a large saucepan, combine sugar, water, and strawberry flavored gelatin. Boil for 3 minutes. Stir in pineapple juice, lemon juice, and orange juice. Divide mixture in half, and freeze in 2 separate containers. When ready to serve, place the frozen contents of one container in a punch bowl, and stir in 1 bottle of lemon-lime soda until slushy.


---
Click the pic to grab this free printable of the popular "Guess the size of mommy's waist" game! Print, trim, pop into an 8x10" frame, place on a table with yarn and scissors - and you're all set! Have guests cut the yarn to the length they think will fit around mommy's belly! So fun!

---
Home


› Baby Shower Punch


Home

›

Baby Shower Menu

› Baby Shower Punch