Cutest Baby Shower Centerpieces
Cute and unique baby shower centerpieces can add a big burst of pizzazz to the room and set the tone for the shower!
We have come up with a list of cute ideas to get your creative juices flowing. Most of our centerpiece ideas can either be handmade or purchased.
Enjoy these easy and creative baby shower decoration ideas!
Diaper Cake Centerpiece Ideas

Baby shower diaper cakes are extremely popular! They make a striking centerpiece and are filled with tons of "new baby essentials" such as diapers, bib, socks, rattles, etc. The best thing about using diaper cakes for the centerpiece is that it can be given to the mom-to-be once the shower is over. Get simple instructions on how to make a Diaper Cake
Whether you choose to make or buy your baby shower decorations, there are a bunch of handy ways to incorporate needed baby supplies into the centerpiece - and then give it to the mom-to-be as her baby shower gift! A great way to make your money go a long way!
---
Mini Diaper Cake Name Idea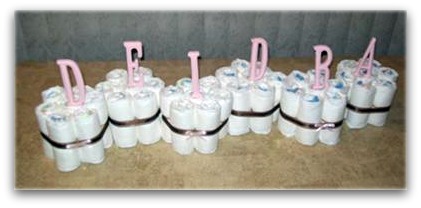 This clever idea was submitted by one of our talented readers, Linda from Sterling Heights, MI. Here is what Linda had to say:

I have made a few of these diaper centerpieces for baby showers and they look great displayed on the gift table or as table centerpieces. (one mom to be used it as a game for guests to try to guess what the baby's name would be - the letters were scrambled on each table and the guest were divided into to teams to see who could spell out the baby's name within 1 min.)

Each letter contains 7 diapers and all of the diapers are wrapped with rubber bands to hold them firmly in place. The letters are bonded with a wooden dowel and hot glued to hold the letters in place, which are then inserted into the center of each diaper. Wrap the outside of the diapers with colored ribbon to match the theme of the shower.

This is a cute centerpiece that won't get thrown away, can be used by the mom for the new baby and can be coordinated with the theme! (tip: if you do not yet know the name of the baby - you can use the mother-to-be's name)
Rubber Ducky Pond Centerpiece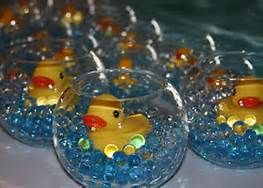 photo from CatchMyParty.com
Place some blue glass pebbles in the bottom of a clear glass bowl (you can find these at your local craft shop.) Place a little rubber ducky on top. You can also use blue water marbles - also called Orbeez.
Pea in a Pod Diaper Centerpiece Idea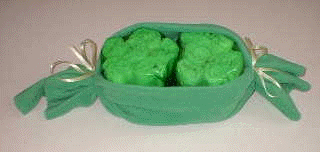 To make this simple diaper pea in a pod centerpiece, all I did was roll up 6 diapers and wrap them in green cellophane. I secured the cellophane with clear tape. Then I bought a 1/2 yard of green fleece and wrapped it around the diaper (pea) bundles and tied each end with ribbon. Simple to make and so cute! Perfect for twins, triplets, or more!
You can also use a green baby blanket instead of fleece - This is actually a smarter idea since the baby can use it - so the centerpiece doubles as a cute gift!
Below is a pea in a pod centerpiece picture I found on Google - It didn't have a website linked to it, so I wasn't able to give credit to the source (if you know who this pic belongs to, let me know and I'll add their info here.)
Roll up cute little baby washcloths and wrap a receiving blanket around them - tie each end with pretty ribbon. So adorable!

Balloon Bouquet

For this baby shower tables decoration, gather a bunch of cute balloons (mylar and latex) and tie together to make a bouquet. Attach a stuffed animal to the bottom to weigh them down.
A Bouquet of Baby-Themed Flowers
Order a cute "baby shower themed" bouquet of flowers from your local florist. Ask if they have a cute baby buggy basket or wagon to put the bouquet in.
FREE Printable "About to Hatch" Print

Print our free "About to Hatch print, place in a cute frame and place on the gift table for a splash of cuteness! (click on the picture to be taken to its page)
Red Wagon Gift Centerpiece

Fill a miniature red wagon with baby diapers, bibs, stuffed animals, onesies, washcloths, socks, etc.
ABC Baby Blocks

Lay abc blocks in the center of a square mirror, spell out cute baby words such as "Welcome Baby." For an added touch, sprinkle baby's breathe around the blocks or add some tea lights.
Use your cute baby shower cake as a centerpiece!
Visit our cutest baby shower cakes gallery for 100's of cakes pictures, ideas and instructions!
Sugar Cookie Bouquet
Using your favorite sugar cookie recipe, cut dough into cute "baby themed" shapes and place a popsicle stick into the bottom of each one before baking. When done baking and cooled, frost with pastel frosting. Place some floral foam in the bottom of a cute pot and insert the cookies into the foam. Cover the foam with jelly bellies, pastel M&M's, Easter grass, etc. Visit our "Baby Shower Cookies" page for more ideas!
Toy Dump Truck Centerpiece

Fill a big toy dump truck with baby accessories such as booties, rattles, bottles, washcloths, etc. This makes a unique baby shower centerpiece!
Christmas Baby Shower?
Get a mini tree and decorate with socks, rattles, cute ornaments, pacifiers, etc. We have a whole page full of Christmas Baby Shower Ideas - take a peek!
Baby Shower Plant
Purchase a nice quality plant or mini tree and place it in a baby-themed pot. Decorate the plant with cute ribbons, pacifiers, rattles, or print out cute little baby sayings on your computer and tie them on. This makes a great baby shower centerpiece and the mom-to-be will have a keepsake to remember her shower.
Floating Umbrella Centerpiece

Hang a cute umbrella upside down from the ceiling and fill it with balloons and baby items. Have curled ribbon coming down from it. Or, if you can find a mini umbrella, place it directly onto the table. So cute!
Hawaiian Themed Shower Centerpiece
Purchase a large pail and shovel and turn it into a beach bum gift basket! Fill it with baby sunscreen, baby sunglasses, a baby sun visor, pool/bath toys, etc. This is one of our favorite centerpiece ideas!
Ships Ahoy Boat Baby Shower Decor

Fill a plastic boat full of baby items and attach a cute sign saying: "Ships ahoy! It's a boy!" We have a ton of cute "Ships Ahoy Baby Shower Theme Ideas" here!
Noah's Ark Centerpiece Ideas

Great for twins! 2-by-2...Find a medium to large plastic boat and fill it with fuzzy little animals such as giraffes, cows, elephants, etc. (make sure there are 2 of each.) Or, attach helium balloons to 2 soft toy animals, such as 2 teddies, 2 elephants or 2 rubber duckies. Visit our "Noah's Ark Baby Shower Theme" page here!

Pass The Centerpiece Baby Shower Game (also known as Pass The Prize)

You can find this popular baby shower game over at our printable party site! It comes in all kinds of themes for you to choose from! Enjoy!