Train Baby Shower Cakes
We've got some adorable train baby shower cakes for you to see! If you are planning a "Train-Themed Baby Shower," then these cute cakes will be right up your alley! Chugga Chugga Choo Choo! Hop aboard the baby shower train express!
All of the cakes below have been submitted by our talented readers! Get inspired by all of the cute baby shower cakes and cupcakes!
---
Cute Striped Train Cake

by Gina Torrisi
(Suffolk, Va)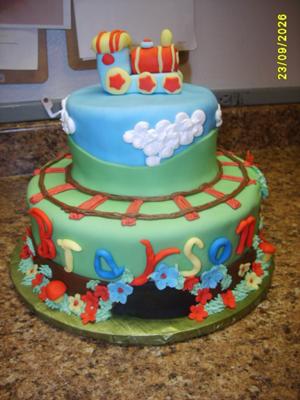 I was asked to make a train baby shower cake to match the Carter train theme. First I baked the cake. I used two boxes of Duncan Hines white cake mix and added ingredients to it.

Flour, sugar, sour cream, vanilla extract, almond extract, salt, oil, water and egg whites. The cake was for 20-25 people and I chose to make a two tiered cake consisting of a two layer 8"round and a two layer 6" round.

I torted the caked and filled them with chocolate pudding. after creating a dam with stiff butter cream. I use the Wilton recipe for my butter cream. It consists of Crisco, vanilla and almond extract, salt, powdered sugar, water, and meringue powder.
After filling I then spread on a thin crumb coating of butter cream. I used marshmallow fondant to cover each tier. It consists of marshmallows, water, vanilla extract and powdered sugar.

I colored the fondant in the colors needed. Blue (light and dark), green, and brown (light and dark). For the train I used a mixture of colored fondant and gum paste (a few days ahead of time so it could dry).

After covering the tiers in fondant I cut dowels to size and stuck them in the bottom tier to support the one above (each cake is on a cardboard circle).

I then placed the whole cake on the board and began decorating. I cut out stripes in the different colors and stuck them on using gum glue (a mixtures of pieces of gum paste and water, set up to create a glue).

I cut out the stars and attached them to the top tier with gum glue. I then rolled out the brown and cut it for the border. the buttons are cut out circles shaped with holes poked into them.

I attached dowels to the back of the train using royal icing. Ahead of time I had taken floral wire and put on small balls of gum paste, allowing it to dry. I attached a small hollow sucker stick to the back of the train using royal icing and stuck the floral wire into it.

I then stuck the whole train into the top of the cake and it was done!
-----

Reader's Comments:

train top
by: Anonymous

Very cute cake.

I was wondering how you made the train top.  Is the marshmallow fondant easy to work with? I'm thinking of trying it out for a cake I'm making and if you have any suggestions I would appreciate it.
---
2 Tiered Train Baby Shower Cake

by Omegas Cakes
(Azle, TX 76020)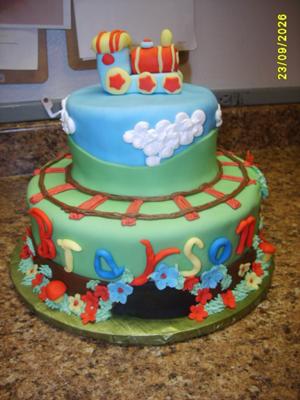 This "Train Baby Shower Cake" is made with 2 Tier Round cakes.

Both Tiers are covered in fondant. The bottom Tier is Light green fondant

The top Tier is Light Blue with Green and the clouds are made with butter cream icing.

The bottom tier is made with brown fondant ribbon with rail road tracks on top. The flowers and mushrooms and train are also made of fondant.
-----
Reader's Comments:
Love This Train Cake!
by: Anonymous

This train baby shower cake is so precious! It looks like a professional made it ~ I really love the cute little train on top too! And the colors are so bright and cheery!! Thank you for this great idea!
---
Train Baby Shower Caboose Cake

by Naomi
(Greer, South Carolina, USA)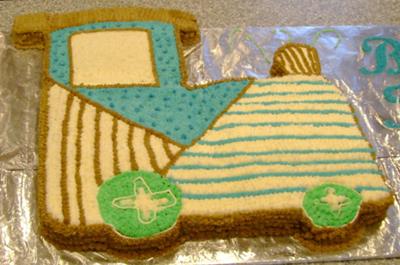 My friend gave me a napkin with the theme of the Baby Shower which was the caboose. I sketched the picture of the caboose on poster board and made a pattern like. I baked four sheets of cake always making sure I have enough cake to form my art.

The filling in the cake was Peach Preserve. I put these cakes together on the mirror or board I will be using to transport the cake. Setting the pattern on top of the sheets I proceed to cut the cake.

The frosting of this cake was butter cream with all the colors of the theme napkin. Enjoyed making this cake for my friend.
-----

Reader's Comments:

Original!
by: Annette

I applaud your originality Naomi! This cake departs from the 'norm' and as such brings a much needed refreshing effervescence to this contest!
Well done! Bravo!
Annette
New York City
-----
YOUR CABOOSE CAKE
by: BRENDA

Hello my friend. You've sure got talent and I always knew it!
That cake looks great and I can just taste it! Sorry I am so
far away and can't be there to taste it. Love, B

-----

Beautiful
by: Joel M

Hi, I would like to comment on this page which is very nice but what really makes it beautiful is that cake. Very good on the eyes. Just by looking at it I can taste it. Great Job!
---
Free Printable Train Clipart
Click on the picture below to open and print your FREE train clip art! There are so many ways to incorporate this cutie into the baby shower. My favorite is to print the train onto white card stock, cut out, attach it to a wooden dowel with clear tape and poke into a simple frosted round cake. You don't have to get fancy and extravagant to create a cute baby shower cake. Sometimes simplicity is just as cute!
Some other ways to use the train clip art is to print off several, punch holes in the top of each train and string onto cute matching ribbon. Use as garland and hang across a mantle or food table.
You can also use the train clip art as cupcake toppers, attach to a ribbon and wrap around napkins for cute napkin rings, us as favor tags, name tags or place cards!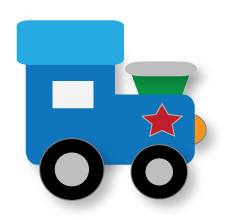 Some more fun and affordable ways to decorate is to make train sugar cookies (made using a train-shaped cookie cutter.) Frost them and serve as snacks at the shower, or bundle them up and hand as as baby shower favors. You can also cut sandwiches into train shapes!
Return From Train Baby Shower Cakes ... back to our Cake Gallery
See Our Cute Train Diaper Cakes
Home



›

Baby Shower Cakes
› Train Baby Shower Cakes