How To Host The Cutest
Adoption Baby Shower
Whether you are hosting an adoption baby shower for a newborn, or celebrating the adoption of an older child, a party is in order! A big one! Below are some festive and fun ways to welcome a new child into the family!
Adoption Baby Shower Invitation Ideas
For adoption baby shower invitations, you can choose any cute theme idea you wish - and then personalize it with wording for an adoption shower. Some cute and creative adoption wording ideas are below.
Since not all adoption showers or celebrations are for newborns, be sure to include the child's age, gender, clothing size in the invitations. 
Adoption Party Invitation Wording Ideas:
Adoption is when a child grew in its mommy's heart instead of her tummy.  ~ Author Unknown
The adoption is complete - there's a sweet little girl for you to meet
The adoption is complete - there's a new little boy for you to meet
Worth The Wait
However Motherhood Comes To You - It's A Miracle
Wanted. Loved, Chosen, Adopted.
Dreams Come True - Please Help Us In Celebrating The Arrival Of Our New Little One.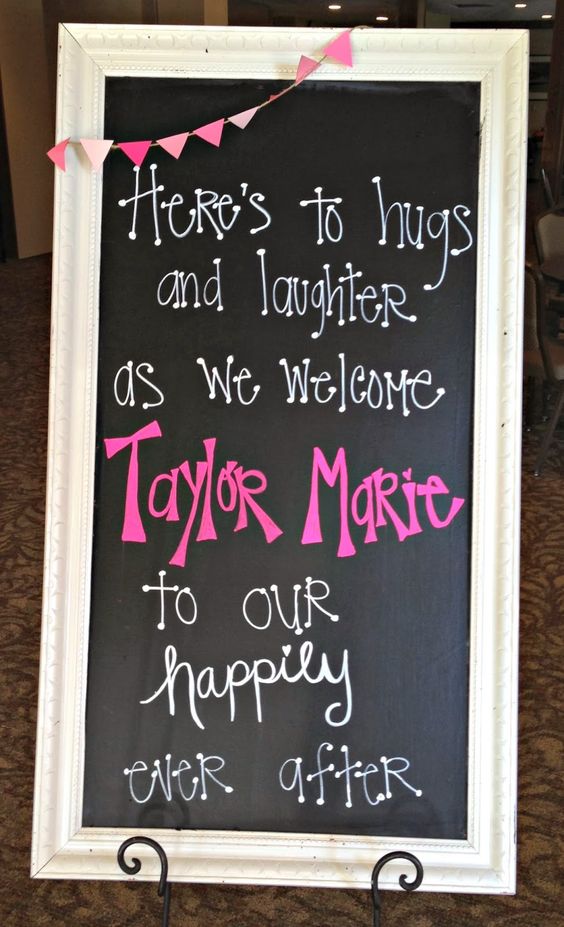 What a sweet way to welcome a new child to the family - this adoption party sign can be placed at the front door for guests to see when they arrive. Or place on the gift table or hang on the wall. 
To make this adoption baby party sign, paint the glass portion of a picture frame with chalkboard paint, let dry, write on the frame with chalk pens. So easy and so adorable!
A Baby Adoption Poem
I didn't give you the gift of life, but in my heart I know. 

The love I feel is deep and real, as if it had been so.
For us to have each other, is like a dream come true.
No, I didn't give you the gift of life,
Life gave me the gift of you.
- author unknown
---
Printable Baby Shower Adoption Wall Art
We created this print to be used to decorate the shower or adoption party. Then it can be given to the parents as a gift - to be hung in the child's room. It is listed in our shop and is available as an instant download. Simply print, trim and frame! - and it doubles as shower decor and a baby shower gift!
---
Favor Ideas For An Adoption Party
Wording ideas for favor tags - can also be used on adoption party invitations too:

Daniel is o-fish-ally ours! - hand out goldfish crackers in baggies, or fishy soaps or chocolates. The mold above is for easily making fish chocolates or soaps!

--------
A child sent from Heaven
A child that I call mine.
Though not of our creation
She's our child by God's design.

--------
Worth The Wait
--------
You were born in our hearts
--------
Love makes a family
--------
We wished for you
--------
I made some FREEEE printable favor tags for you - here.
---
Adoption Decoration Ideas
This is a wonderful alternative to a baby shower guest book. The mommy and baby elephants are spraying water droplets up into the air - and guests write their name and well wishes into each droplet. Click on the pic for more info.
---
Adoption Gift Ideas
This beautiful adoption tapestry makes the perfect gift for an adoption party! It is printed on canvas and can be hung on the wall. You can get it here. 
These special books are a popular staple among adoptive families. They both tell a sweet story about adoption and love. Click on the pics for more info.
Be sure to visit our Personalized Baby Gifts page for sentimental gifts - perfect for newly adopted babies or children.
---
Adoption Day Photo Sign
This is just the sweetest thing! This is such a wonderful way to introduce and announce the official day you adopted your little loved one! The suite this little guy is wearing just melts my heart!
Where would you like to go next: