How To Make The Cutest Baby Shower Flower Arrangements

EASY, DIY BABY SHOWER FLOWER ARRANGEMENT TIPS AND IDEAS
The term "flower power" is so true when it comes to decorating for a party! Flowers can completely transform a room by making it more cheerful, inviting and they are wonderful conversation starters. "Would you look at those flowers? How beautiful!"
Below are several inspiring ideas to get you started! By the time you are done reading this page, you will be able to create floral masterpieces that look like they took hours to assemble - without spending a fortune.
DIY Orange & Yellow Flower Arrangements

This baby shower flower arrangement is full of beautiful burnt orange, red and yellow flowers and is perfect for a summer or fall baby shower.

By wrapping large, green banana leaves (or any large leaves) around the inside of the vase, it really gives it a professional look. People will think a designer florist made them!
As an alternative for using real banana leaves inside of the vase, you can use this clever, waterproof ribbon that looks like leaves.
To keep the flowers from moving and falling down, place thin strips of floral tape around the lid of the vase in a checkered pattern. Trim the stems of the flower and clip any leaves growing from the stems. Add the flowers and you're all set! 
If you make several of these DIY flower arrangements for the baby shower, you can raffle them off to the baby shower guests at the end of the shower.
You can easily do this by taping numbers to the bottom of each vase. Have a bowl of corresponding numbers for guests to draw from.
The guests with numbers matching the vases are the winners - and get to take one home! This is a perfect baby shower game for people who don't enjoy playing traditional "corny" games!
---
Teacup Baby Shower Flower Centerpieces
These teacup flower arrangements are so adorable and would fit perfectly with a garden tea party baby shower or a "tea for two" twin baby shower.
If you do not have any teacups and saucers around your house, you can usually find great deals on them at thrift shops or garage sales. Get a variety of different styles and patterns and place them on countertops or the baby shower tables that the guests will sit at.
To make the teacup flower arrangements:
simply cut out small square/chunks of floral foam

get the foam slightly wet - so that it is easier to mold

place the floral foam into each teacup

trim the stems and leaves of each flower

poke the flowers into the floral foam until you achieve the look you want

get ready for the compliments to come pouring in!
---
Pink Mason Jar Baby Shower Flower Centerpieces
image source unknown
Well these are adorable. Pink painted mason jars filled with beautiful flowers and finished off with a pretty bow and plastic pacifier. You could also paint blue, green, yellow or any color - to match any theme! 
---

Kate Spade Inspired - Pink & Gold Glitter Flowers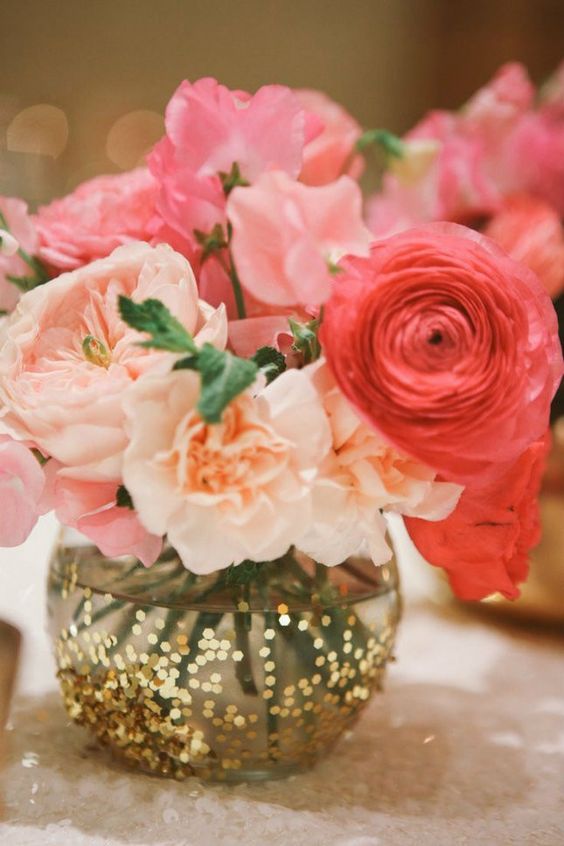 These pink and gold glitter arrangements are inspired by Kate Spade and are so easy to make! 
start off by getting several globe shaped clear glass vases
add water and sprinkle in large gold glitter flakes (or any color to match the baby shower theme)
add thin floral tape in a checkered design across the top of the vase (as shown at the top of the page) to secure the flowers in place
trim all of the flowers and snip off any stray leaves
poke the flowers into the vase until it is full and beautiful!
---
Rustic Country Flowers For A Shower
The rustic vibe of this flower arrangement is so stunning! The pale colors of the flowers are unique and beautiful! You can scour your thrift shops and craft stores to find the cool rustic metal tins, or check out Amazon or do a Google search for them.
Fill the tin with floral foam that you have dampened slightly, poke in several varieties of whimsical, pale flowers (if you love this look, you can probably show the picture to your local florist and have them pick flowers out for you that are similar. Be sure to go in ahead of time so the florist has time to order them if they normally do not keep them in stock.)
---
Baby's Breath & Roses In A Rustic Wooden Box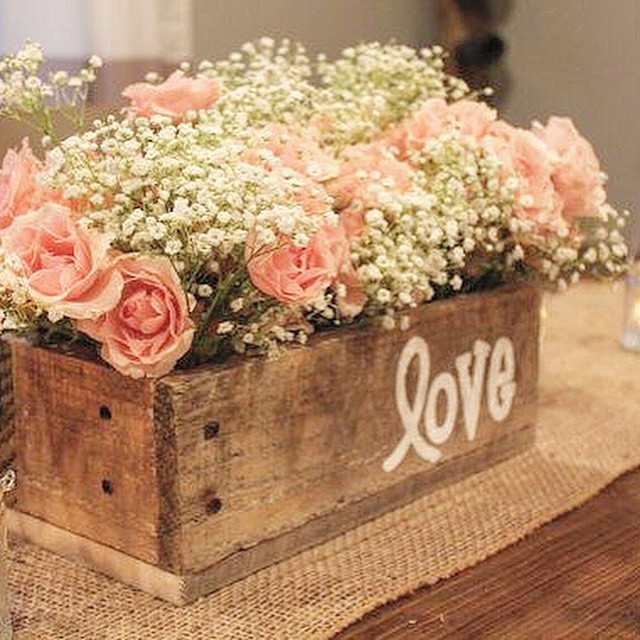 The rustic baby shower theme is pretty popular right now, so we thought we would include another example for you! If you are crafty and good at building stuff, then these boxes would be a cinch to make! If not, look around town for something similar or ask a crafty friend or relative to please, please, please make you some!
Once you have the boxes made or bought (I actually found some cool ones at Amazon!), line them with plastic so the water doesn't ruin the wood, add damp floral foam and mold to fit nicely into the boxes. Add the flowers and you're all done! The guests at the baby shower and the mom-to-be are going to be so impressed!
---
Mason Jar Magic: Transform Your Shower With These Simple Mason Jar Tricks
Popular Posts: