Easy Pom Pom Letter
Baby Shower Centerpiece Tutorial

This simple baby shower centerpiece idea popped into my head while strolling down the aisles of Hobby Lobby.
It costs about $5 to make and can really add a pop of color to the food or gift table.

I bought 3 small packs of pom poms and a large cardboard letter.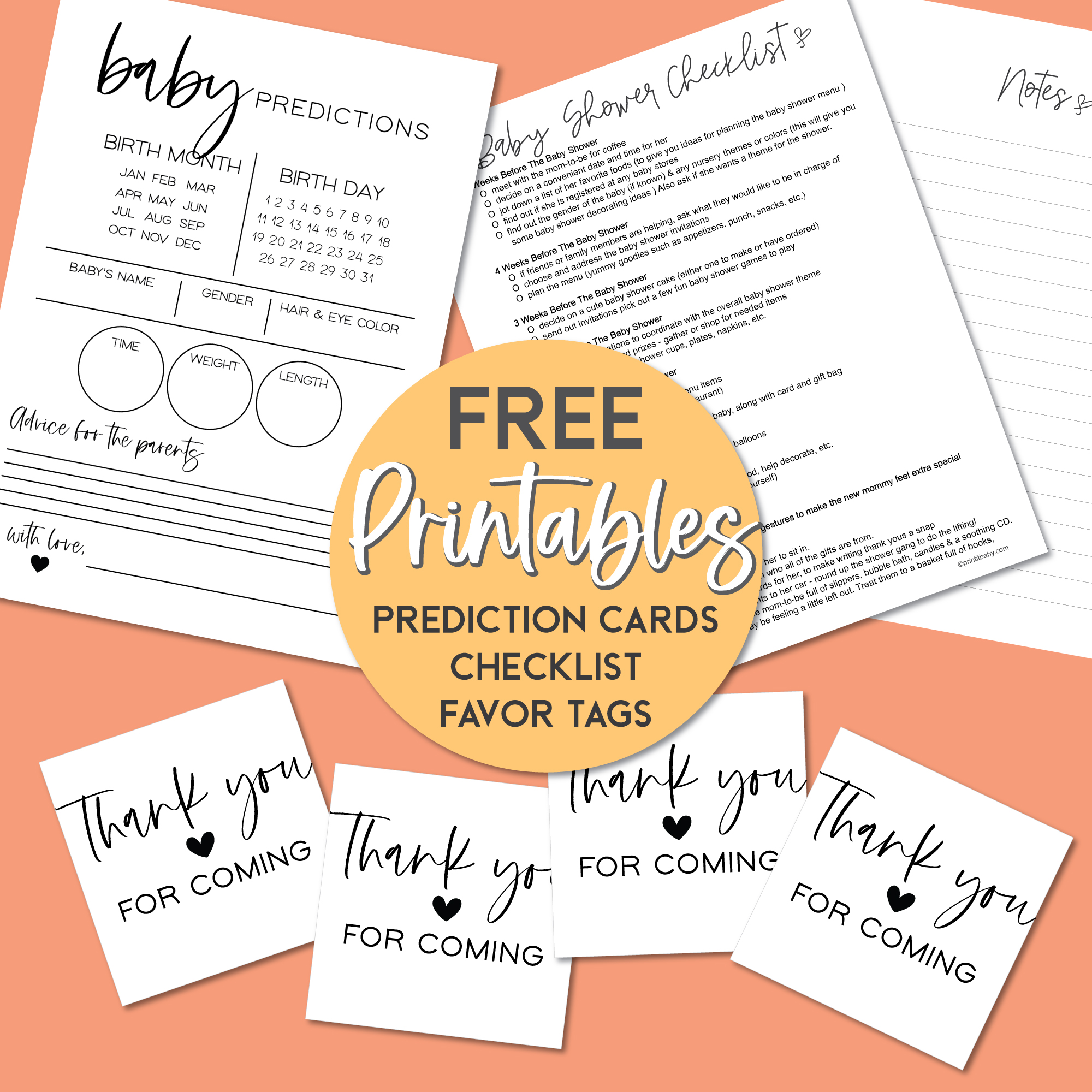 GRAB YOUR FREE PRINTABLES HERE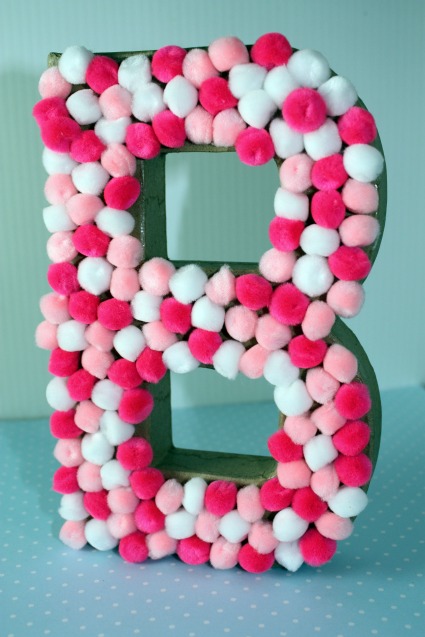 I chose to go with the letter "B" for baby - but if the baby's name is known, you could also choose the first letter of their first name or even their last name. and ran out - the "B" would have looked even cuter if the entire letter had been covered in pom poms - I ran out so 5-6 packs would have been better.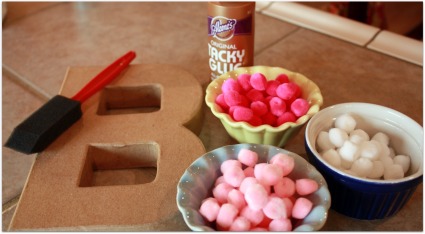 Start out with a cardboard letter (you could also use a wooden letter) - white craft glue - colorful pom poms (they come in all different kinds of cute colors and sizes, even shiny sparkly ones!) - and a sponge brush for painting on the glue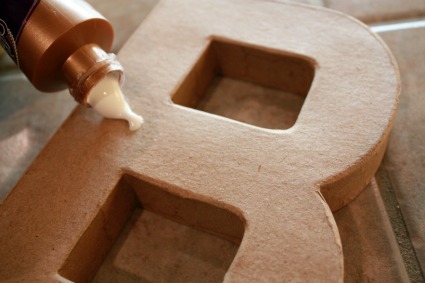 Pour a little bit of glue onto the letter (I used a craft glue, it dries fast and sticks well)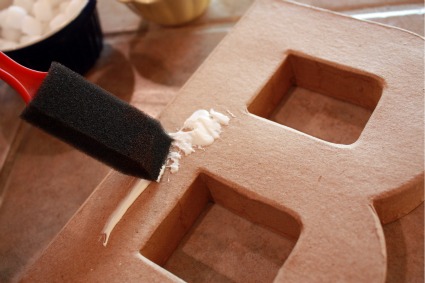 Spread around the glue with a soft foam paintbrush

Sprinkle the pom poms over the glue onto the letter so that no cardboard is showing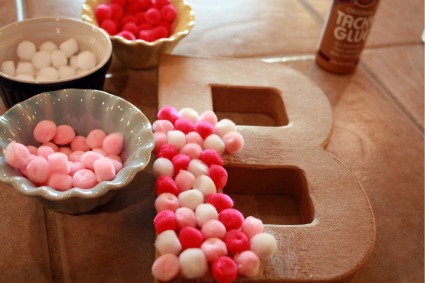 Looking good! Continue to add pom poms until the whole letter is covered. Like I mentioned above, I ran out of pom poms - but I think the finished project would look much cuter if the entire letter was covered in pom poms.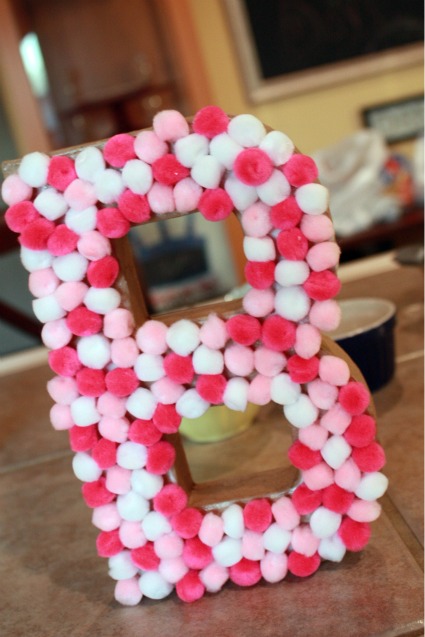 So easy! This project took about 5 minutes to make and will make such a cute addition and add a pop of color to any baby shower!
---
Sparkle Baby Shower Centerpiece Idea


Another baby shower decoration idea that is even easier is to purchase a glittered letter at the craft store and poke a food skewer into the bottom of it!

Place into a vase full of colorful candy and tie a cute bow
around the stick! So easy!
You can also poke it into a baby shower cake, or buy mini letters and poke them into cupcakes!
---
One last idea for a darling and classy baby shower decoration is to wrap a cardboard or wooden letter in yarn! So perfect! I found these letters on etsy.com from Cranny Found Favorites!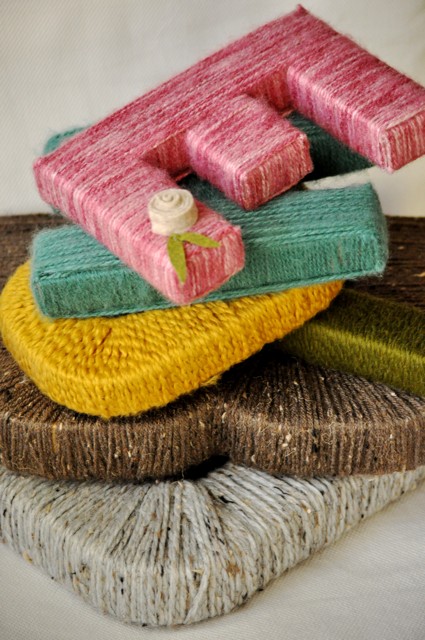 I hope these simple ideas inspire you to create amazing baby shower decorations and centerpieces!
FREE PRINTABLE BABY PREDICTIONS CARDS