Easy 5-Week
Baby Shower Checklist
Below you will find our simple, easy to follow 5-week baby shower checklist.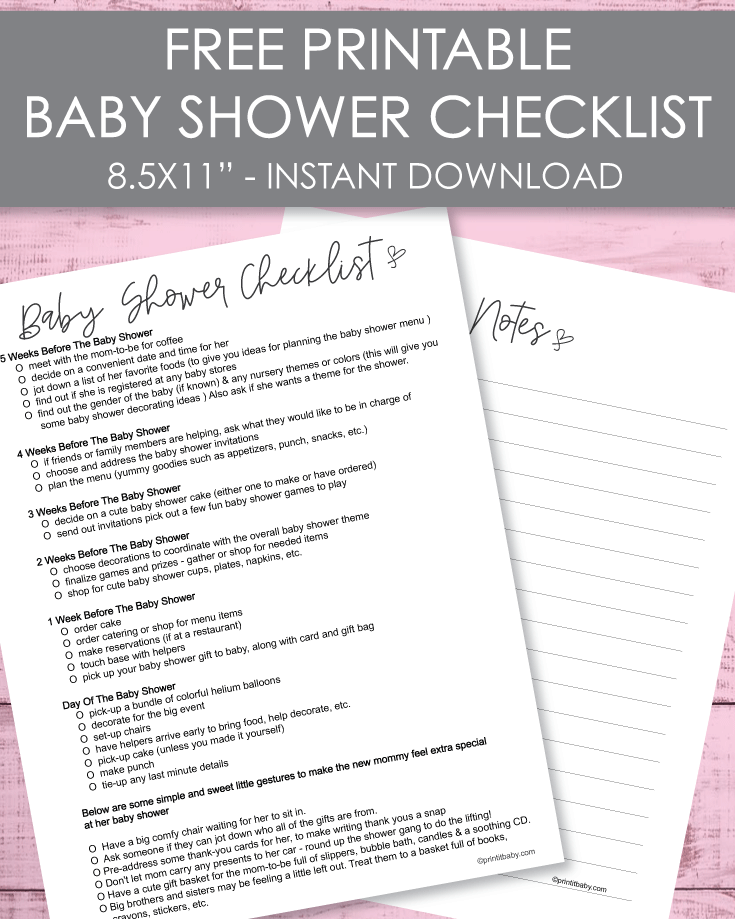 This handy baby shower planning guide is designed to guide you through the process of planning a baby shower.
The baby shower planner checklist is also designed to help those that are planning a baby shower on a low budget.
Have fun and be inspired!

(New! be sure to scroll down the page - we just added a new printable "diaper bag essentials" checklist)
Printable Checklist -
Baby Shower Planner PDF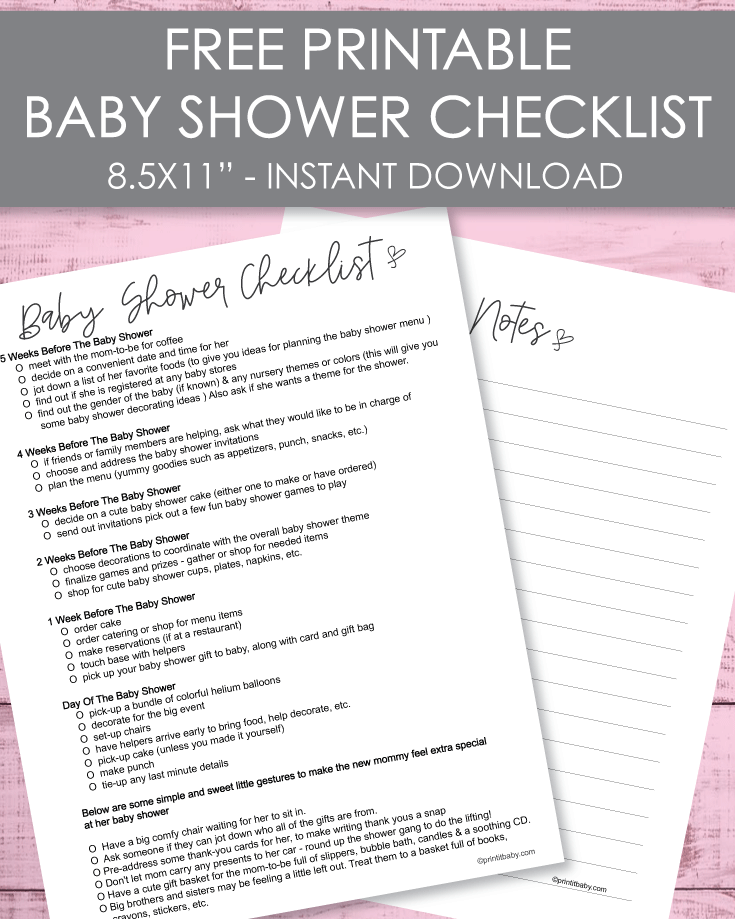 Click here to access this FREE printable baby shower checklist
---
5 Weeks Before The Baby Shower
4 Weeks Before The Baby Shower
3 Weeks Before The Baby Shower
2 Weeks Before The Baby Shower
1 Week Before The Baby Shower
Day Of The Baby Shower
Isn't this a simple baby shower checklist? Not much to it and no need to feel overwhelmed.
Below are some simple and sweet little gestures to make the new mommy feel extra special at her baby shower.
---
Diaper Bag Checklist

We created a free printable diaper bag checklist that you can print off and tuck inside your baby shower gift for the mom-to-be at her baby shower!
The perfect gift idea would be to get her that designer diaper back she has been eyeing and filling it with all of the "new baby" essentials! Then include the checklist so she can always be stocked with the important "new baby items!"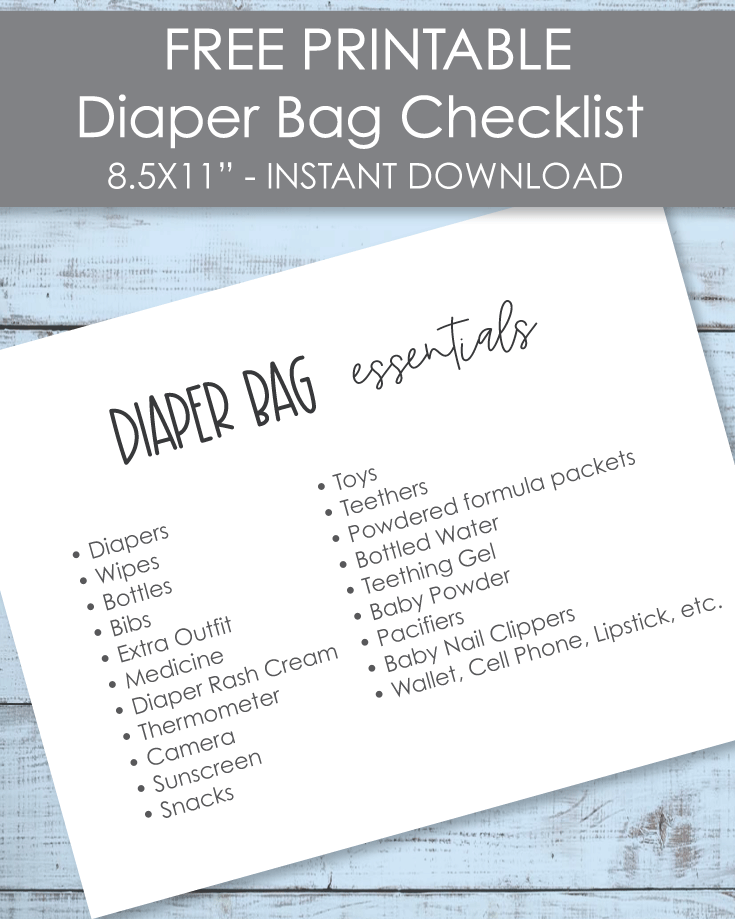 Diaper bags are usually overflowing with all kinds of crazy things - especially if you have other children. There can be iPads, Kindles, iPhones, strange snacks from a week ago, juice boxes, you name it!

When you bring a new baby home you want the new diaper bag to stay clean and organized as long as possible. Below is a list to keep it well stocked and some tips for keeping it free from mysterious food items.
Top Diaper Bag Essentials

Diapers
Wipes
Bottles
Bibs
Extra Outfit(s)
Medicine
Diaper Rash Cream
Thermometer
Camera
Sunscreen

Snacks
Toys
Teether
Powdered Formula Packets
Bottled Water
Teething Gel
Pacifiers
Baby Nail Clippers
Mom items: wallet, cell phone, lipgloss, etc.
An easy way to stay organized and keep the clutter down to a minimum is to clean out the diaper bag after each outing. It is easier said than done but it really does help.
Also, if you have other children, fill a small bag with items they will need such as snacks and toys and tuck it into the diaper bag. This way their items stay separate from the baby's items.
Tuck your cell phone, lip gloss, wallet, etc into a side pocket or a mini purse.
---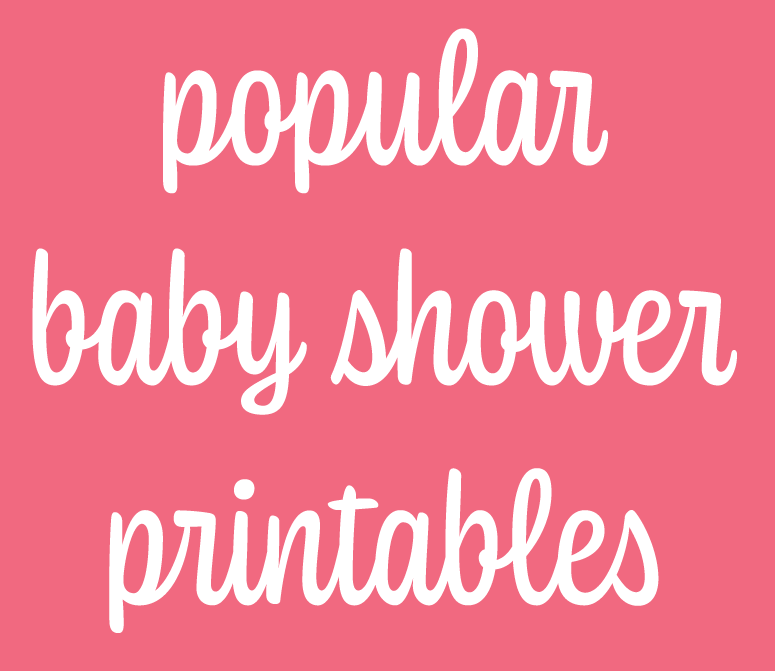 SEE ALL OF OUR BABY SHOWER PRINTABLES
---

Free Printable Baby Shower Corsage Tags
Click on the picture above to see our cute ideas for making baby shower corsages and download your free tags!
---