How using a
Baby Shower Checklist can ease stress and overwhelm
free printable baby shower bundle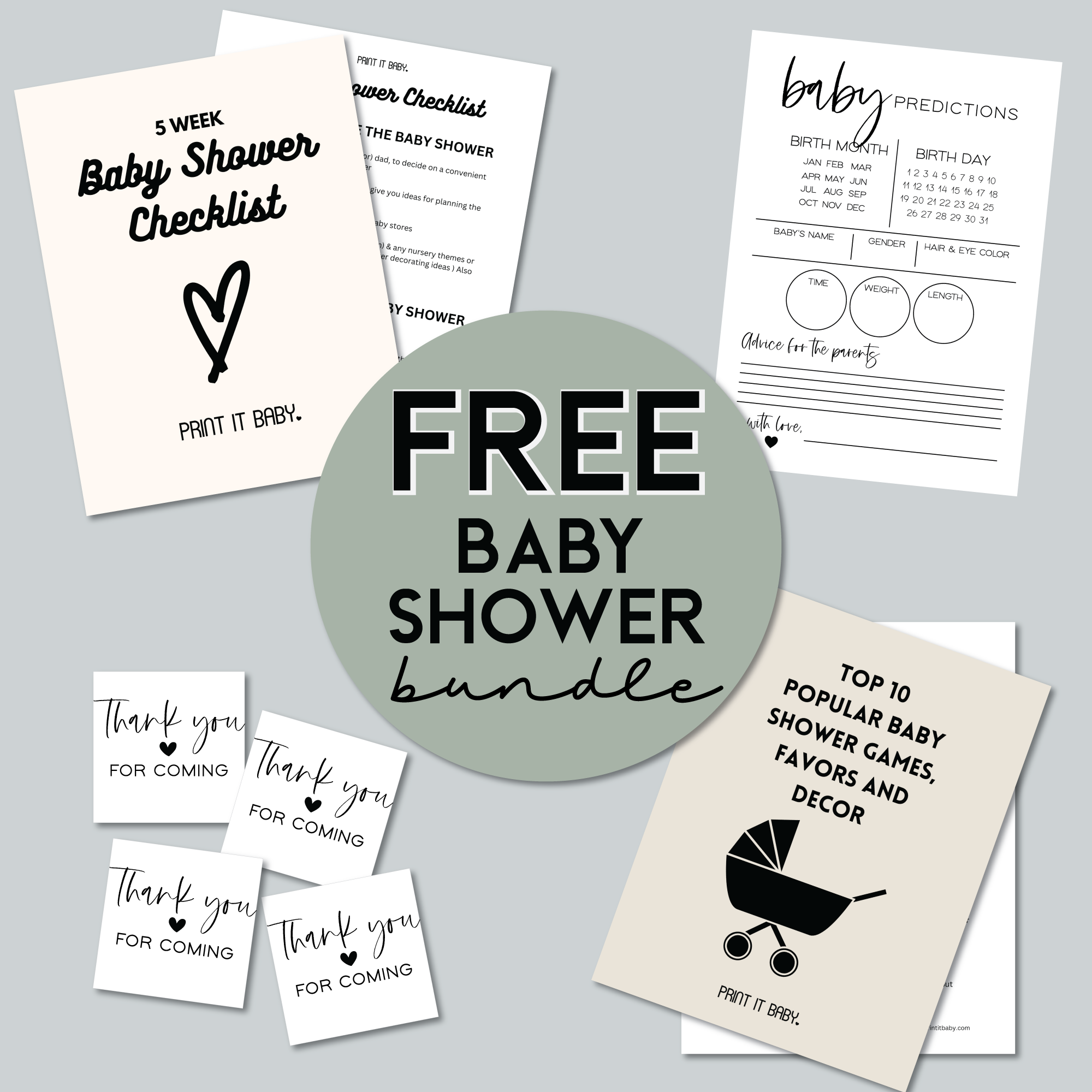 baby shower checklist • prediction cards • ebook • favor tags
---
Simplify Your Baby Shower Planning with a Simple Baby Shower Checklist
Hey there, all you excited mom-to-be's and soon-to-be aunties, grandmas, and best friends!
If you're about to throw a baby shower and the mere thought of organizing it makes you break out in a cold sweat, don't worry. We've got your back!
Let's talk about the magic wand of party planning: the Baby Shower Checklist.
Now, you might be thinking, "Do I really need a checklist? Isn't it just another to-do list?" Trust me, a baby shower checklist is more than just a list; it's your secret weapon to conquering the chaos and avoiding that last-minute stress.
(Get FREE baby shower printables and checklist below)
1. It Keeps You Organized
We've all been there – juggling a million things at once and praying you didn't forget something important. A baby shower checklist helps you stay organized by breaking down tasks into manageable steps. From choosing a theme and sending out invites to planning the menu and games, it ensures nothing falls through the cracks.
2. It Prevents Overwhelm
When you've got a lot on your plate, it's easy to feel overwhelmed. A checklist helps you visualize the entire process, allowing you to tackle one item at a time. This approach not only keeps your stress levels in check but also makes the whole experience enjoyable.
3. Reduces Last-Minute Rush
Procrastination is a party planner's worst enemy. By following a checklist, you can space out your tasks over time, avoiding that frantic, last-minute rush to put everything together. You'll be sipping lemonade and relaxing while your guests are in awe of your seamless event.
4. Ensures You Don't Forget Anything
Who wants to be the person who forgot to order the cake or the balloons? With a well-organized baby shower checklist, you can rest easy, knowing that every detail has been accounted for. Your guests will be amazed at your impeccable attention to detail.
5. Keeps You on Budget
Baby showers can get pricey quickly, but a checklist helps you keep a handle on your budget. You'll be able to plan and prioritize expenses, making sure you don't break the bank while still hosting an incredible celebration.
6. Boosts Creativity
A checklist is not just about boring tasks; it can also inspire your creative side. As you plan each element of the baby shower, you'll have space to brainstorm and think outside the box, creating an event that's truly unforgettable.
7. Keeps Your Guests Happy
A well-organized baby shower means happy guests. From coordinating RSVPs to planning entertainment and activities, your checklist ensures that your attendees have a fantastic time, and isn't that what it's all about?
Get your Free Printable Baby Shower Checklist Here (this will give you access to our Free Printable Vault over at our sister site: PrintItBaby.com - the vault is overflowing with free printables (including the baby shower checklist) - with more being added weekly!)
So there you have it – the baby shower checklist is your stress-busting, organization-friendly, creativity-inspiring best friend. It's the tool that takes the chaos out of party planning and replaces it with a sense of calm and control. Plus, it allows you to focus on the most important thing: celebrating the upcoming arrival of that adorable bundle of joy!
With your checklist in hand, you can kick back, relax, and enjoy the journey of planning your baby shower. And when the day arrives, you'll be ready to dazzle your guests with a beautiful, stress-free event. Cheers to happy, memorable celebrations!
Now, go ahead and download that checklist, and let the baby shower planning adventures begin!
Below you will find our simple, easy to follow 5-week baby shower checklist.

This handy baby shower planning guide is designed to guide you through the process of planning a baby shower.
The baby shower planner checklist is also designed to help those that are planning a baby shower on a low budget.
Have fun and be inspired!

(New! also be sure to scroll down the page - we just added a new printable "diaper bag essentials" checklist)
FREE Printable Checklist -
Baby Shower Planner PDF

free printable kids coloring christmas bundle - 100 pages!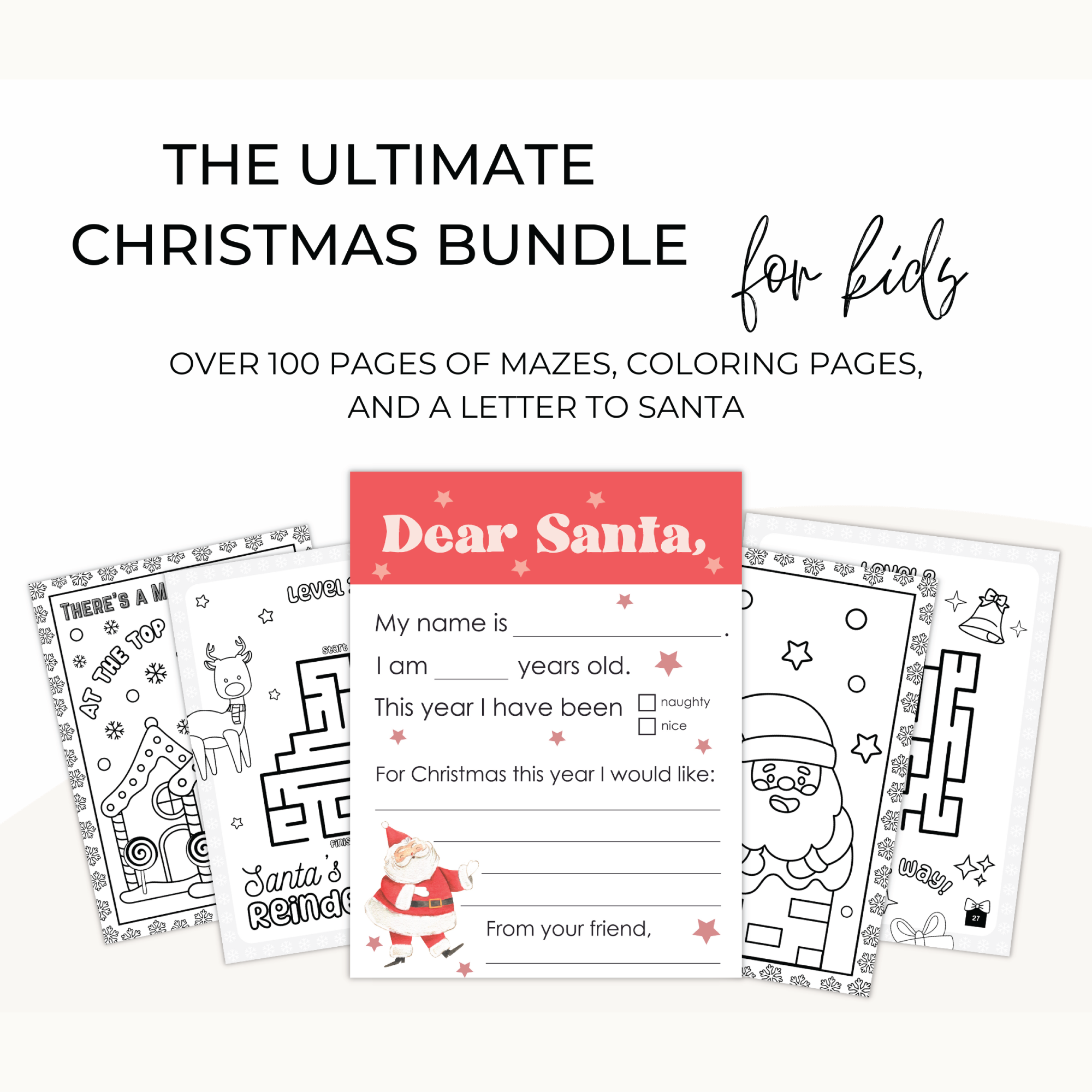 get your free coloring and activity pages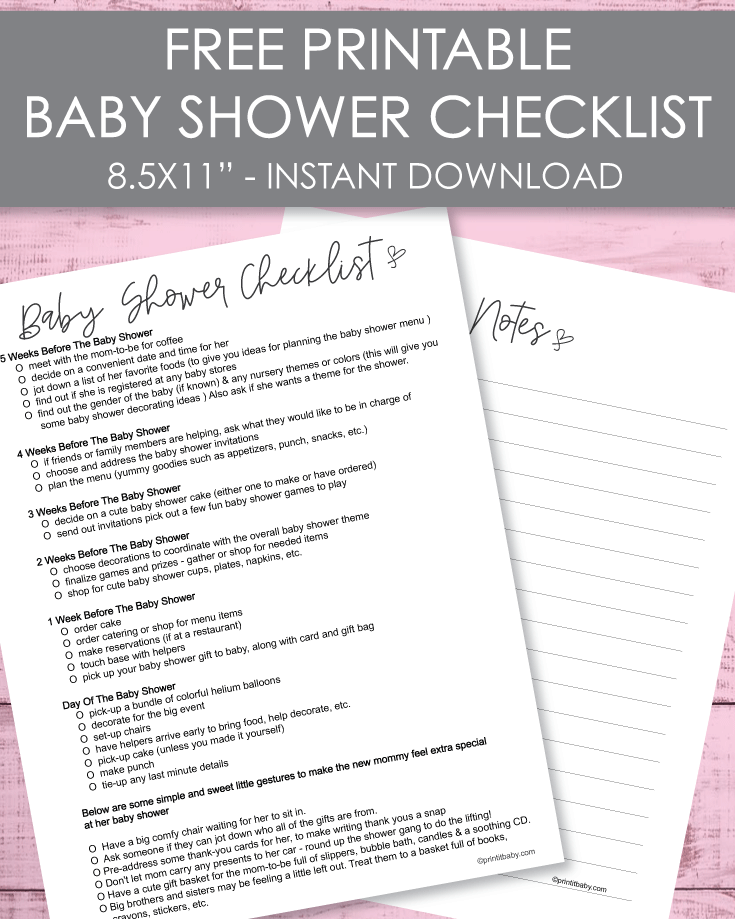 Click here to access this FREE printable baby shower checklist
(this will give you access to our Free Printable Vault over at our sister site: PrintItBaby.com - the vault is overflowing with free printables (including the baby shower checklist) - with more being added weekly!)
---
baby shower checklist: 5 Weeks Before The Baby Shower
4 Weeks Before The Baby Shower
3 Weeks Before The Baby Shower
2 Weeks Before The Baby Shower
1 Week Before The Baby Shower
Day Of The Baby Shower
Isn't this a simple baby shower checklist? Not much to it and no need to feel overwhelmed.
Below are some simple and sweet little gestures to make the new mommy feel extra special at her baby shower.
---
Diaper Bag Checklist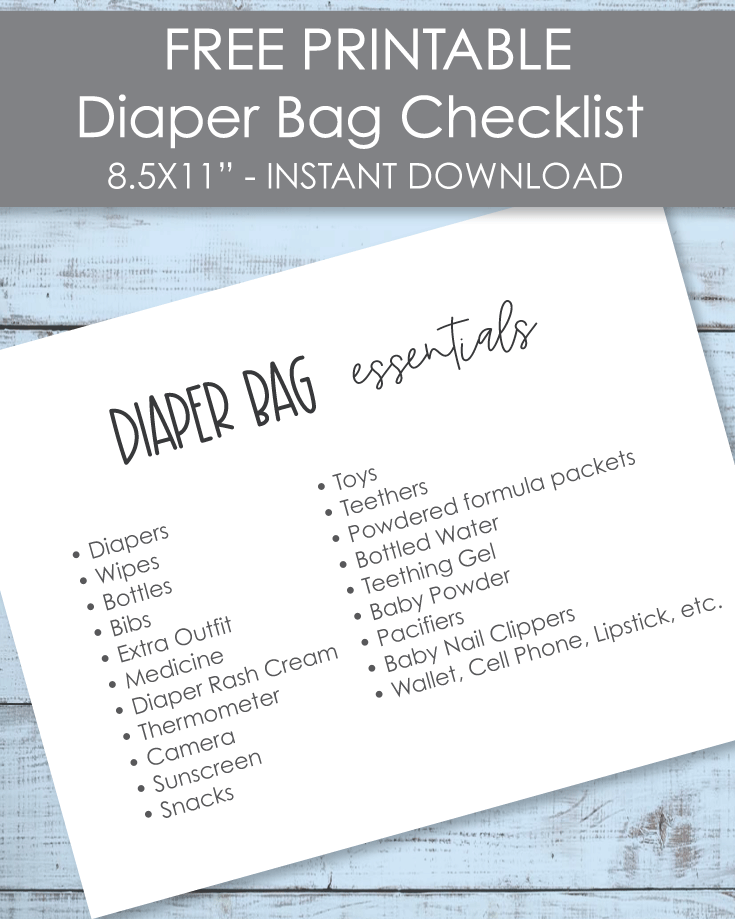 We created a free printable diaper bag checklist that you can print off and tuck inside your baby shower gift for the mom-to-be at her baby shower!
The perfect gift idea would be to get her that designer diaper back she has been eyeing and filling it with all of the "new baby" essentials! Then include the checklist so she can always be stocked with the important "new baby items!"
Diaper bags are usually overflowing with all kinds of crazy things - especially if you have other children. There can be iPads, Kindles, iPhones, strange snacks from a week ago, juice boxes, you name it!

When you bring a new baby home you want the new diaper bag to stay clean and organized as long as possible. Below is a list to keep it well stocked and some tips for keeping it free from mysterious food items.
Top Diaper Bag Essentials

Diapers
Wipes
Bottles
Bibs
Extra Outfit(s)
Medicine
Diaper Rash Cream
Thermometer
Camera
Sunscreen

Snacks
Toys
Teether
Powdered Formula Packets
Bottled Water
Teething Gel
Pacifiers
Baby Nail Clippers
Mom items: wallet, cell phone, lipgloss, etc.
An easy way to stay organized and keep the clutter down to a minimum is to clean out the diaper bag after each outing. It is easier said than done but it really does help.
Also, if you have other children, fill a small bag with items they will need such as snacks and toys and tuck it into the diaper bag. This way their items stay separate from the baby's items.
Tuck your cell phone, lip gloss, wallet, etc into a side pocket or a mini purse.
---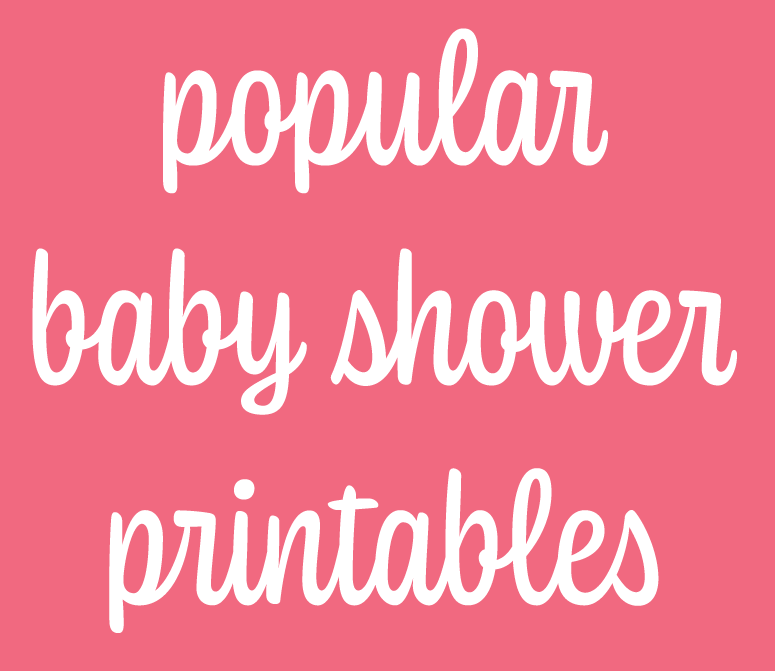 SEE ALL OF OUR BABY SHOWER PRINTABLES
---

Free Printable Baby Shower Corsage Tags
Click on the picture above to see our cute ideas for making baby shower corsages and download your free tags!
---
free pregnancy prompts for journaling - helps to reduce stress & anxiety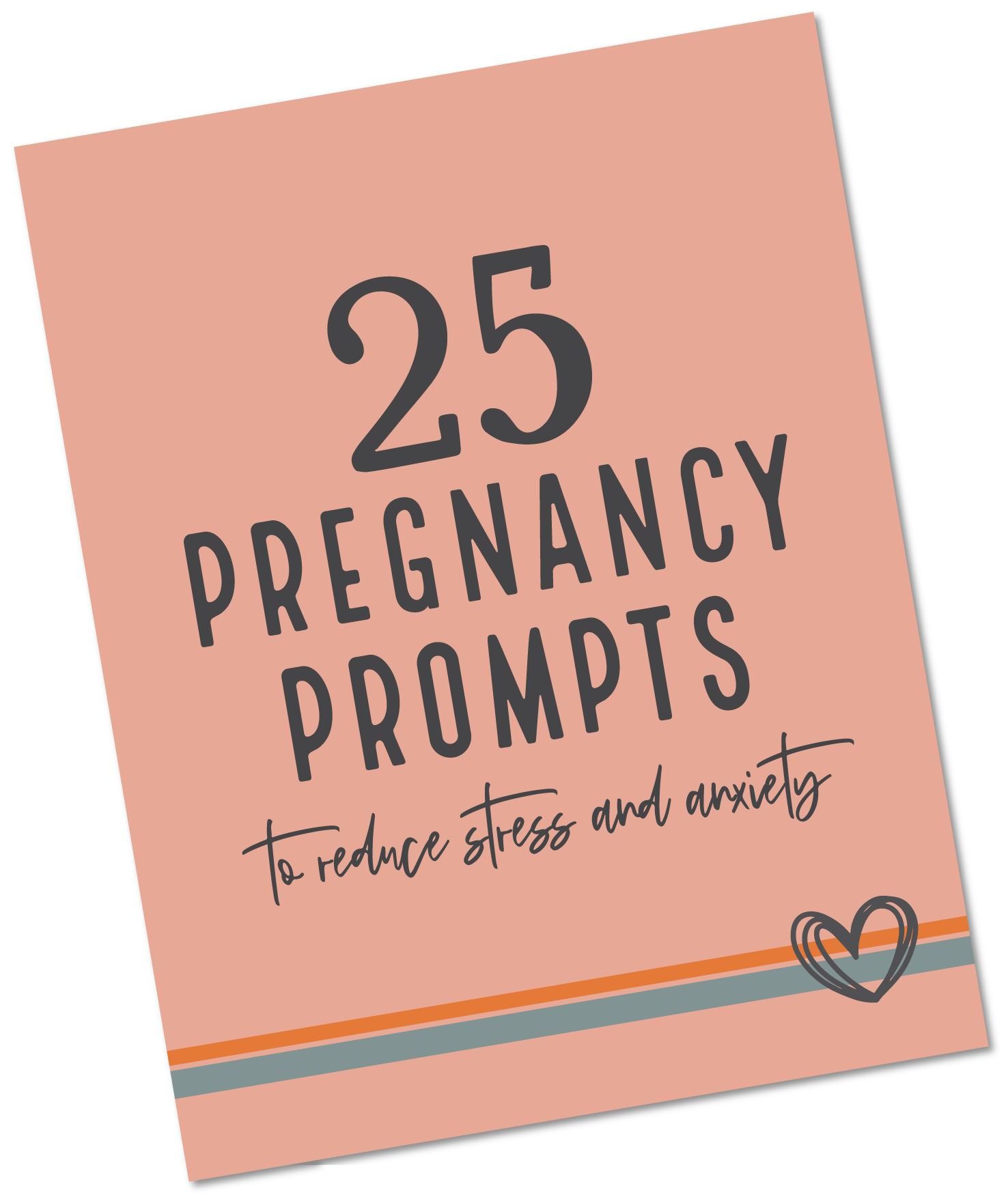 Reduce pregnancy stress with these helpful daily prompts for expecting moms