Easy Diaper Cake Instructions


Okay shower hostesses - it's time to get inspired! 
Baby Shower Diaper Cakes are trendy, cute, and make the perfect baby shower centerpiece and gift! 
We wanted to give you a few DIY options so that your cake making experience is as easy as possible.


VISIT OUR PRINTABLE BABY SHOWER SHOP

Diaper Cakes Wrapped With Receiving Blankets
If you are looking for a sleek, simple diaper cake - that is already made for you - we found some adorable ones over at Beau-Coup. Click on the pic to see!
Diaper Cake Instructions - You Tube Video
Below you will find a popular You Tube video tutorial with step-by-step diaper cake instructions.

There is also a written cake tutorial for those that don't like to watch videos. And also a link to see 70+ cakes that have been submitted by readers! 
You choose which method works best for you! Good luck & as always, have fun!

Easy instructions for "how to make a diaper cake" -
3 tier diaper cake
---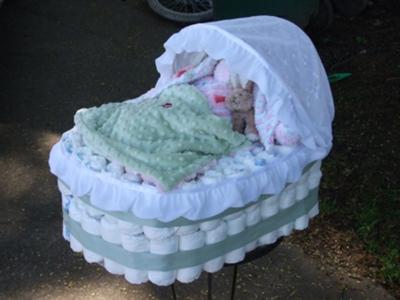 How To Make A Diaper Bassinet
---

Baby Diaper Cake Directions

Below are some easy to follow instructions for making a cute cake made completely out of diapers and popular baby supplies:
This cake pattern is cute, versatile and always gets a ton of compliments! The great thing about it is you can make the cake as big or as small as you'd like!

First, decide on how big you want to make it.

Below are some general guidelines:


1st Tier (bottom tier) - 30 diapers
2nd Tier (middle tier) - 15-16 diapers
3rd Tier (top tier) - 6 diapers


Starting with Tier 1, wrap the first diaper around a baby bottle and secure with a mini rubber band. Roll the remaining diapers jelly-roll style and secure with mini rubber bands. Attach the diapers together with by wrapping ribbon around them. Branch out from the diaper wrapped around the bottle, forming a circle/cake shape.


Repeat the process with the remaining tiers, using the correct amount of diapers for each tier (stated above.) The bottle on the top tier will poke out to look like a candle.


Wrap the layers of the cake with receiving blankets, secure with safety pins.


Attach the tiers to each other with safety pins and double sided sticky tape.


Decorate the cake with cute items such as toys, rattles, miniature baby shampoo, powder, soap, fingernail clippers, a baby book, pacifiers, etc.

---
DIY Cloth Diaper Cake
This unique and adorable cloth diaper cake was made by Jackie from Kansas City, Missouri. Below are her instructions for making this cute masterpiece!
• When making this diaper cake, I used a big round colored gift cylinder (you can find cylinder shaped gift boxes at party stores or card shops.)
• Then I put large rubber bands around the container
• Next, Roll the inserts for the diapers and fasten them to the rubber bands. 

• Then use a larger band and placed the fuzzi bunz and bum genius diapers over the inserts. Tie all together with curly ribbon.

• In the cylinder I placed a wet bag and lemon scented diaper crystals

• On top of the cake I placed a little frog with wearing a cloth diaper I found at a gift shop.
• Around some of the diapers, I placed little girl hair ribbons.
• This cake has a total of 18 cloth diapers.
---
3 Tier Diaper Cake: Diapers, Receiving Blankets & Baby Washcloths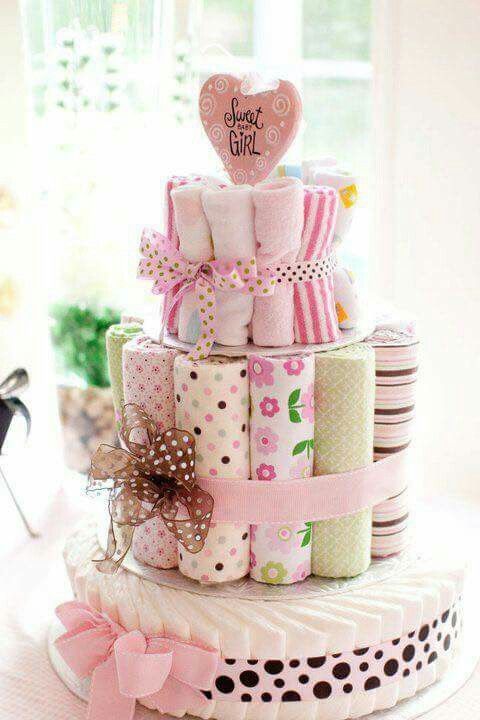 image source unknown
This adorable, multi-item diaper cake is the perfect baby shower gift for the new mom and baby!
The first tier is diapers - the second is receiving blankets and the top tier is baby washcloths.
---
Additional Diaper Baby Shower Ideas & Cloth Diaper Cake Ideas
Some other things you could add are booties, bibs, pacifiers, socks, rattles and lotions.

You could also fill the cylinder with baby goodies such as onesies, bath supplies, nail clippers, etc.

This is a wonderful gift for a mom-to-be that is concerned with using disposable diapers. Very earth friendly!

---
Easy, DIY Washcloth Flower Bouquets
source: DisneyBaby.com
If you are looking for cute and unique baby shower decorations that also make a great baby gift, this is perfect!
All you need are:
8-10 soft baby washcloths (per bouquet)
8 1/2 x 11" scrapbook paper
scissors
tape
cute ribbon (optional)
free paper paper cone template (click to open and print)
Download and print off as many free paper cone templates as you need. Cut out, roll and secure with tape.
Roll each baby washcloth diagonally, secure with a small piece of clear tape.
Place 8-10 baby washcloths into each paper cone.
Tie ribbon around each cone (optional)
Place on tables for cute decorations and give them all to the new mom as a baby shower gift after the shower!
Other uses for our free paper cones are: fill with candies or bath bead, wrap cellophane around and tie at top with a ribbon. Give to each guest to take home as party favors! Don't forget to add one of our free baby shower favor tags!
---
Baby Shower Craft Ideas & DIYs - Super Cute Crafts Using, Baby Socks, Diapers, Washcloths, Bibs and More! 


Submit Your Own Cake: You've done all of the work - and now we want to see it! Share your cute creation with our readers!


Be sure to visit our REAL cake gallery - filled with over 100 cake picture and tutorials - all submitted by readers!
When it comes to creating these cute cakes, the possibilities are endless! They can be adapted to match any color or theme.
The mother-to-be will absolutely love it! Not only does it make a beautiful baby shower centerpiece for the main table - it is overflowing with amazing baby goodies!





The new baby will be spoiled with tons of diapers, washcloths, bibs, rattles, lotions, shampoo, booties, stuffed animals - and all of the other supplies that are tucked inside!
- NEW DESIGNS! -
PRINTABLE BABY SHOWER GAME PACKS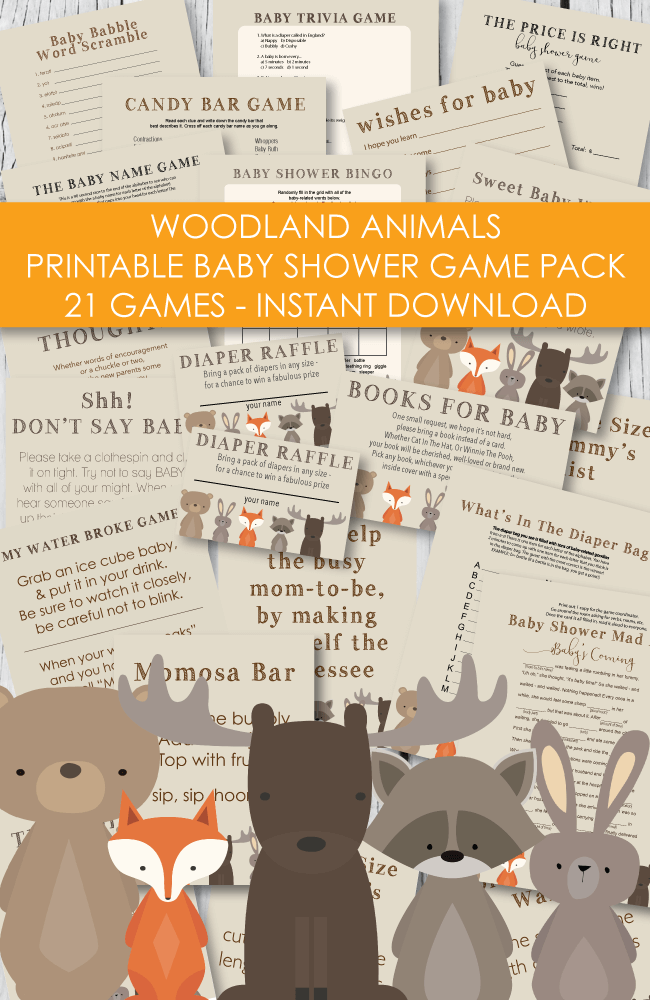 ---
- FREE PRINTABLES -
If you love free printables, you are going to love what you'll find below!
Creating printables is my favorite thing to do - I have been busy making tons of free baby shower thank you tags, favor tags and signs. Enjoy!
Click on each picture to access your FREE printables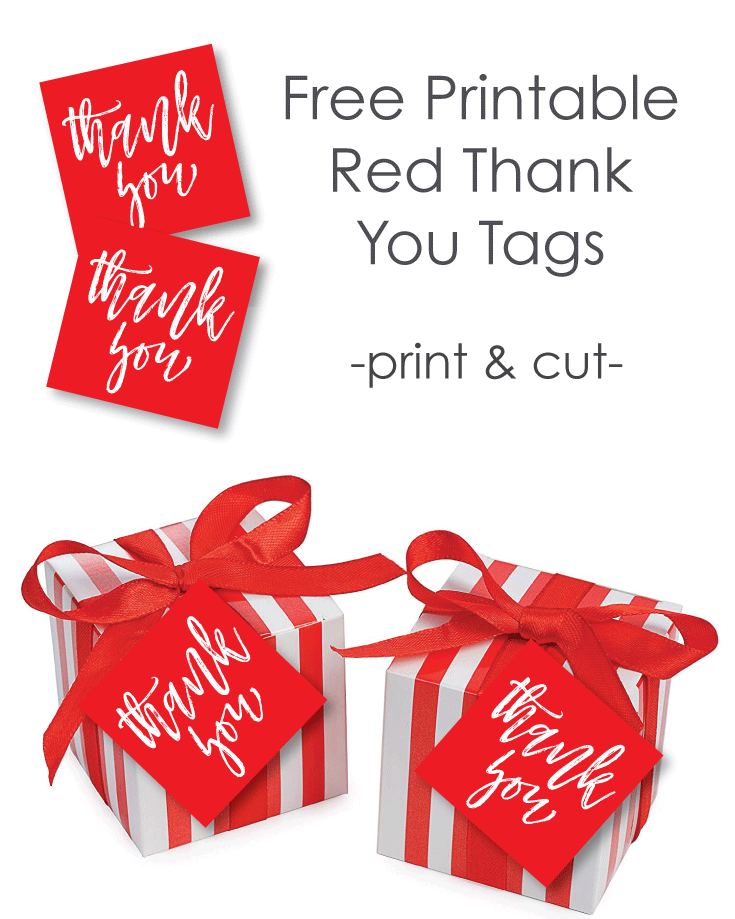 FREE PRINTABLE BABY SHOWER SIGNS
FREE PRINTABLE ADDRESS SIGN
Envelope Address Station: Make life easier for the mom-to-be by setting up a "Thank You Card Address Table."
Guests can easily fill out their address to help the new mom send out her thank you cards!
Click on the picture above to be taken to our printable shop - and grab your free printable table sign!