The Cutest Teddy Bear Baby Shower theme Ideas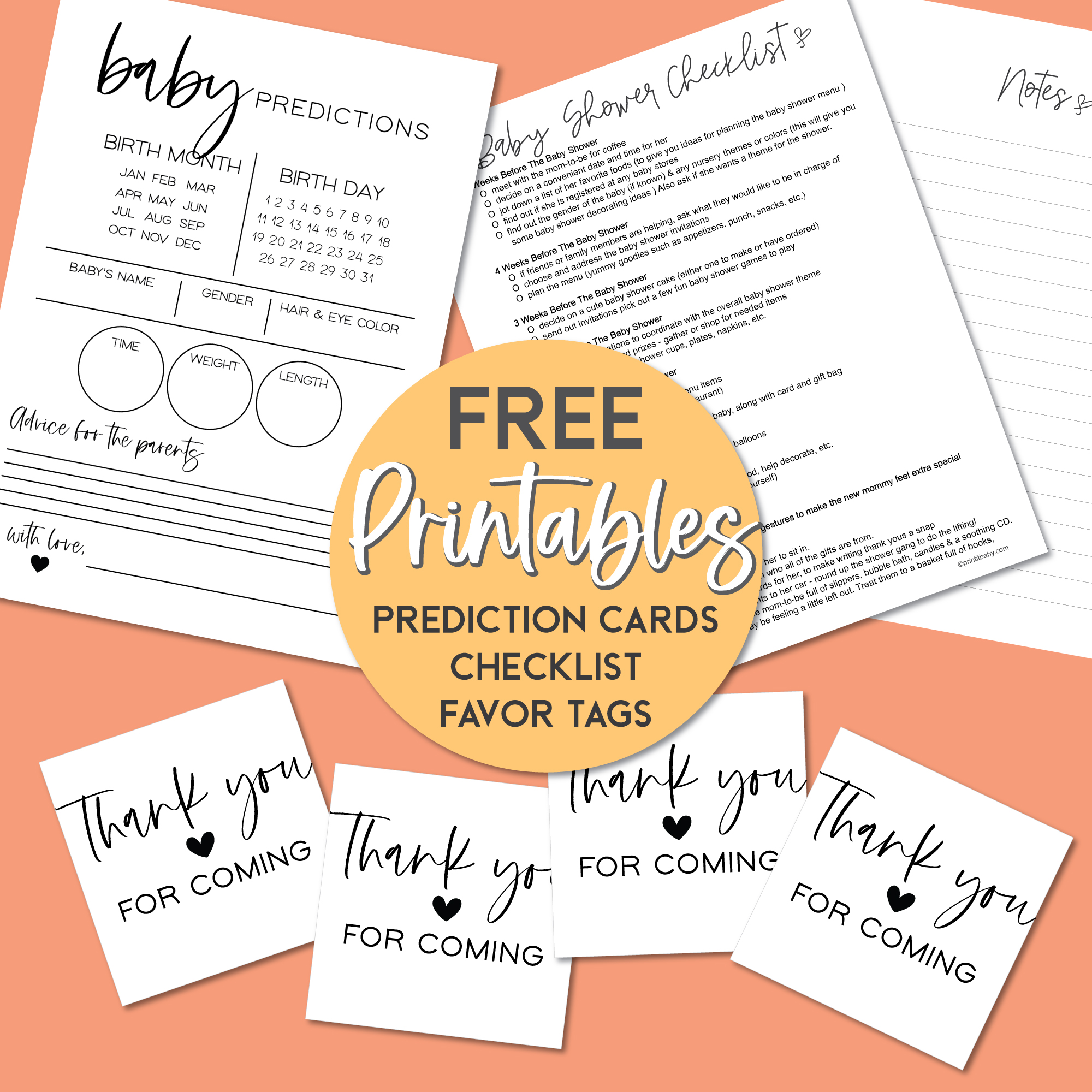 GRAB YOUR FREE PRINTABLES HERE
Hosting a "Teddy Bear Baby Shower?" Teddy bears and baby showers make a great combination! We have thrown together some simple and cute shower ideas!
There are many cute decorating ideas when it comes to the teddy bears! They are so soft and cuddly, what could be better for a baby shower!
Boy or girl? It doesn't really matter! Teddy bears are perfect for either one. In fact, the color brown is a popular color for baby showers these days! People have been pairing up the once thought dull and drab color (brown) with pinks and blues and it really looks sharp!
And for those Pooh Bear lovers out there - We've come up with a bundle of "Pooh Bear Baby Shower Ideas" too!
---
Popular Teddy Bear Baby Shower Invitations
(click on each picture to see them)
---
teddy bear baby shower cake ideas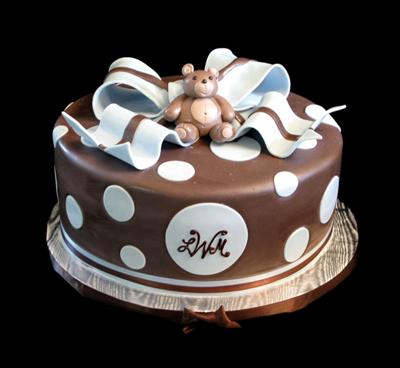 POLKA DOT BABY BEAR CAKE - by Janell Smith, Louisiana
I made this brown and blue polka dot teddy bear cake using an 8" round cake and covered it with home made chocolate fondant. The bow and teddy bear are also made with fondant.
---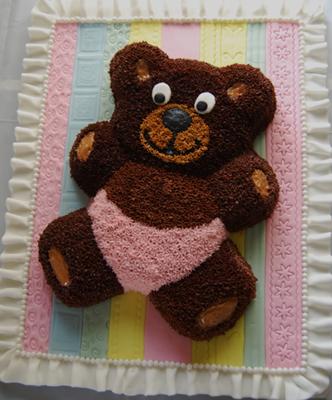 PINK AND BROWN BABY BEAR CAKE - by villy from Illinois
Baby Bear Shower Cake

This board that the cake sits upon was made out of fondant one week before the cake - it was made to resemble a bright and cheery baby blanket

I made the ruffles by hand out of fondant.

The fondant strips were made by using little molds to decorate them.

The cake was made out of a teddy bear cake pan mold. I decorated the cake with frosting using a piping tip.

This was actually a pretty easy baby shower cake to make!
---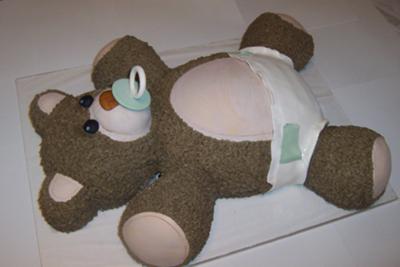 CHUBBY TEDDY BEAR BABY SHOWER CAKE - by Joy from Ashburn, Virginia
This is a large bear cake - it fed 60 people! I used a bowl to bake the circle for the head of the bear, and a rectangular sheet pan to bake the body of the bear. 

The scraps I trimmed off of the rectangle became the arms and legs. Then I used a serrated knife to round all the shapes out so it would look soft and cuddly like a real teddy bear. 

From there I piped chocolate butter cream using a star tip to give it the "furry" look. The diaper, pacifier, nose and belly of the bear were made of rolled fondant. The final detail was rolling a quilting tool along the edges so it actually looked like it was sewn together. It turned out really cute!
---
teddy bear diaper cake ideas
---
baby shower teddy bear balloons
---
Teddy Bear Baby Shower Favors & Prizes
Hand out teddy bear shaped hand soaps or bath beads


Put gummy bears in cute little boxes or bags


Using a teddy bear-shaped cookie cutter, cut sugar cookies into cute bear shapes, frost, and wrap in cellophane. You can even attach a cute tag saying "Thank You Beary Much For Coming"


Take some brown and yellow jelly bellies and place in cute organza bags


Hand out cute honey jar baby shower favors
---
Teddy Bear baby Shower Decorations 
Decorate with solid colored plates, cups and napkins


Sprinkle cute teddy bear baby shower confetti all around counter tops and tables (to make teddy bear confetti, buy a bear-shaped paper punch at a craft store or online and punch out several bears using different colors of card stock.) or see below for already made confetti.


Here is another cute option for confetti! Sprinkle these cuties all over tables and countertops - 

Float bundles of assorted balloons all around, brown, yellow or pink, blue or teddy bear shaped


For a cute centerpiece idea, fill a basket with stuffed teddy bears, a teddy bear outfit for the baby, and other baby essentials - give to the new mom as a gift at the end of the baby shower.


Gather up your teddy bears (or your kid's bears) and use them for decorations around the room


Tie brown and pink/blue ribbon around clear vases, place daisies and babies breath in them and put on tables

---
Teddy Bear baby shower Thank You Cards & Supplies
---
Baby Shower Menu & Food Ideas
Serve yummy blue or pink punch 


Have brown snacks such as sugar babies, nuts and Chex mix in cute dishes. Put a sign on the table saying: "Please Don't Feed The Bears"


Using a teddy bear-shaped cookie cutter, you can make cute treats like sandwiches, Rice Kripsie Treats, and teddy bear shaped cookies (frost brown and outline them with pink or blue icing)


---
Baby Shower Gifts
Fill a baby basket with cute baby essentials such as onesies, socks, teddy bear print blankets, rattles, clothes and stuffed teddy bears.


Who doesn't want a giant pink stuffed bear?! Wouldn't this look adorable in the baby's nursery?
This woodland animal diaper cake makes the perfect baby shower gift idea! You can use it to decorate the gift table at the shower, and then give it to the mom-to-be as a gift for the new baby! And it's adorable! Click on the click to see where to get it.
---
Winnie The Pooh Baby Shower Ideas
Pooh Bear is a popular and adorable baby shower theme!   

The Pooh Bear baby shower was voted one of the top showers to throw by you, our readers! Since it is so popular, there are tons of cute ideas to go along with it! We have taken the cutest and listed them here! Enjoy!
For a snack, serve scones with honey (Pooh's favorite treat)


Have "Bit O' Honey" candies in cute dishes


Float pretty red, orange and yellow and blue balloons all around


Gather as many stuffed Pooh's, Piglet's, Rabbit's, etc as you can (ask friends and family if they have any) and use as decorations


If the weather is nice, have a picnic-style shower outside. With picnic baskets, checkered tablecloths, fried chicken, potato salad, corn-on-the-cob and biscuits (with honey, of course!)


For cute favors, buy some little terra cotta pots and spray paint them brown. Paint the top a yellow/gold color to look like dripping honey then use black paint or a marker and write "HUNNY" in the center of the pot. You can fill these with candy, yellow soaps, or a cute plant!


WINNIE THE POOH WORDING
IDEAS FOR CAKES & INVITATIONS
Wording for Winnie The Pooh Themed Invitations
by jess 
(australia)

I was looking at doing a Winnie the Pooh themed baby shower and i came up with this:Piglet, Tigger
, Eeyore and Pooh 
agree that a baby shower 
is a splendiforous thing to do,
 join us and you'll see 
just how much fun these four friends can be.


Winnie the Pooh Baby Shower Poem
by Nessie 
(Vegas)

A cute wording idea for a baby shower cake or baby shower invitation is - 

Congratulations on the pot of honey in your tummy!


Invitation Verse for a "Winnie the Pooh" Baby Shower
by Lisa H. T. 
(Central America)

"Tiddily-rom, tiddily-roo, "mother's name" will soon have her baby boo"


"It's time to bounce and twirl, "mother's name" is having a baby girl"


Pooh Bear Baby Shower Invitation Verses
by Maya 
(Ohio)

1) Welcome our little jar of hunny! 



2) We have been blessed with a little bit of honey 
3) Our Sweet little pooh bear



4) A little honey is on the way!

FREE PRINTABLE BABY PREDICTIONS CARDS