The Best Baby Bassinet Cakes & Diaper Cakes
Adorable cradle, crib, buggy, and basket cakes too
We have tons of cute "Baby Bassinet Cakes" to see - and basket cakes, crib cakes and cradle cakes too! If you are planning a Baby Shower and are looking for a traditional-style cake, bassinet cakes are the perfect fit!
free printable baby shower bundle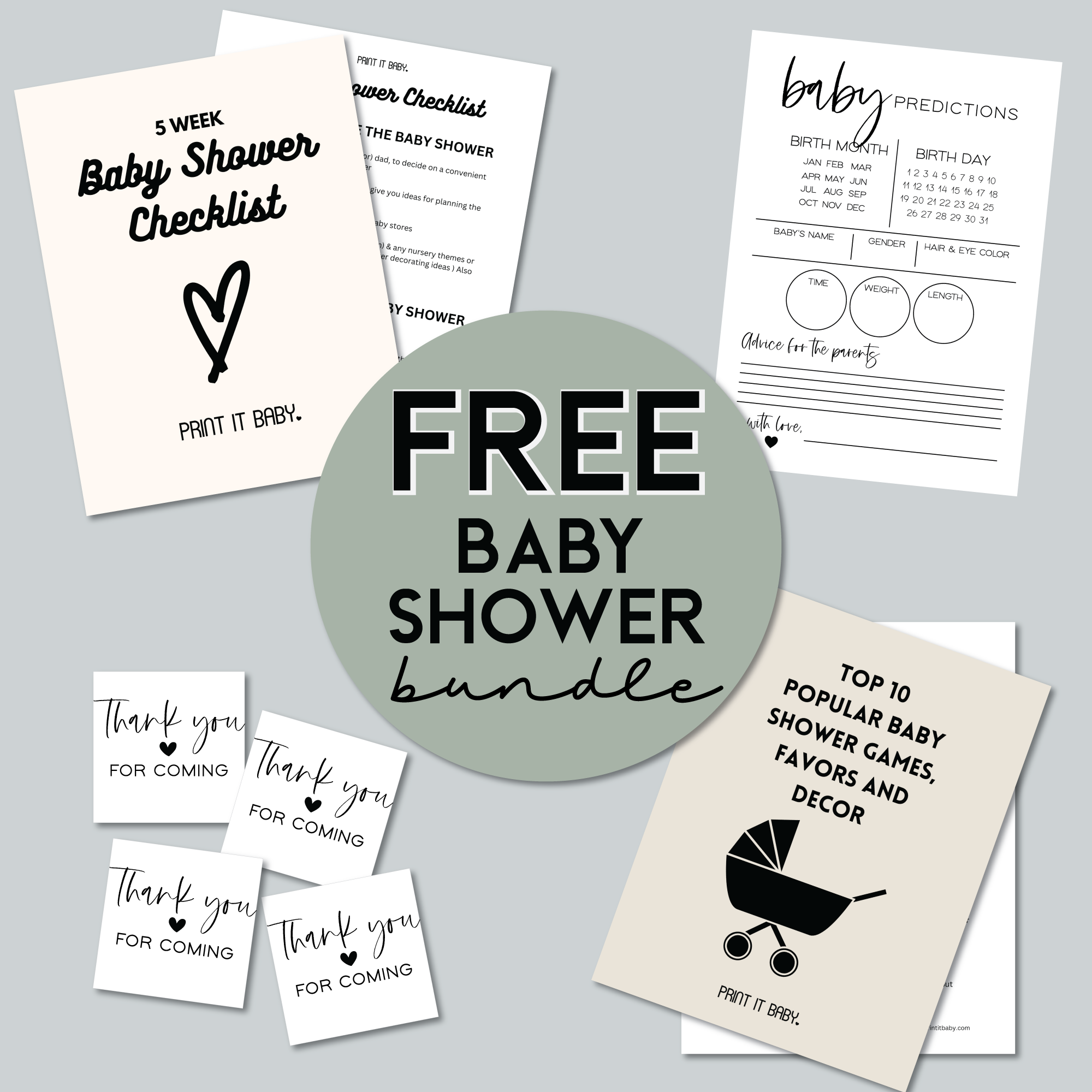 baby shower checklist • prediction cards • ebook • favor tags
---
free printable kids coloring christmas bundle - 100 pages!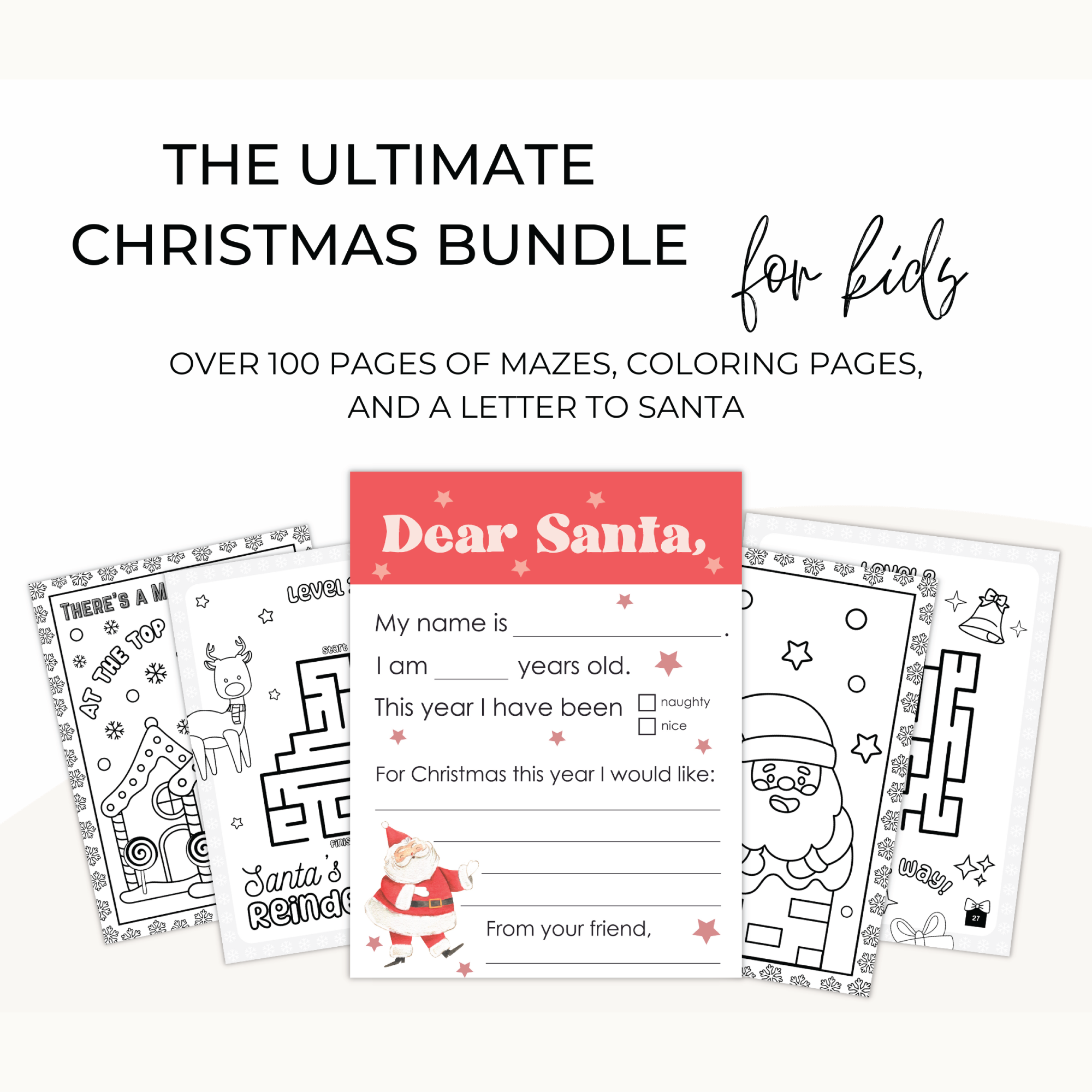 get your free coloring and activity pages
How To Make Baby Bassinet Cakes


Below are all of the cakes submitted by our talented readers! Get inspired by all of the cute baby shower cakes and cupcakes!
Many readers write in asking "Where can I find how to make a baby shower cake?" We decided to have guests start submitting their creative cakes, along with instructions on how they made them, to help inspire all of our readers!


Be sure to scroll all the way down the page! We have a cute (and FREE) onesie printable for you!
You can easily print it out from your home printer and use for baby shower garland and other cute decorations - these are so cute, they'll take your baby shower to a whole new level of cuteness!


Pink Baby Onesie Bassinet Cake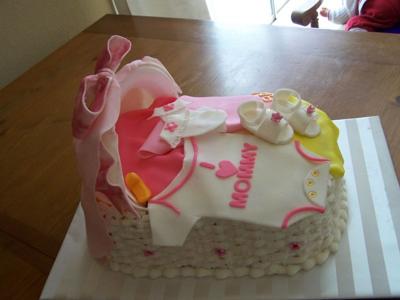 Girl Baby Basket Cake Submitted by Liz from Lancaster, CA

This baby shower cake was so much fun to make and I really love the way it turned out! 

I chose to make a vanilla cake frosted with whip cream (basket weave)

The handle and all of the accents were made using fondant.  

I made the shoes and other baby items way ahead of time to make sure they would be completely dried. 

This particular cake was for a baby girl's shower but you could easily adapt it to be for a boy too!

Hope this cake inspires you to make your own cute creation!
---
Blue Onesie Baby Boy Bassinet Cake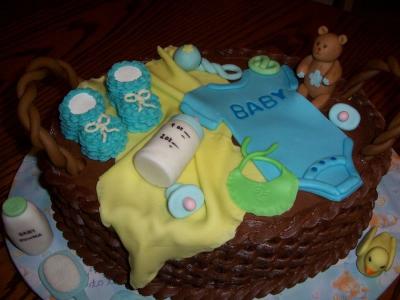 Submitted by Mary from Fletcher, NC
This boy baby basket cake is a white cake with Hershey chocolate syrup icing (icing recipe below.) The colors used were blue, green, brown and yellow.

I iced a stacked oval cake using the basket weave method, and made all the decorations out of fondant icing and made the booties out of marshmallows piped with icing to give the crocheted look. 

You can free hand or use templates to cut and shape your fondant decorations.

To make the booties you use three large marshmallows for each bootie, set two side by side and cut one in half and use one of the halves as the top of the booties, you use a #18 open star cake decorating tip and make shell like designs in a roll all around the marshmallows,one row at a time. 

When done, use a #4 tip to make a figure 8 as the bow and two ribbons. 

Hershey's Chocolate Syrup Icing
1/2 cup butter, room temperature 
1/2 cup sifted unsweetened cocoa powder
1/2 cup chocolate syrup
3 cups confectioners sugar, sifted (measure out 3 cups before sifting)
1 tablespoon whipping cream 
1 teaspoon vanilla

In a large mixing bowl using an electric mixer on low speed beat the butter, sifted cocoa powder and chocolate syrup until just combined.
Add in the sifted confectioners sugar, whipping cream and vanilla; beat on low speed until the confectioners sugar is combined; increase the speed to medium and beat for 1 more minute until smooth and spreadable (add in more whipping cream or sugar if needed to achieve desired consistency.)
---
Diaper Baby Shower Bassinet Cake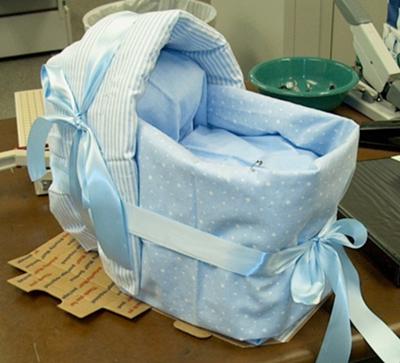 by Cindy from Kentucky

1 package of diapers -about 50 of the 8-14 lbs for the inside ($6.00)

1 -$2 receiving blanket from Wally World

2 - larger, thicker receiving blankets for the outside (got a pack of 4 at Walmart for $7)

2 rolls of ribbon $1.49 x 2 $3.00

1 package of safety pins $1.49

Rubber bands 

a piece of cardboard

I took pics of the steps, don't know if they'll post or just the almost finished.  

Will write up the steps/pics step by step. I see a couple things I'd do different but this was a quicky because the shower is Sunday, a friend that is having twin boys so I'll stick some little toys in before the shower.
---
Elegant Baby Bassinet Cake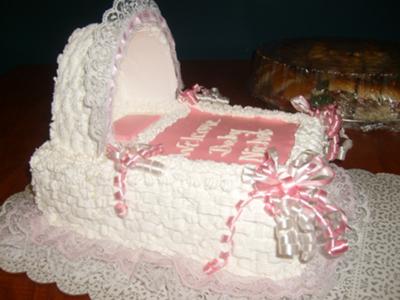 Submitted by Patti from Old Bridge, NJ
For this Baby Girl Bassinet Cake, I used two boxed cake mixes and made (2) 9 x 13 sized cakes. The inside is a chocolate mousse filling.

For the rounded top of the bassinet, I took an oval shaped plastic container and sliced it in half. I frosted the container white.

I used a basic butter cream frosting. I used the basket weave tip to decorate the cake for the bassinet effect. I frosted the top of the cake smooth.

I dyed small pieces of fondant pink and then shaped out the blanket and the pillow, and piped in the inscription.

I attached pink and white lace to the bottom of the cake and around the bassinet top trim and decorated with pink and white ribbons.
---
Baby Carriage Diaper Cake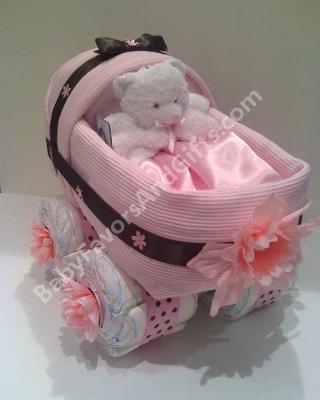 by Inga from New York
Baby Carriage Diaper Cake

Just wanted to show some of our truly unique creations. 

Easy DIY Video Tutorials - 

Editors Note: We were receiving so many requests for instructions on making these cute diaper cakes - I found some great tutorials and thought I would share them with you! The quality of her work is the best!
How To Make A Baby Shower Diaper Cake For A Girl

How To Make A Baby Carriage Diaper Cake For A Boy
---
Sweet Pink Baby Shower Crib Cake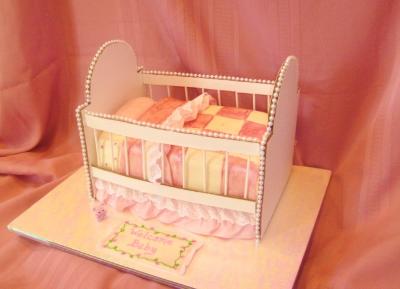 Submitted by Margie from Charles Town, WV
For this Pink Baby Bed Cake:

I made 3 small rectangle cakes and stacked them.

I iced the whole cake. Then I added some store bought lace detail. 

I used fondant to make the quilt, pillow, and rug. 

I hand painted the rug and quilt, with cake paints. 

I then made the crib out of cardboard cake boards.

I used lollipop sticks for the small rails. 

I hot glued the crib together. Making sure it would fit around the cake when I was done. So much fun to make!

Thanks for looking at my crib cake
---
Shabby Chic Bassinet Diaper Cake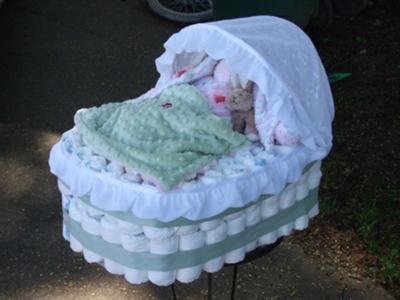 by Amber E. from Troutdale, OR
I made this shabby chic bassinet diaper cake for my cousin. I had no clue what to do for a shabby chic theme, so this is what I came up with.
I had the chenille bunny, blanket and pillow made for this diaper cake. I really love how it turned out. I made the hood from brass rings I bent into form and lace to cover it. 
How To Make A Diaper Bassinet
(this is a great video giving you step-by-step diaper stroller and bassinet instructions) - If you want it to look like a baby carriage/stroller, add the wheels to the bottom. If you are looking to make a baby bassinet, leave them off. Good luck and enjoy!
---
Yellow Baby Bassinet Cake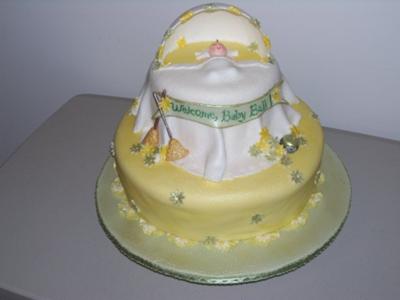 Submitted by Ramona from Cleveland, OH
This is a 2 tier cake - a 6 inch on a 10 inch. It was made for a young couple who enjoy curling as a hobby.

The bassinet hood is made of gum paste molded over a ball and left to dry. It was attached to the cake using royal icing.

The cakes are white almond sour cream filled with seedless raspberry preserves and iced with vanilla butter cream. They were then covered in fondant.

The cake board is covered in embossed fondant and under the bottom tier, thin circles of gum paste were frilled and decorated with half daisies in order to form a border.

The bassinet blanket was scalloped and imprinted with a shell pattern.  

The baby is hand modeled, as are the curling broom and the curling stone. On the babies head are a few spouts of delicate fondant hair. The curling stone is painted with luster dust.

All of the daisies are made from fondant.

The entire cake was dry dusted with super pearl to make it glow.

WASC Recipe

2 boxes white cake mix 
2 cups all-purpose flour 
2 cups granulated sugar 
1 1/2 teas. salt 
8 egg whites 
2 2/3 cups water 
4 Tbls. vegetable oil 
2 cups (16oz carton) sour cream 
2 teaspoon clear vanilla flavor 
2 teaspoons almond extract 

Mix all dry ingredients by hand using a whisk in a very large mixing bowl. Add the rest of the ingredients and beat on low speed for 2 minutes. Bake at 325 degrees 

***One recipe makes: one 14" round + one 6" round 
or one 16" round 
or one 12" round + one 10" round 
or one 12x18" sheet cake 
or one 12" round + one 8" round + one 6" 

Half a recipe makes: two 8" rounds 
or two 6" rounds + 6 cupcakes
---
White Polka Dot Crib Cake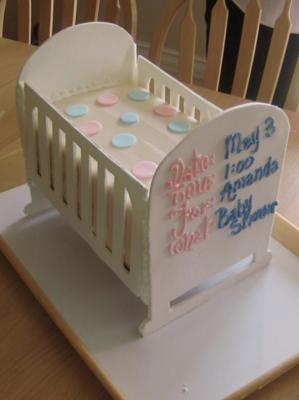 Submitted by Michelle Dorio from Toronto Ontario, Canada
Crib Awaiting Baby Cake

Make a 1/4 batch of pastillage.

Role out thin, cut out frame of crib and leave to dry.

Bake one half slab cake of choice 

Fill with butter cream 

Cut half slab in half and stack on top of each other to create a vary tall 1/4 slab.

Cover cake with fondant icing and decorate to create a blanket.

When frame is dry adhere to cake with royal icing.

Placing a small support under the cake board will give the floating look as pas tillage alone is not strong enough to support the cake.

Pas tillage dries quickly, so be sure to store wrapped in plastic wrap.
Aluminum attachments will turn the pas tillage gray.

Be sure that the work area and your tools are scrupulously clean and dry. 

Cake recipe:
1/2 cup margarine 
1/2 cup white sugar 
2 eggs 
1 cup self-rising flour 

DIRECTIONS
Preheat an oven to 350 degrees F (175 degrees C). Grease an 8 inch cake pan and line with a circle of parchment paper. 

Beat the margarine and sugar with an electric mixer in a large bowl until light and fluffy. The mixture should be noticeably lighter in color. 

Add the eggs one at a time, allowing each egg to blend into the margarine mixture before adding the next. Fold in the flour until only small lumps remain; pour into the prepared pan.

Bake in the preheated oven until a toothpick inserted into the center comes out clean, about 30 minutes. Cool in the pan for 10 minutes before removing to cool completely on a wire rack. 


fondant recipe:

3 1/2 cups powdered sugar
1/3 cup hot water
1/3 cup corn syrup
mix and let set over night

royal icing recipe:
2 large egg whites 
2 teaspoons fresh lemon juice 
3 cups (330 grams) confectioners (powdered or icing) sugar, sifted 

In the bowl of your electric mixer (or with a hand mixer), beat the egg whites with the lemon juice. Add the sifted powdered sugar and beat on low speed until combined and smooth. The icing needs to be used immediately or transferred to an airtight container as royal icing hardens when exposed to air. Cover with plastic wrap when not in use.

You will also need a 1/4 slab cake board and a larger board or tray for the finished product.
---
Baby Bed Baby Shower Sheet Cake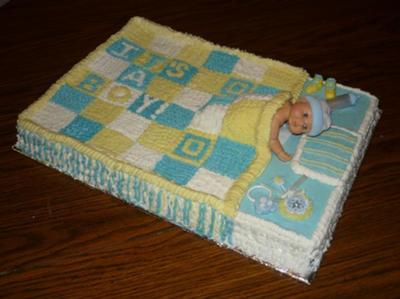 Submitted by Katrina from Lansing, MI
Sweet Slumber Cake

I baked a 12x18 inch sheet cake. I made two batches of butter cream frosting. I tinted one batch baby blue. I then cut the second batch in two and tinted one half yellow and left the other half white. 

I frosted the cake with baby blue. For the pillow I used a basket weave tip on the flat side and created a rough rectangle with the blue icing. 

I smoothed the pillow down with a little bit of cornstarch and my fingertips. I added a white ruffle around the pillow and all four sides of the cake. I did the ruffle with tip #104. 

I also added tip #1 yellow icing lines on the pillow.

I bought a baby doll kit from Wal-mart. 

It came with the bottle and rattles. I used a large glob of icing to hold the baby up and propped him on his knees. I then used a small rectangle of fondant to place over the baby. This ensured a place for my quilted icing to lay.

I piped the baby booties with tip #12 and yellow icing. I used tip #2 to add small blue balls and a tie to the booties. I placed the rattles and bottle randomly on around the pillow.

Next I made my yellow ruffle for the quilts borders with tip #104. I then pulled strings or fringes from tip #5 using all three colors. 

I used a toothpick to create the squares for the quilt.

Next, I used star tip #17 to pipe on the color in the quilt squares. Once you decide your pattern you can determine where your letters will go and use a toothpick to draw them so you do not forget.
---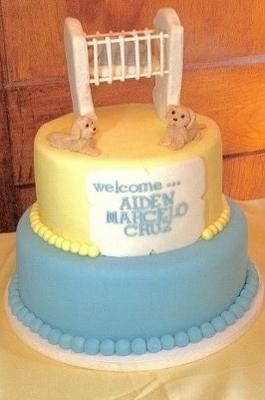 Submitted by Taisha from Queens, NY
I made this Simple And Sweet Crib Baby Shower Cake for a really good friend. 

It was her first baby and her sisters were super excited to plan what her cake would be. 

They knew that mommy likes clean and simple. So that is why there aren't too many decorations. 

The star of the cake was to be the baby in the cradle and the couple's puppies.

The cradle resembles the baby's actual cradle which was handmade by grandpa to be. Ohhh the pressure! :)

The cradle is made out of rice crispy treats and there is a fondant baby 'sleeping' inside. 

I used a photograph of the puppies to guide my gumpaste/fondant figures. 

The mommy knew which dog was which! She knows her puppies!

The cake itself is chocolate with a whipped vanilla butter cream filling. 

I covered the cake in white chocolate ganache to prevent the butter cream from melting underneath the fondant. 

It was a warm August day in New York. Everyone loved the cake, especially the beautiful couple. Yay!
---
FREE Printable Baby Onesie Template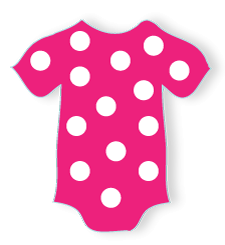 We thought these little cuties fit right in with the traditional baby buggy theme! Click on the picture to be taken to our "baby clothesline theme page" where you can scroll down and access these print-from-home baby onesies! They come as a template so you can print them onto any color of card stock that matches your baby shower theme or decor. Patterned scrapbook paper looks extra cute! 


Once you have printed the onesies, you can cut them out and use them for anything you'd like! String them onto ribbon to make baby shower garland, attach to wooden dowels or skewers and poke into food dishes, cupcakes, or the baby shower cake. Use for name tags or place setting cards, let your imagination run wild!
Step the cuteness up a level and use the same patterned paper (or matching scrapbook paper) to make place cards, water bottle labels, food picks, table tents, name tags, gift tags, favor tags, wrap strips around pillar candles, line plates and use as place mats.
---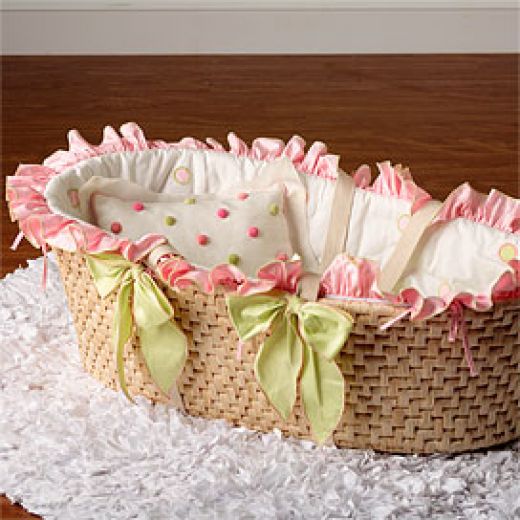 For a cute and inexpensive decorating idea, stop by a few local garage sales or flea markets and looking for cute or vintage baby baskets or bassinets. Spray paint them to match the baby shower theme. Use them as props at the shower, or to hold baby gifts.

Where would you like to go next:
free pregnancy prompts for journaling - helps to reduce stress & anxiety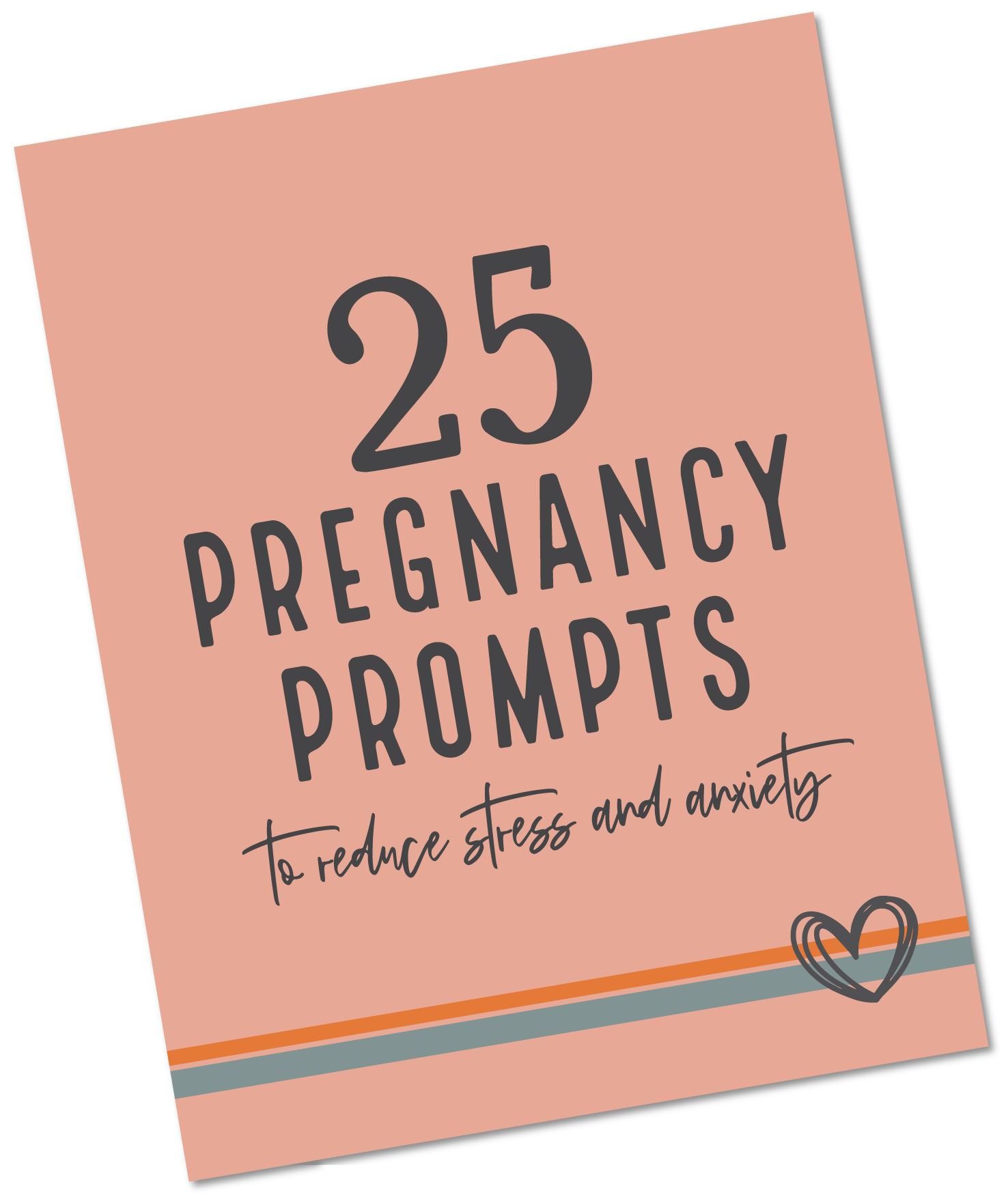 Reduce pregnancy stress with these helpful daily prompts for expecting moms