4 Easy Ideas For Making Adorable Baby Shower Favor Boxes
---
Pom Pom Love
The inspiration for these Baby Shower Favor Boxes came to me while strolling through the aisles of Hobby Lobby.
I saw a project for a rug that you could make by gluing 100's of mini pom poms to a round piece of fabric. The rug looked so cute but extremely time consuming!
When I walked by these tiny cardboard boxes, I got the idea to make cute little favor boxes.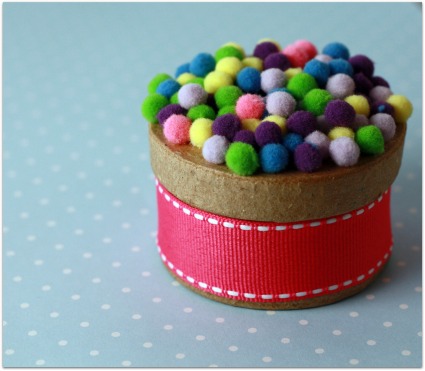 This is a simple idea that costs very little and takes
about 2 minutes per box to make.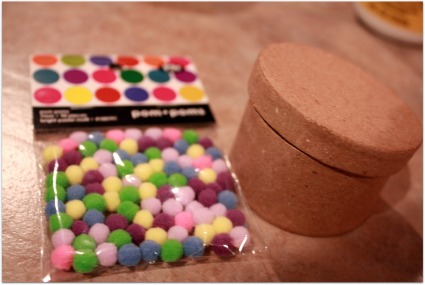 I purchased the 2" round cardboard boxes but they had all shapes and sizes. Any craft store should have these little guys available.
Use any craft glue for adhering the pom poms to the lid. I chose the multi-colored pack of mini pom poms. You can choose any colors to match the theme of your baby shower. Pink and gray would look so cute!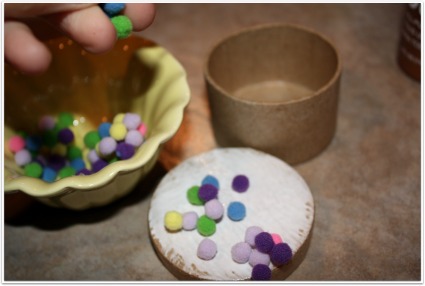 Paint the lids of the boxes with craft glue and the sprinkle the mini pom poms over the glue.
Press gently with your hand to make sure they are all stuck to the lid. If needed, arrange the pom poms so they are evenly distributed.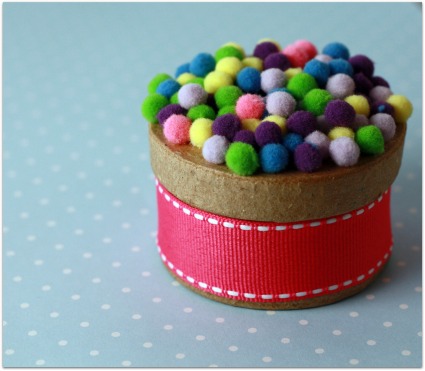 To give the boxes a little more pop of color you can glue a ribbon around the side. I swiped a glue stick around the box and then carefully wrapped a pink ribbon around it. You can also add a favor tag attached to a string. Simple and cute!
Some more cute ideas for decorating these cardboard favor boxes are:

Paint the lid with glue and sprinkle with glitter

Paint the lid with glue and sprinkle with candy sprinkles - then fill the box with candy, like truffles

Cover the lid with little buttons - for a "Cute As A Button" baby shower theme


---
Pinwheel Favor Box Idea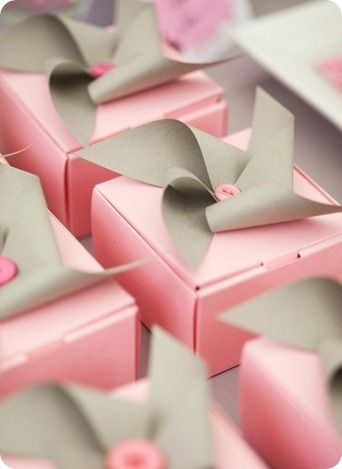 We found these cuties over at HowDoesShe.com. You can easily make them by purchasing simple and affordable favor boxes and gluing mini pinwheels to the tops. We have an easy DIY pinwheel template for you to print for FREE here.
You can find favor box kits at any major craft store - or Amazon has a good deal on baby shower favor boxes - 50 for $12.99. 

---

Tiffany Style baby shower Favor Boxes
What guest wouldn't love to get a little blue box? Seeing a Tiffany box brings instant happiness and people love them!
Even though these aren't the real deal and aren't filled with jewels, you can add something special like chocolates, Jordan almonds, a votive candle, soaps, bath salts or mints! Click on the pics for more info.
---
DIY Mini Glitter Champagne Favors
Ok, we know these aren't technically favor "boxes" - but they were just too darn cute not to include them in our roundup! These adorable favors are easy to make, and guests will be talking about them for months!
This DIY tutorial is from the cute online shop, beau-coup.com. You can find mini champagne bottles at any grocery store, the glitter and spray glue can be found at WalMart, or any craft store. (tip: to keep the glitter from coming off on everyone's hands, paint 2 coats of Mod Podge decoupage glue onto each glittered bottle.) The cute striped straws and personalized ribbon is at beau-coup. So cute!
---
Here are some additional ideas for baby shower favor boxes:
Personalized Cookies: You can include some personalized cookies in the favor box with the name of the baby and shower date. Or you can make simple sugar cookies, cut out with baby shower themed cookie cutters, frost and bundle in a cute baby shower box. 
Scented Candles: A scented candle can make a great favor box item, and you can choose a fragrance that is calming and soothing, like lavender or vanilla.
Mini Succulents: Mini succulents make wonderful favors for a baby shower, and they are easy to care for. You can put them in small pots or cute little planters.
Baby-Themed Candy: You can fill the favor box with baby-themed candies like pacifier-shaped lollipops or gummy bears in the shape of a baby rattle.
Bath Bombs: Bath bombs are a great option for a baby shower favor box. They can be relaxing and soothing and come in a variety of colors and scents.
Personalized Hand Sanitizers: Hand sanitizers make practical favors. You can customize them with the baby's name or an adorable design.
Tea or Coffee: Hand out mini portions of coffee and tea
Lip Balm: Lip balm is a practical favor that can be used by all guests. Choose a brand that is soothing and hydrating.
---