Tea Party Baby Shower
A Baby Is Brewing!
A Tea Party Baby Shower Theme is both delicate and delightful! This is the perfect theme to bring out the pretty pastels, elegant floral arrangements, and adorable tableware that you've been hoping to use for a party.
Baby shower decorations are always fun and attractive but there's something about tea party themed decorations and treats that just make this precious event even more whimsical and wonderful! 
Invitations and dEcor: 
Your invitations can be a gender-neutral announcement or one that hints at your baby's gender and the theme of the event. Knowing that the baby shower is going to be centered around a tea party might inspire your guests to get creative and dress for the event! 

Whether you pick an outdoor venue or one inside, there are so many beautiful decorations you can purchase or create to celebrate a new baby's arrival.
A garden tea party is a great idea if you want to host your party outside while taking advantage of some great Fall/Winter weather. But if it's too hot or too cold and you would rather create a cozy and comfortable tea party indoors, there's a lot of décor ideas for that as well. 
Create floral arrangements in clear vases and light up little candles around the room.
Between the fresh flowers and scented candles, you are sure to have your party smelling heavenly! Use pastel-colored balloons that reflect the baby's gender such as pink and gold or blue and silver to create an arch for a photo backdrop or the entrance. You can order strings of acrylic and plastic beads to create your own whimsical decorations. 
Use tea party baby shower themed decorative garland, along with "A Baby Is Brewing" wall hanging to complete your look that will leave guests and the mama-to-be completely in awe of your efforts! 
tableware for a tea party baby shower
A tea party is not complete without you pulling out some vintage china that you can easily find at a thrift store if you don't own any. Use delicate lace tablecloth and set up doilies to place under your food platters and serving plates. 

If you would rather choose disposable tableware, there are some irresistible options to choose from which will look equally delightful and completely fit in with your theme as well!
tea party baby shower Food, dessert, and tea!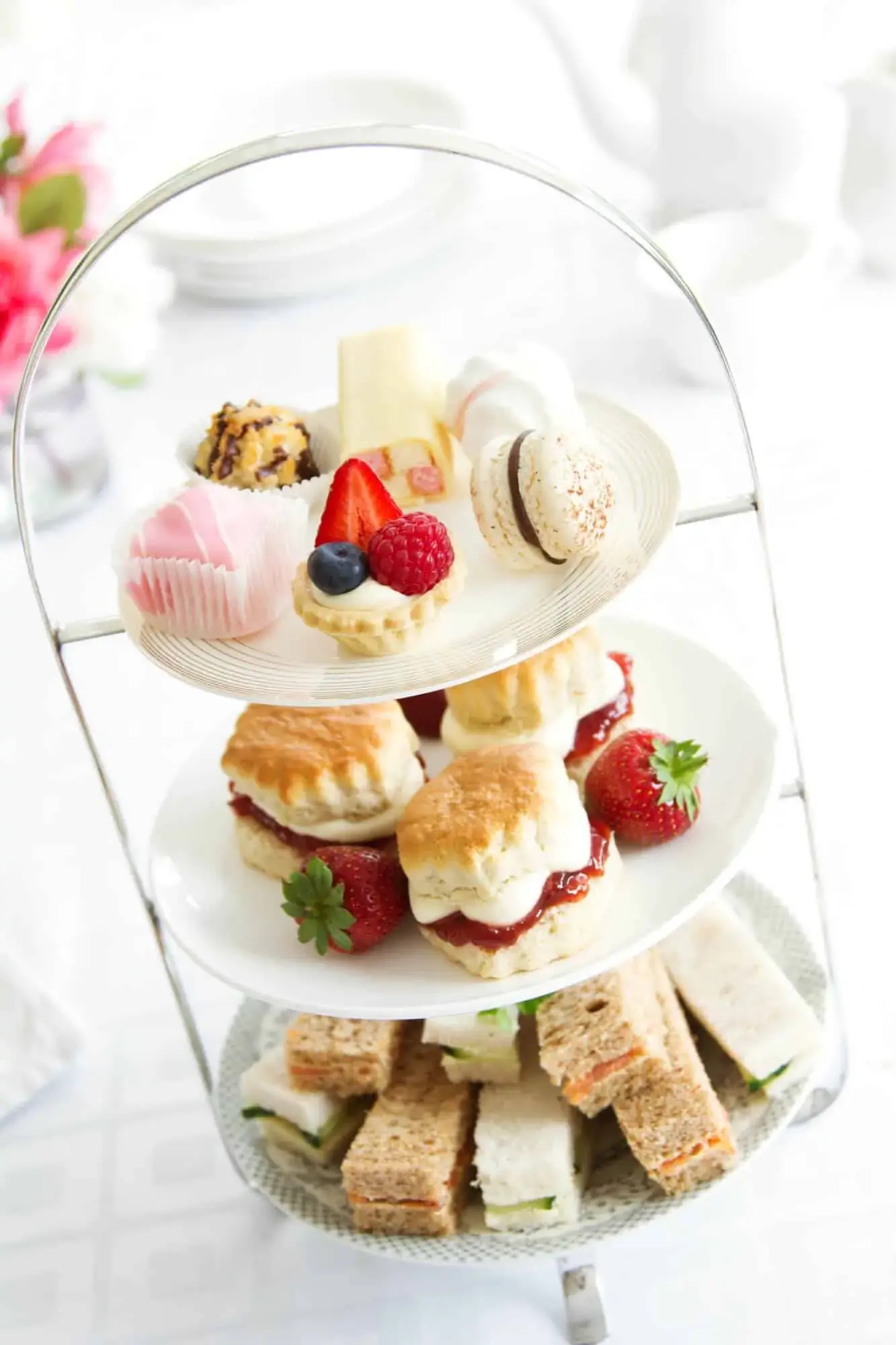 img src
A baby shower tea party should be nothing short than what the name suggests. Line up your table with assorted mini sandwiches, biscuits and scones with jam, sponge cake, quiches, fresh fruits, and macaroons.
All these delightful and tempting treats would pair wonderfully with a variety of different teas such as Earl Grey, Mint Tea, English breakfast tea and Chamomile tea. Set up a corner for some iced tea as well for those who prefer their tea cold. 

games and favors
Since tea parties are always lively and full of laughter, you can't skip the games! Fill up a basket with 10 essential items that the mama-to-be has been using throughout her pregnancy, show them to the guests for a few minutes and then hide them away.
Now ask your guests to list them all down from memory and see who gets them all right! 
How big is mommy's tummy is another popular game that will make your guests enjoy guessing and estimating the correct measurement of the mama-to-be's belly at the time.
Baby bingo and Complete the Nursery Rhyme are other game choices that you can't go wrong with at a baby shower. 
When all the treats have been eaten up and the games enjoyed and laughed over, present your guests with some tea party themed baby shower favors that they can take home with them.
Fill up delicate little favor boxes or bags with mini chocolates or assorted tea bags along with a thank you note to show your guests how much you appreciated their presence at your tea party themed baby shower! 
WHERE WOULD YOU LIKE TO GO NEXT: