Contest Winner! Amazing Baby Blue Elephant Cake Tutorial
---
BABY SHOWER EBOOK:
PRINTABLE BABY SHOWER HOSTESS SURVIVAL GUIDE
---
Submitted By: Jessica from Texas

This Baby Blue Elephant Cake Won 1st Place Winner in our Baby Shower Cake Contest!

Body: Wilton Wonder Mold Pan
Head: RKT (Rice Krispie Treats)
Legs: Cake baked in 10 oz soup cans, then carved a bit
Arms: mmf (Marshmallow Fondant)
Ears/Trunk: 50/50 mmf and gum paste
Pillow:single 10" square cake torted and filled 3 times then carved into pillow shape.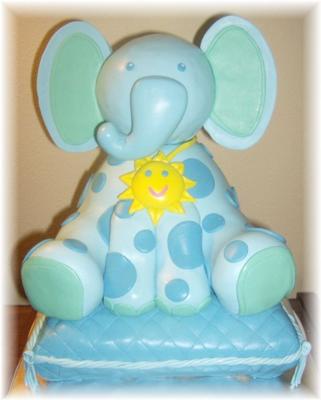 I started with the pillow. First, I carved it and covered in mmf and decorated it. Then I carved the Wonder Mold down a little (I only needed 30 servings for the whole cake, so I had to make it a little smaller). I iced it and set it aside.

I then carved the legs out of the cake baked in the soup cans; I cut the ends where they were to be attached to the body at and angle so that they would sit flush with the body.

---
GOT GAMES?
---

I attached the legs to the body with butter cream and toothpicks. The body and legs were all sitting on a 10" cake circle.

Then I covered the legs and body as one with mmf, and chilled it in the fridge.

I made the head out of Rice Krispie Treats; I mixed some white chocolate in with the marshmallows to make it dry harder. I formed a ball and rolled it on the counter pushing hard to really compact it and make it smooth.

Then iced it and covered it in mmf, it helped to stick the head on a skewer to ice and cover, that way I didn't have to touch it, just the skewer.

After the body and legs where chilled, I lifted them off the circle and placed them on the pillow, I put straws in the pillow first to support the elephants weight.

I hammered a dowel through the entire thing and then sharpened the top of the dowel (I stuck a cupcake holder through the dowel to catch my shavings)and attached the head, gluing it in place with some royal icing.

Next I made the arms and all the detail. The ears and trunk I had made the day before with gum paste and mmf, I let them dry hard. I attached both with toothpicks and royal icing.

That's about it. Thanks for looking at my Baby Blue Elephant Cake!
Hop Over To Our Jungle Theme - FREE Elephant Favor Tags & Clip Art
---
Baby Blue Elephant Cake Comments

AWESOME!!!!
by: Gina
I loved it. You did an awesome job, way to go on the first prize you earned it.

Awesome
by: Anonymous
Very cute......you did a great job!

OMG to cute
by: Linda
What is marshmallow fondant? (MMF) I have never heard of it. Is it easy to use?

AMAZING!!
by: Crystal in Texas
This is pure ART! It is so amazing, you have such talent!! I wish the cake for my baby shower was half as nice as this. Congrats on 1st place, you deserve it!!

amazing
by: Anonymous
amazing job

How Cute!
by: Anonymous
This matches the invites I used for my shower, love it!
See more animal baby shower cakes
Get Ideas For Throwing An Elephant Baby Shower
Girl Baby Shower? We Have Pink Elephant Ideas For You Too!
---
Click the pic to grab this free printable of the popular "Guess the size of mommy's waist" game! Print, trim, pop into an 8x10" frame, place on a table with yarn and scissors - and you're all set! Have guests cut the yarn to the length they think will fit around mommy's belly! So fun!

---