Learn How To Make
Animal Baby Shower Cakes

free printable baby shower bundle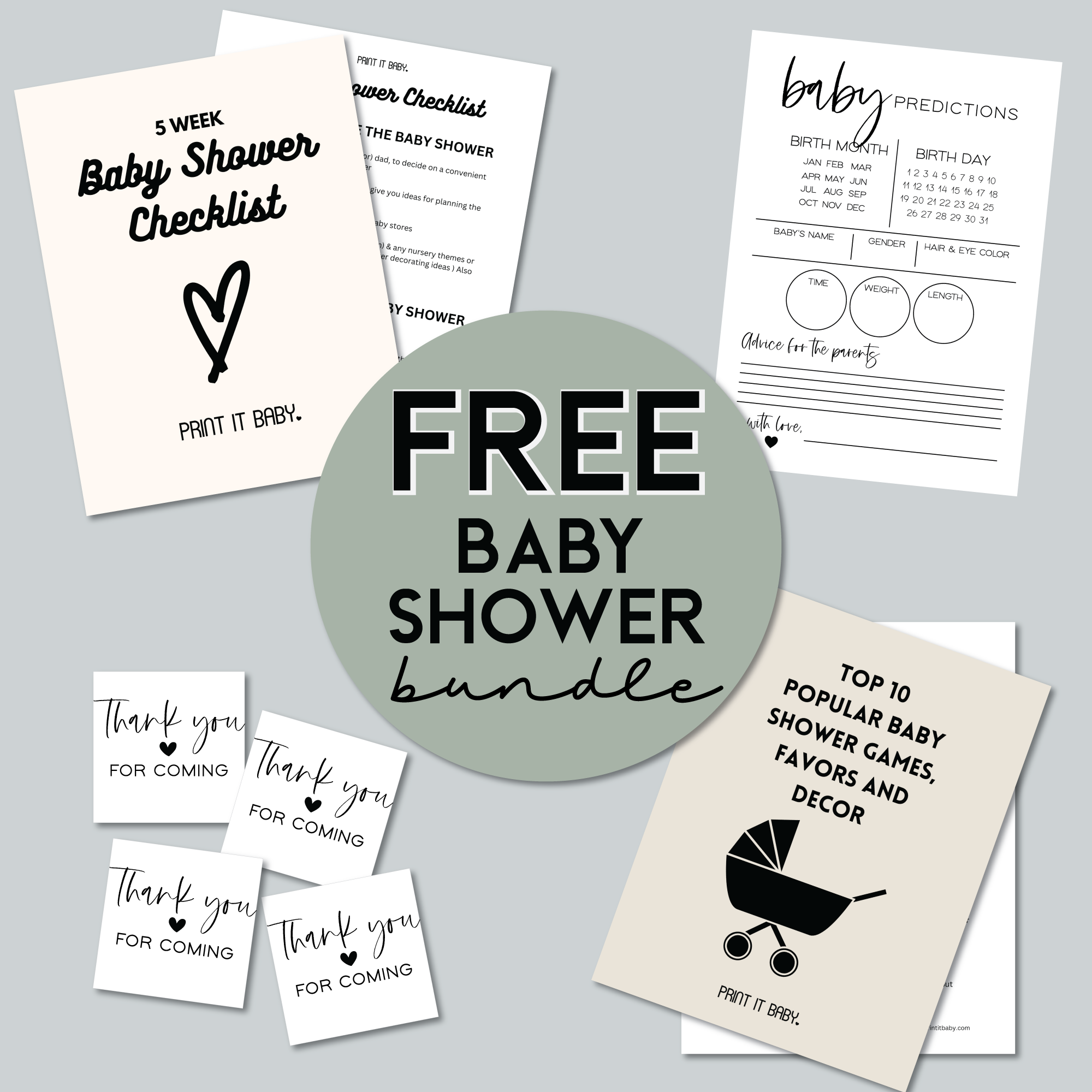 baby shower checklist • prediction cards • ebook • favor tags
---
Cute animal baby shower cakes that are perfect for any baby shower!
There are animals of all kinds - elephants, lions, frogs ... oh my!
Jungle animal baby shower cakes seem to be the most popular! If you are planning an "Animal-Themed Baby Shower" - we've got some adorable animal cakes for you to see!


free printable kids coloring christmas bundle - 100 pages!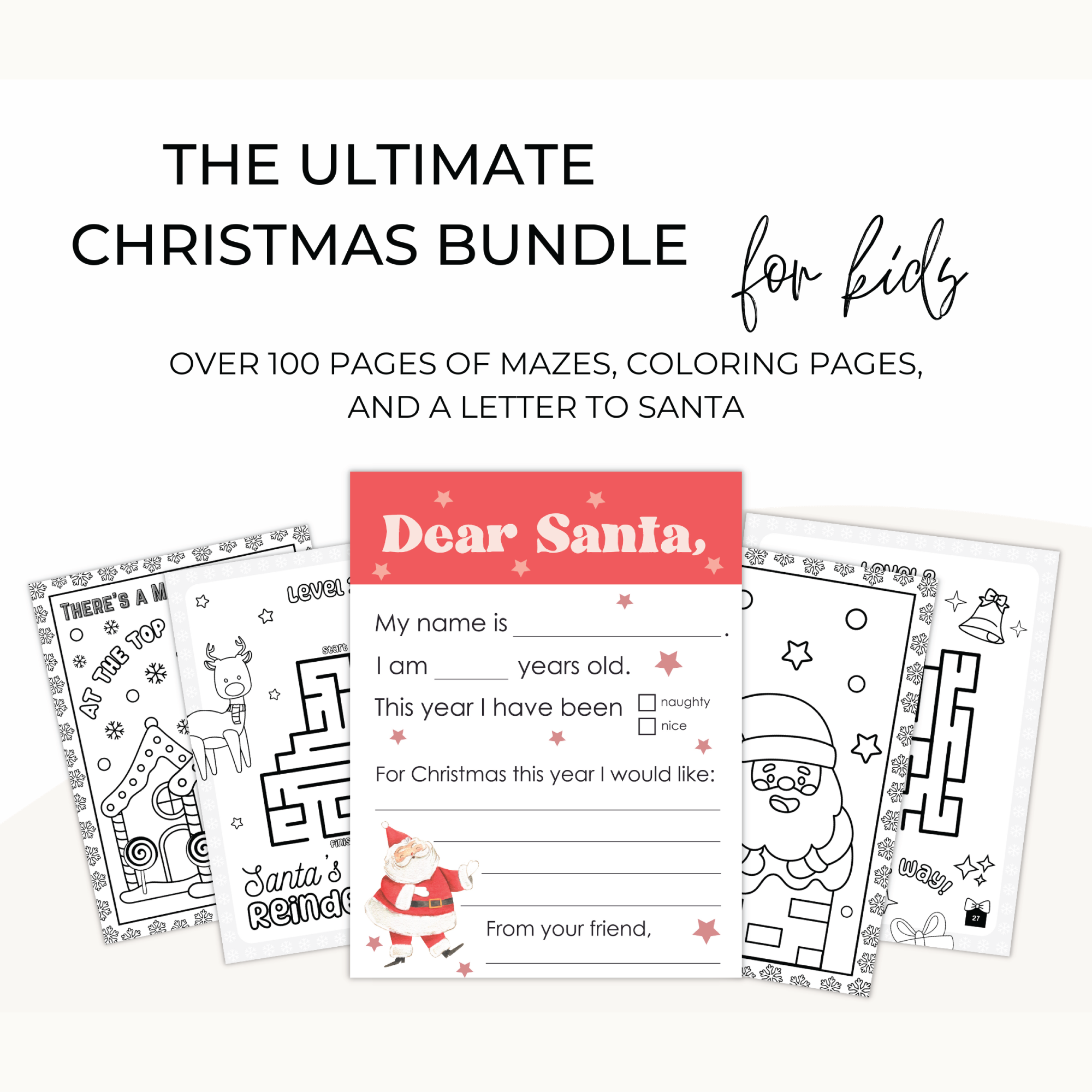 get your free coloring and activity pages
To take the animal baby shower theme a step further, you could also serve Goldfish crackers, animal cookies and Swedish Fish


Cut sandwiches into animal shapes using animal cookie cutters


Make animal-shaped sugar cookies and serve as snacks or bundle them up and give them away to guests as a baby shower favor. Use the FREE printable jungle elephant tags (below) as favor tags for the cookies


Have stuffed animals displayed throughout the room of the shower. Hanging from plants, rope, etc
Some of the baby shower animal cakes below have been submitted by our amazingly talented readers (like you!) 
---
DIY, Easy Animal Baby Shower Cakes with Pictures


How To Make Adorable Fondant Baby Animals Cakes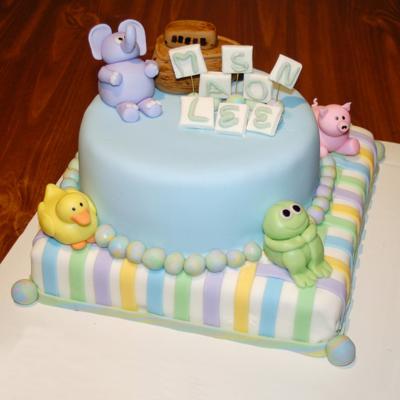 Animal Baby Shower Cakes For Boys:  Submitted By Reader - Angela
I first made a cream cheese pound cake so I would have a solid base to support the fondant and the animals.  

Then I used store bought fondant on part of the cake in the interest of saving some time.

And homemade marshmallow fondant on the other parts, such as the animals and the weaving on the bottom layer. 

The bottom layer is a 10" x 10" x 2" square cake, and the top layer is a 6" x 3" round cake.
I love the contrast of using 2 different shapes of cakes. It is as if the top round cake is sitting upon a platform.  

I covered the bottom square cake in white marshmallow fondant and then weaved multiple pastel colored strips into a basket weave over the white fondant.  

After covering the top layer with baby blue fondant, I set it on top of my bottom layer and added hand rolled balls that I made by combining the left over strips from basket weaving.

I mixed it only partially to get a marbled look. 

The top layer ended up covering almost all of the weaving that took nearly an hour to do.  

I didn't think about it enough to figure that if I put a 6" round on top of a four inch square that I would only have 4" showing of the bottom layer.  

It was originally going to be a "Noah's Ark" theme but I ran out of time to duplicate the animals which I made a day or two before with fondant and left out to dry.  

The baby's name is on flat square block pieces that I made with gum paste and then placed them on silver wire at varying heights in front of the ark figure.  

This is only the fourth fondant cake I have made and out of all of them, this baby animals cake is my favorite!
---
Easy Lion Cake With Cupcakes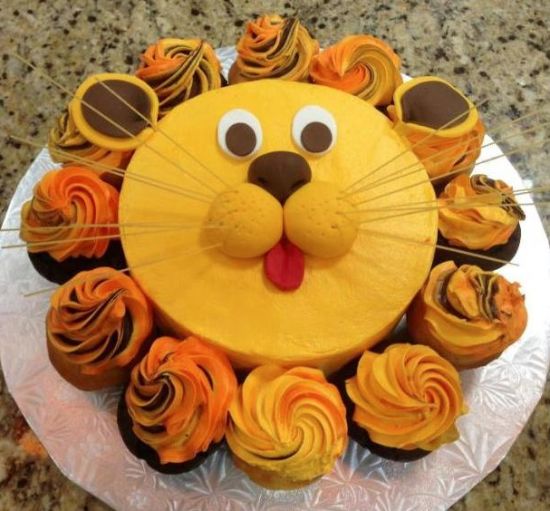 image source unknown
For this cute baby lion animal baby shower cake, all you have to do is make 2 - 9" round cakes, frost them and stack on each other, make 12 cupcakes, frost them and place around the cake. Make the face using fondant (add uncooked spaghetti for the whiskers.)


---

DIY Bear Animal Baby Shower Cupcakes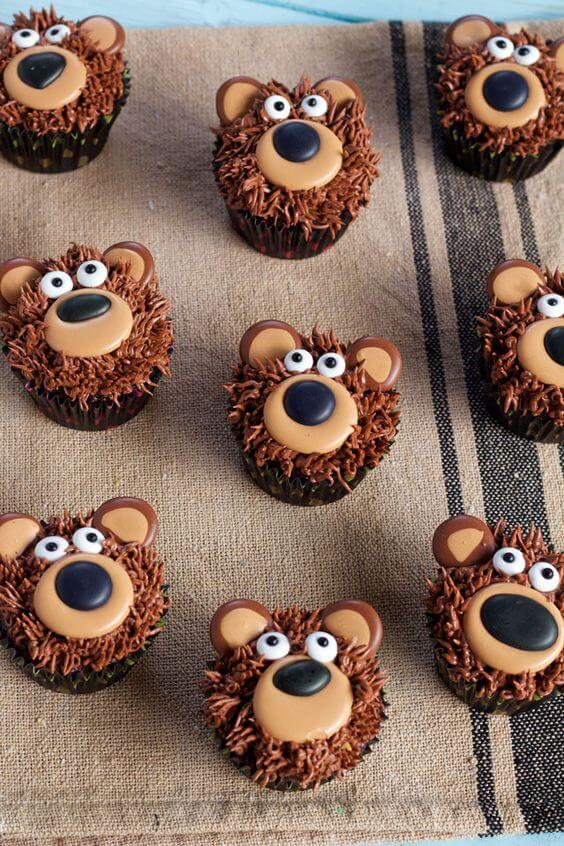 These adorable baby bear cupcakes make such a sweet impression and look like they would be hard to make, but actually, anyone can make them! 
Make some chocolate cupcakes
Frost with chocolate frosting, using the frosting tip below
Add some small candy eyes (found at craft stores)
Melt chocolate (both white and milk chocolate) and color the white light brown and black
Pipe circles onto waxed paper to make ears and noses
Assemble the chocolate pieces onto the cupcakes and that's it!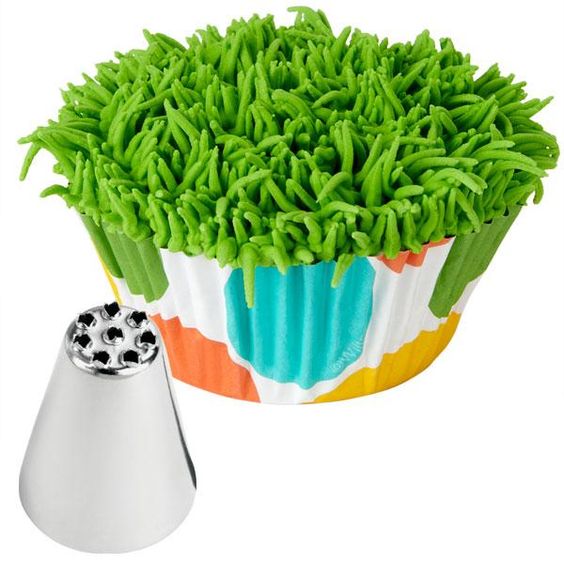 ---

Baby Farm Animal Cupcakes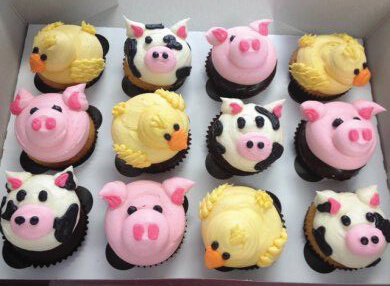 Get inspired by these sweet little farm animal cupcakes for a baby shower!
Little pigs, cows and baby chicks - perfect for a farm themed baby shower.
---
TIP: Instead of making an elaborate baby shower cake, you can opt for making cute cupcakes and poking a simple cupcake pick into the top of each one!
And then pop them into cute animal print cupcake wrappers! Same level of cuteness, only much simpler!
---
Easy DIY Panda Bear Cupcakes

These sweet and adorable little panda cupcakes are perfect for a baby shower or kid's birthday party!
You can choose to make mini cupcakes, using a mini cupcake pan, or regular sized cupcakes.
---

Baby Boy Animal Cake Instructions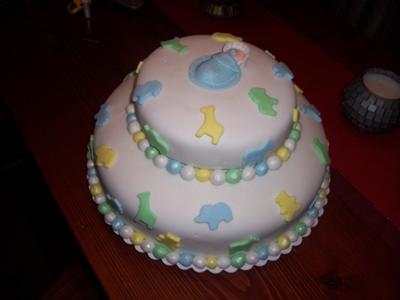 Cake Submitted By A Reader:

This baby boy animal cake was my first fondant cake!

I used my 16 in round cake pan for the bottom layer and an 8 in round for top layer.  

I bought some fondant and rolled it out. Then I placed it on top of both layers separately. 

The fondant was tucked under edges of the cakes and I stuck candy dowels in the bottom layer cake to hold up the top layer.

I made my animal cut outs with mini cookie cutters and my son helped make the balls around the outer edges.
With a paintbrush, I lightly brushed a bit of water onto each fondant cutout and ball and placed them on the cake. This helped them adhere to the cake a little easier. 

I brushed the cake with edible shimmer dust (disco dust) and used a tapestry needle to "punch" holes on each animal to give them a sewn look! Everyone loved it!

I impressed myself with the fondant!
It was actually easy to use! 

Oh, and the baby on top was made with fondant too! I did some internet research on what I wanted it to look like. 
---

Easy Animal Baby Shower Cupcakes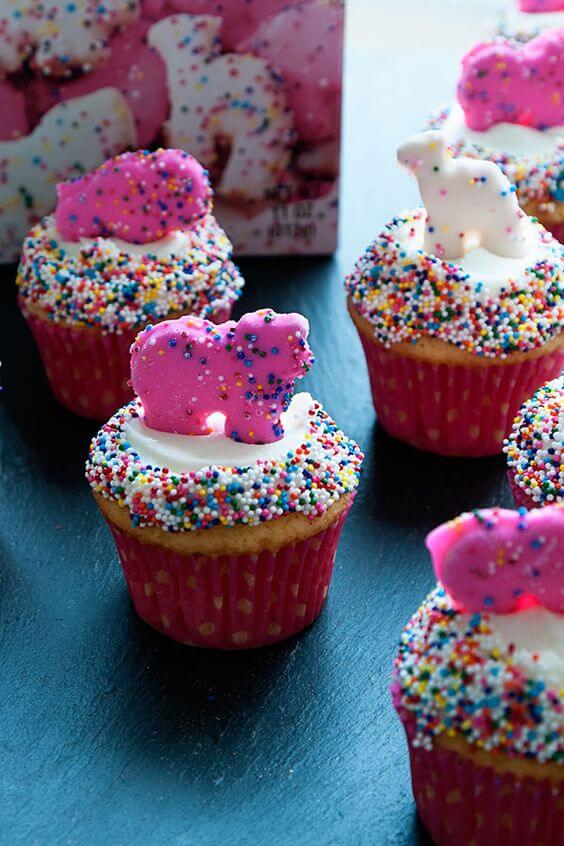 These sweet animal cookie cupcakes are smothered in yummy sprinkles and are perfect for a baby shower or 1st birthday with a baby animal theme.
They are adorable and so simple to make! Bake some cupcakes, shake, shake, shake the sprinkles on, and top off with animal cookies.


---

Farm Animal & Barn Baby Shower Cake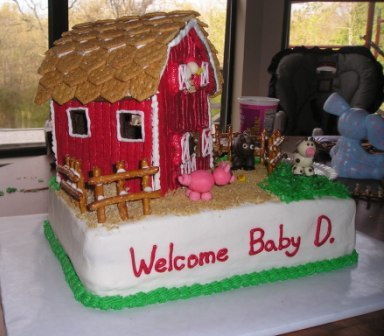 This cute Baby McDonald Farm Animal Cake was submitted by Trisha from Sherwood, AR. Below are her instructions for making the cake:
Farm Animal Baby Shower Cake Instructions:
About 4 days ahead of time we made the fondant farm animals. I found a package from Michaels to make the farm animals with the correct colors and amounts you would need.


About 2 days ahead of time, we made the Gingerbread barn. My husband made a pattern for the barn out of paper. I used a Gingerbread cookie mix out of a box, rolled it out, and cut the pieces out using a pizza cutter.


We also cut out the windows and window shutters before baking. We let it set for a day and then glued the pieces together using Royal Icing.


The shingles are made from Graham crackers 100 calorie packs and glued on with the Royal icing.


The fence and food trough is made from pretzel sticks and Royal icing.


The hay is shredded wheat.


The grass is coconut mixed with a few drops of green food coloring.


The dirt is crushed graham crackers.


I made two 9x13 cakes, crumb coated, and iced them. Then we placed all of the parts where we wanted them. We iced the barn after it was placed on the cake with the straight side of the #47 icing tip to make it look like the wooden slates on a real barn. Then we trimmed off the barn with white icing.


Below are some detailed pictures of this cute cake!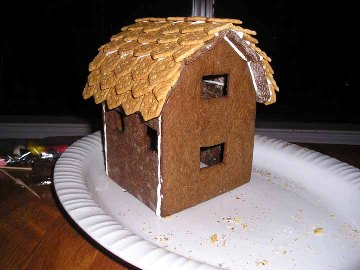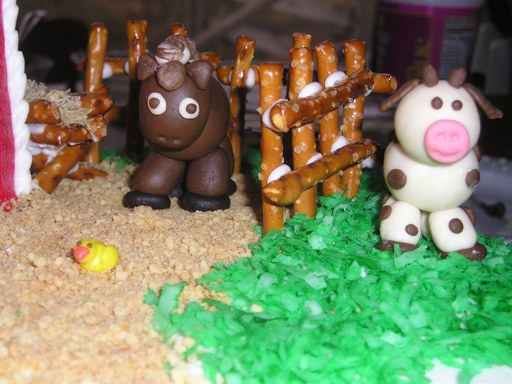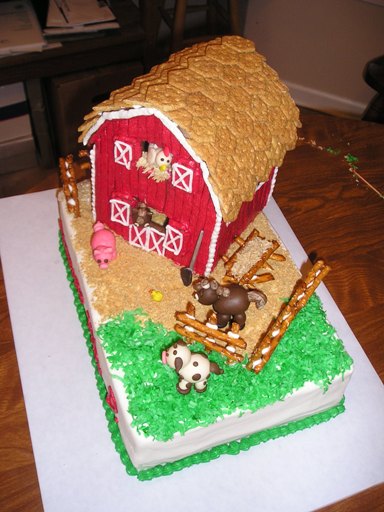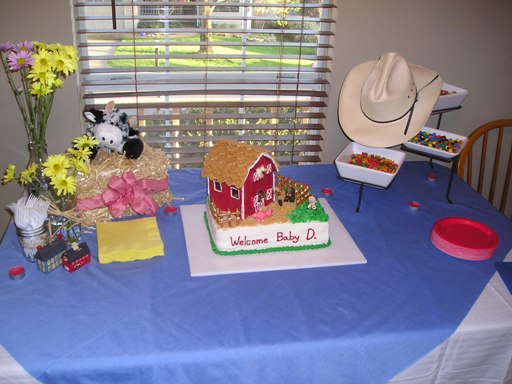 This cake is adorable and I am sure the guests just loved it!
It is great the way you used Mason jars as the utensils holder and added the cute bale of hay with the cow on top.
The farm animal theme is such a cute theme that allows for so many creative possibilities!


printable farm animal baby shower game pack
---

Some more cute farm animal decorating ideas are:
Serve chips in cowboy hats and place the dip on the top of cowboy boots.


Roll utensils in red or blue napkins and tie with strips of burlap or pieces of jute.


Cut cookies and sandwiches into farm-themed shapes by using cookie cutters.
---

Learn How To Host An Adorable
Frog Baby Shower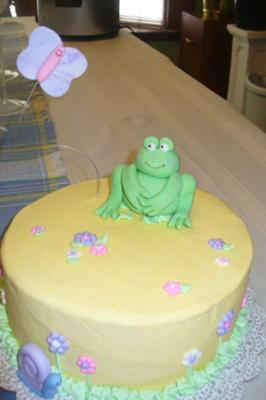 ---

Free Printable Elephant Clipart And Favor Tags

Print these cute elephants out from your home computer and use to decorate the baby shower!
Click on the picture to print and get ideas for using them.
---

Printable Baby Animal Baby Shower Game

 We designed several popular Elephant Baby Shower Games to make your planning a bit easier! The games are instant downloads and you can print unlimited copies.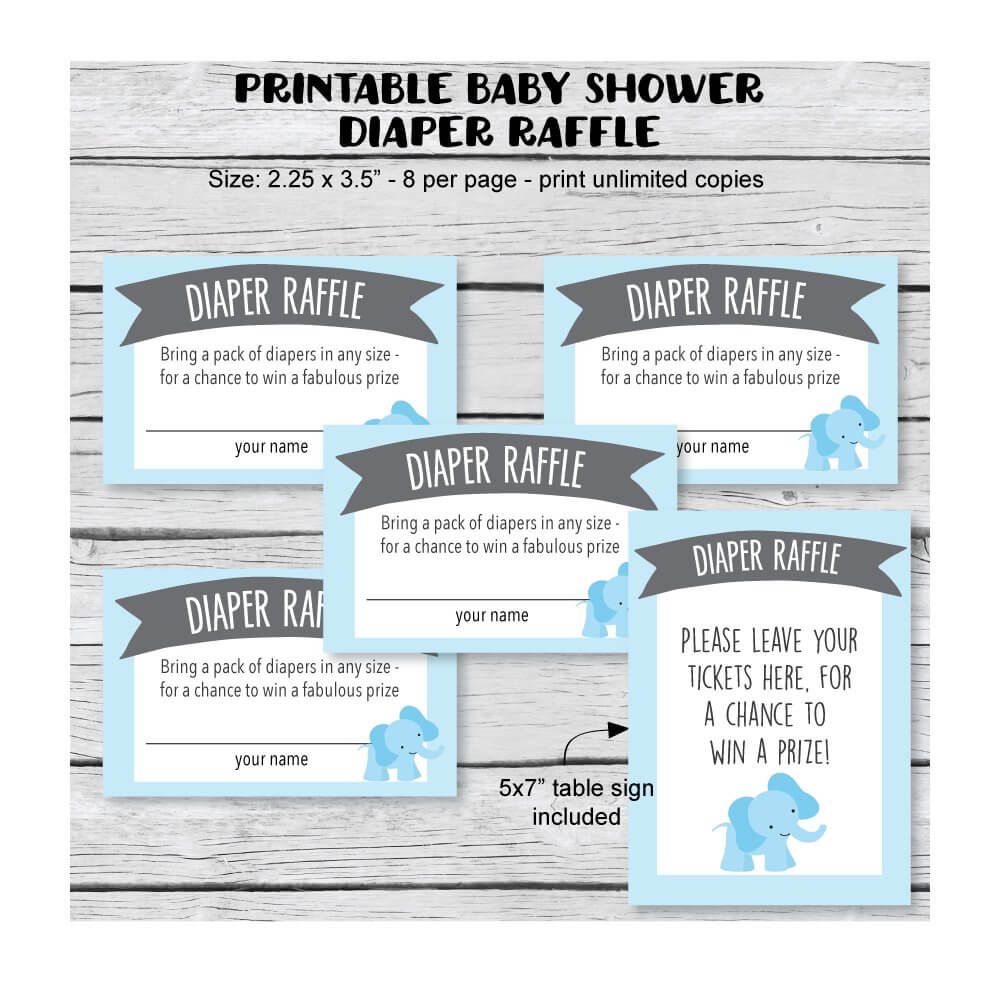 ---
Where would you like to go next:
free pregnancy prompts for journaling - helps to reduce stress & anxiety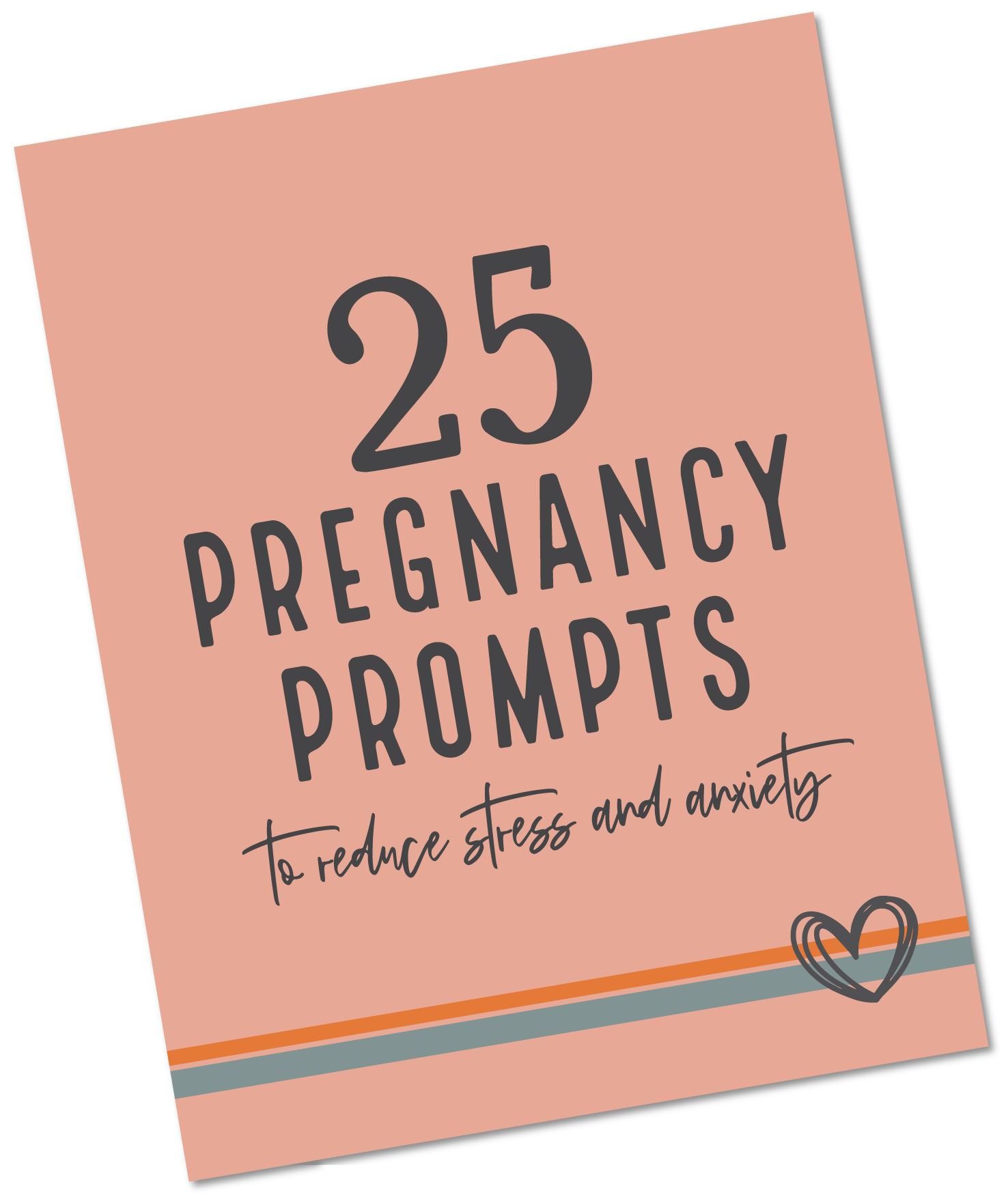 Reduce pregnancy stress with these helpful daily prompts for expecting moms