Cute Frog Baby Shower Invitations, Ideas, Favors, Decor & Cakes!
Make guests extra hoppy by implementing these cute frog baby shower ideas!
Frogs are a cute, festive and original way to celebrate a new baby!
They are a popular nursery theme as well! So get hoppin' and make this frog baby shower shine!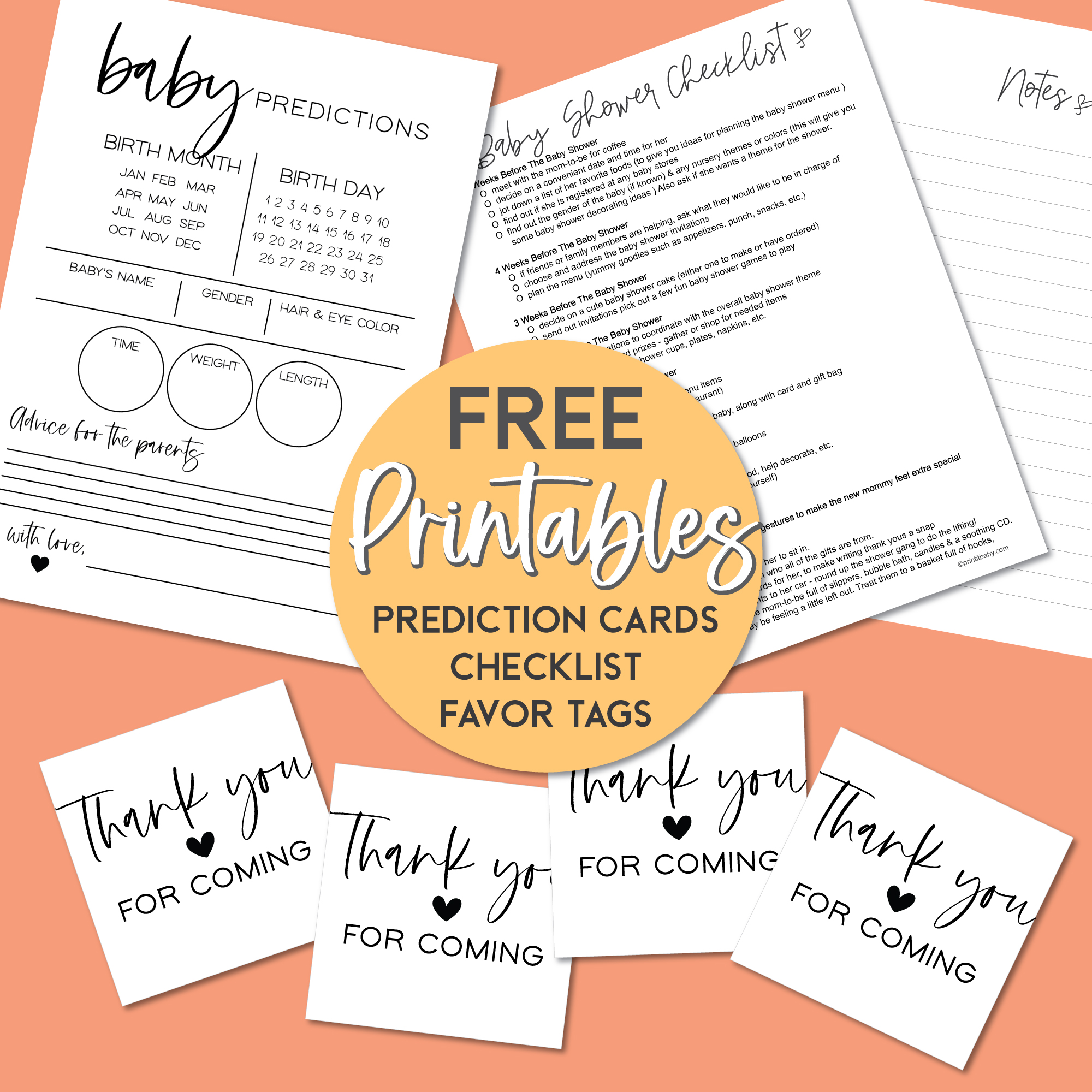 GRAB YOUR FREE PRINTABLES HERE
Frog Baby Shower Cupcakes
These sweet little frog cupcakes will put a smile on the guest's faces! So adorable and not too hard to make:
make your favorite flavor of cupcakes
make white buttercream frosting from scratch, or buy frosting in the tub
tint the frosting blue by using concentrated gel food coloring
pipe on frosting using a piping bag and tip
make little frogs from fondant (color the fondant with gel food coloring)
---
Frog Baby Shower Candy
Serve up some yummy frog-themed snacks by putting colorful candies in a large glass jar. 
---
Frog Baby Baby Shower Invitations
Frog baby shower invitations and supplies - Everything you need for the cutest frog baby shower can be found here.


---
Frog Baby Shower Cake Ideas

The cute cakes below have been submitted by our talented readers!
Hope they help you in your planning and inspire you to make your own cute baby shower frog cake!

Frog Baby Shower Diaper Cake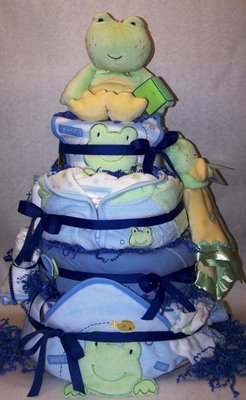 4 Tier Frog Diaper Cake
by Jean Lang 
(St. Paul, MN)
This diaper cake is 4 tiers with a frog sitting on top. I used:

91 Huggies Diapers size 1-2

Froggie Hooded Bathing Towel
Blue Receiving Blanket
Johnson's Take along packs of: 
Shampoo
Desitin
Baby lotion
Baby power
Baby wash
Soothing naturals lotion
Froggie Hooded Bath Robe
Froggie Bib
3 Washclothes
2 pair of booties
Carter stuffed bunny rabbit
Teething Ring
Stuffed Frog
Froggie Buddy Blanket
2 Gerber Spoons
Pack Wet Ones
Pack of Butt Paste
Onsie
8 plastic links (colors yellow, blue & green)
Diapers aren't rolled so that the cake is easier to take apart for the new parents. I do diaper cakes on the side for fun.
---

Yellow Frog & Butterfly Cake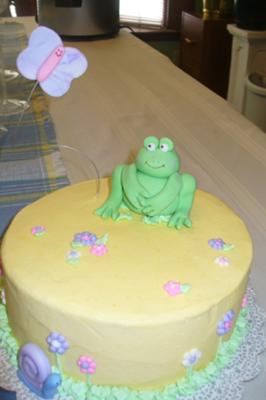 This Frog cake was a yellow cake with strawberry & cream cheese filling. It was iced with light yellow butter cream and butter cream flowers.
The frog, butterfly, and snail are made of fondant. The butterfly was dried on a piece of wire and inserted into the cake just before the party!
---

Adorable Frog Cake With Polka Dots


Submitted by Christine:

I made the frog out of a small round shaped cake, Wilton ball pan, and the head is made out of a Rice Krispy treat and covered with fondant.

The dragon flies and ladybugs are also fondant.
---

Clever Frog Baby Shower Ideas & Decoration Tips To Inspire You


A cute and simple invitation wording idea is: "Hop on over to a toadily cute baby shower!"


Cut out frogs and lily pads and hang from ceiling with fishing line -have plastic flies hanging as well


For cute centerpieces, place a plastic frog, pretend flies, a touch of greenery and some battery powered twinkle lights in mason jars and screw on the lid


Hang a sign on the door saying "We are toadily glad you could make it ... Hop On In"


Float different shades of green balloons all around


Serve some yummy green punch (White grape juice, ginger ale and green food coloring)


Or blue punch with plastic frogs floating in it


Serve "fly ice cream" which is really chocolate chip mint


Serve lily pad dip (spinach dip) and offer logs (breadsticks) for dipping


For prizes or favors, bake some frog-shaped sugar cookies, frost green and wrap in cello


For a game, fill a small plastic pool or metal tub with water and float several plastic frogs in it - that have all been numbered. As guests arrive, have them pick a frog out of the tub - later on in the shower, draw a number out of a bowl. The guest that has that numbered frog wins a prize! And everyone gets a frog to take home!


Fill mason jars with green jelly beans and stick flower bouquets in them


Fill empty baby food jars with green jelly bellies and place a tea lite on top. Have several lit all around
---

Frog Cloth Diaper Cake


This is an adorable "Cloth Diaper Frog Cake" that is bursting at the seams with baby shower gifts!
What new mom wouldn't love to receive a diaper cake for their baby shower?
Diaper cakes make adorable baby shower centerpieces and also make the perfect baby gifts! Click on the picture to get complete details.
FREE PRINTABLE BABY PREDICTIONS CARDS