How To Plan A Farm
Baby Shower Like A Pro

We have come up with a barn load of cute, farm animal baby shower ideas! From hay bales, to cowboy hats, to little red wagons, we have got you covered! So get ready to host the cutest shower around!

neigh • chirp • cheep • cluck • oink • moo
Decorate in style with cute banners, farm centerpiece displays, printable baby shower games, one-of-a-kind favors and matching tableware! Guests are going to be so impressed with all of the cuteness and creativity going on!

Start off by grabbing a notepad and writing headlines on each page: Favors, Food, Cake, Decorations, Supplies, Games, Gift. Then jot down any ideas you have for each topic.
Scroll down below to get easy tips and ideas for planning each part of your farm animal party!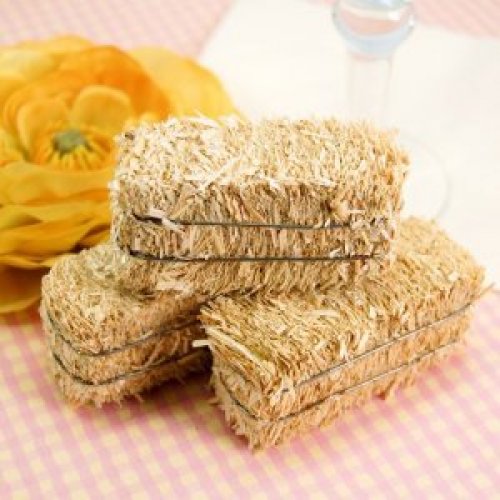 When decorating, you can use mini hay bales for several purposes. Put 2 or 3 on the front porch, along with some red bandannas, farm stuffed animals, or any animal figurines such as cows, pigs, roosters, chickens, horses, etc.
The hay bales pictured above are actually mini-sized and can be used as centerpieces on the guest's tables or on the food or gift tables, you can also poke wooden dowels or skewers into them to make food labels or place cards (see picture above for example)
---
---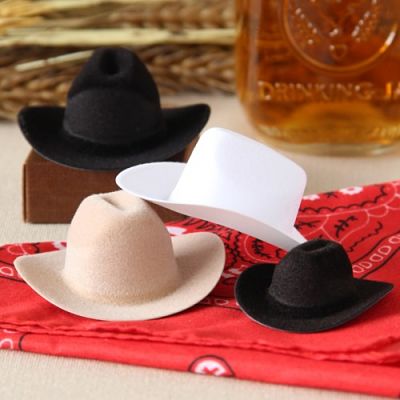 Use mini cowboy hats as decorations or even as little candy dishes or party favors!
A cute farm baby shower favor idea is to place small clear bags full of candy into each hat, tie a ribbon around each bag and add a favor tag. Simple and adorable baby shower favors that guests will love!
---

DIY Pom Pom Sheep Garland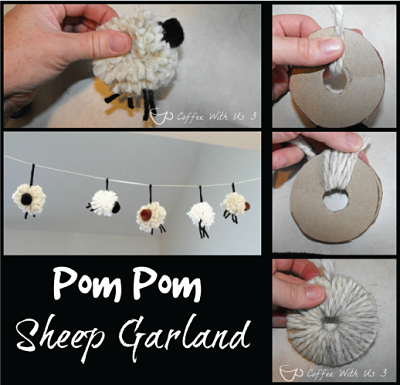 Aren't these pom pom sheep just the sweetest things? We saw them over at the cute blog, Coffee With Us 3, and knew we had to share them with you! You simply make some yarn pom poms, add a store bought little fuzzy pom pom for the head, and use yarn for the hoofs. So cute!
---

cute cow balloons for a farm themed baby shower
---
Farm Decoration Ideas

roll napkins in red, blue or pink bandannas and tie with jute or string.


pour chips, nuts or any finger food into a bowl and place the bowl inside cowboy hats or the top of a cowboy boot.


purchase farm-themed scrapbook paper at the craft store and use for place mats, cut into strip and wrap around candles, bottled water, vases. You can also use it to make place cards, food labels or name tags.


use old or new red wagons for decorating.


serve mini chocolate donuts and labels them tractor wheels


set a kid sized wheelbarrow or tractor on the table and serve food in it. Or use to place presents in them.


serve punch in mason jars


If the shower is held during the summer months, have an outside BBQ with baked beans, chicken, coleslaw and potato salad


Decorate by hanging cute cowboy hats and bandannas around the trees or inside the house


Have hay bales for people to sit on or for decoration


Use flipped over cowboy hats lined with bandannas for snack bowls for chips and other goodies


Get a large bucket, fill it with fried chicken and put a cute little sign on the bucket saying "Chicken Feed"


Place dip in a bowl and place on top of a cowboy boot or inside of a cowboy hat


Serve big chocolate cookies and have a cute sign next to them saying "Cow Chips"


Get the crowd in the mood by playing some country music


Some cute gift ideas for the baby are baby cowboy boots, stuffed cows or horses, themed books such as "Cow Moo Me" or "Old MacDonald Had A Farm"


A cute centerpiece idea is to fill a cowboy hat with baby goodies such as blankets, socks, lotions, washcloths, rattles and pacifiers
Cowboy Diaper Cake Ideas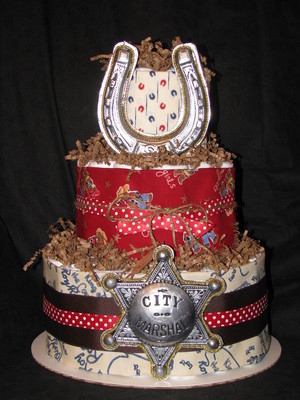 ---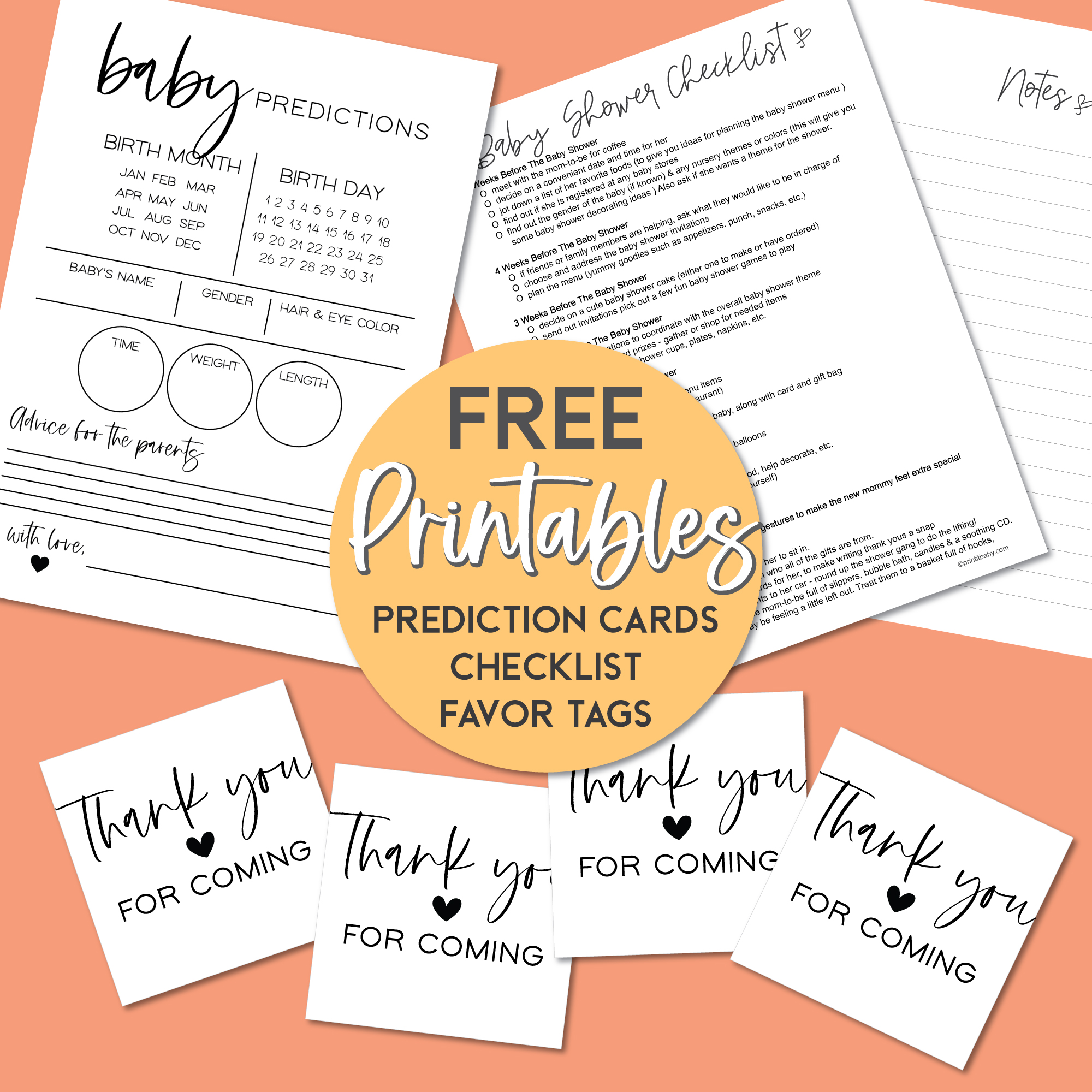 GRAB YOUR FREE PRINTABLES HERE

Help With Farm Baby Shower Centerpiece


Question submitted by Barb:
I need some ideas for a farm animal centerpiece.
I am hosting a baby shower for my niece. Her nursery theme is farm animals. I am trying to come up with an idea for centerpieces for the tables. I have purchased stuffed farm animals, but need ideas to incorporate them into the tablescape.
Any suggestions?

---
Hi Barb,

You could buy a toy tractor and mini hay bales (found at craft stores) and then place the farm animals around and in the tractor.

Hope this helps a little :)
Amy
---
Farm Theme
by: Melissa

You could do small silver galvanized buckets filled with daisies. You could also wrap the buckets with bandannas.

Good luck!
WHERE WOULD YOU LIKE TO GO NEXT:
FREE PRINTABLE BABY PREDICTIONS CARDS