Ladybug & Butterfly Diaper Cakes

Below are several cute butterfly diaper cakes submitted by readers! We have ladybug diaper cakes too! Hope these cakes inspire you to make the best diaper cake around!
Butterfly Kisses Diaper Cake
I made this diaper cake for my youngest sister. Her theme was yellow/purple/pink and butterflies for her baby girl on the way.

I made a 4 tiered diaper cake out of 2 pkgs. of size 2 Huggies natural diapers. I like them because they are quality diapers with less dye than most others.I used a poster tube for the support in the middle.

I rolled the artificial flowers in a diaper and put it is the top of the tube. I used a extra large rubber band to hold the diapers in the 2 bottom tiers and a large for the 3rd tier and a medium for the top tier.

I glued all the ribbon layers together before placing on the diaper cake and only hot glued the very ends that overlapped. I used butterflies on the flowers and ribbon to give it that last touch. This was very easy and simple and I think turned out cute.



How To Make Butterflies Made From Diapers
What an adorable way to compliment a Butterfly Baby Shower! Make these easy butterfly diaper cakes!
Butterfly Baby Diaper Cake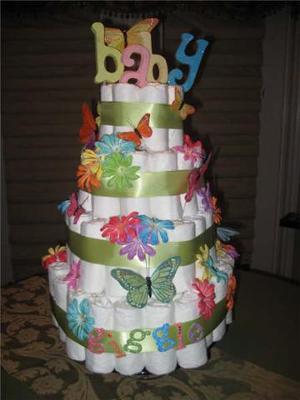 First I started with two Gerber glass bottles, filled with knick knacks for baby and a personal note to my sister..I started rolling diapers around the bottle using elastics and when i got a big enough base, repeated to a second,third and forth level.

I bought wooden letters painted them in the different colors then painted a sparkle over top to add some fun. I used wooden dowels to keep the layers together as well as the two baby bottles in the middle of the cake which you cannot see.

I then attached "giggle" letters on the bottom to match the top letters "baby" Using flower petals and push pins i started inserting flowers randomly throughout the cake as well as beautiful butterflies. The ribbon around the cake is to hide the elastics and makes the "gender neutral" look come together.