How To Make The Cutest Baby Shower Appetizer Cups
Appetizer cups make 'baby shower food prep' a snap - And they make such a cute and fancy presentation!
I always feel that food tastes better when it is presented in a fancy way.
Below are several ideas for creating the cutest baby shower appetizers.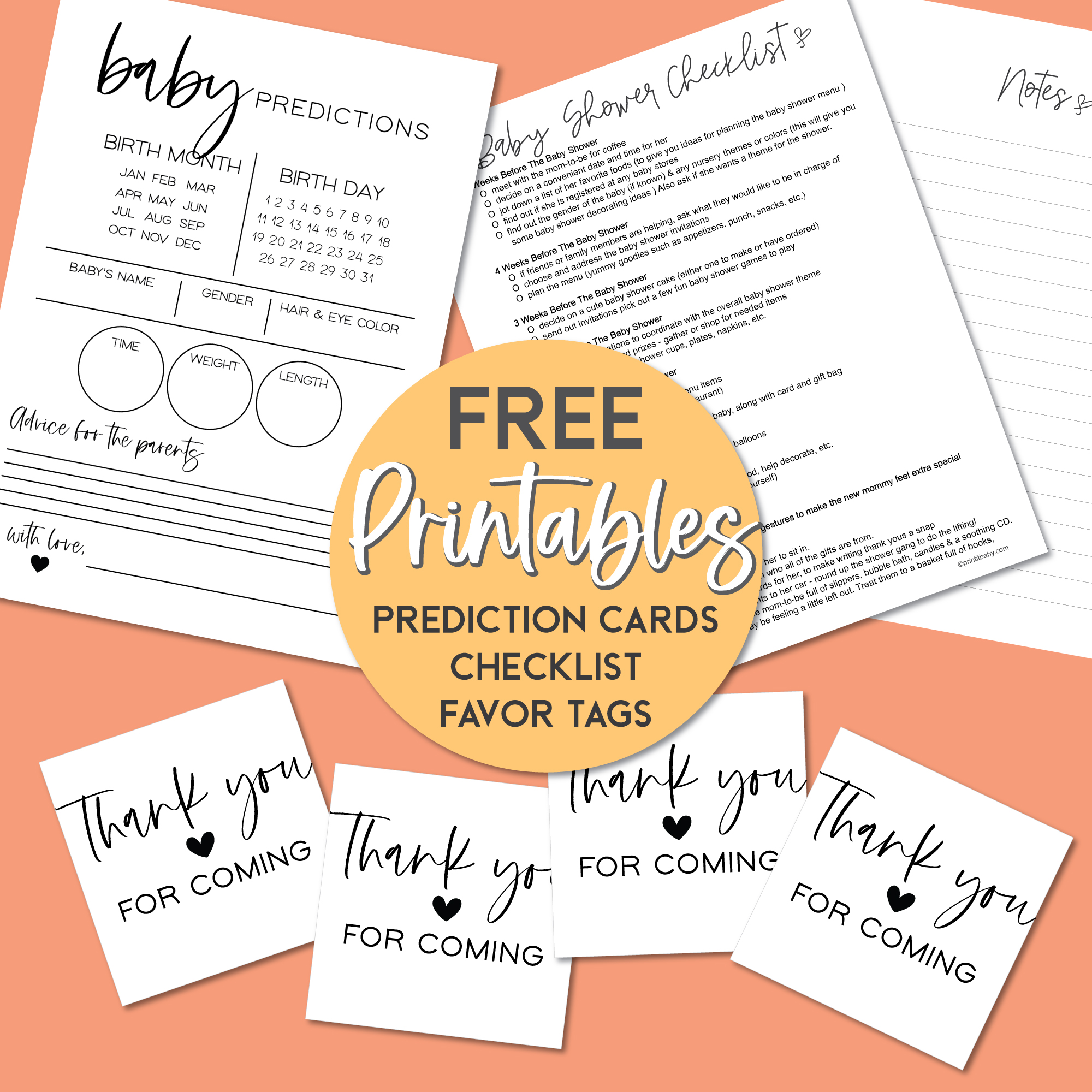 GRAB YOUR FREE PRINTABLES HERE
PARFAIT CUPS
Use these 5 oz. clear plastic appetizer cups (comes in a pkg of 20 with spoons included) to make yogurt parfaits. Perfect for a baby shower brunch!
Serving Options:
Simply add granola, then yogurt, more granola, and top with fruit.


Fill with berries - strawberries, blueberries, raspberries - and top with whipped cream


Sprinkle crushed graham crackers in the bottom, add vanilla or chocolate pudding. Top with whipped cream. You could also layer it like a parfait - a layer of crushed graham crackers, a layer of chocolate pudding, another layer of graham crackers, a layer of vanilla pudding


Blend frozen fruit (strawberries. bananas, mango, etc) add milk, water or almond milk and blend to make a smoothie. Pour into each cup and top with whipped cream and a blueberry
---
SALAD IN A CUP - Appetizer Cups
You can also the plastic appetizer cups with colorful salads! Add lettuce, carrots, cucumbers, celery, tomatoes - whatever fixins' you choose. Add a bit of Italian, Ranch or oil and vinegar.


Or you could do a Caesar Salad with romaine lettuce, parmesan cheese, Caesar dressing and croutons.


Pasta salad is another idea - cooked spiral pasta, Olive Garden Italian dressing (in the bottle - from the grocery store), sliced black olives, cubed pepper jack cheese, chopped salami, marinated artichoke hearts, grated parmesan cheese. So delicious! (this is my go-to salad for any get together)


---
MORE CUTE APPETIZER IDEAS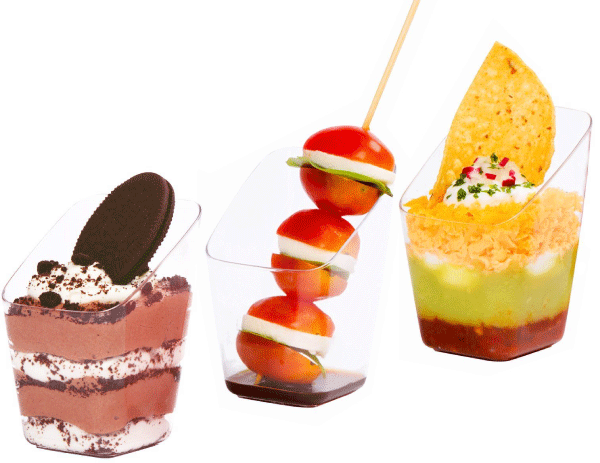 Oreo chocolate parfait


Cherry tomatoes with mozzarella cheese, basil, and balsamic vinegar drizzled in the bottom


Mexican dip - a layer of salsa, refried beans, guacamole, sour cream, cheese - served with a bowl of chips


Pour ranch dressing into the bottom of each cup and add carrot sticks, celery and cucumber spears - can use hummus as well


pour cocktail sauce into bottom of each cup - top with cold, peeled shrimp


---
Baby Shower Taquito Appetizers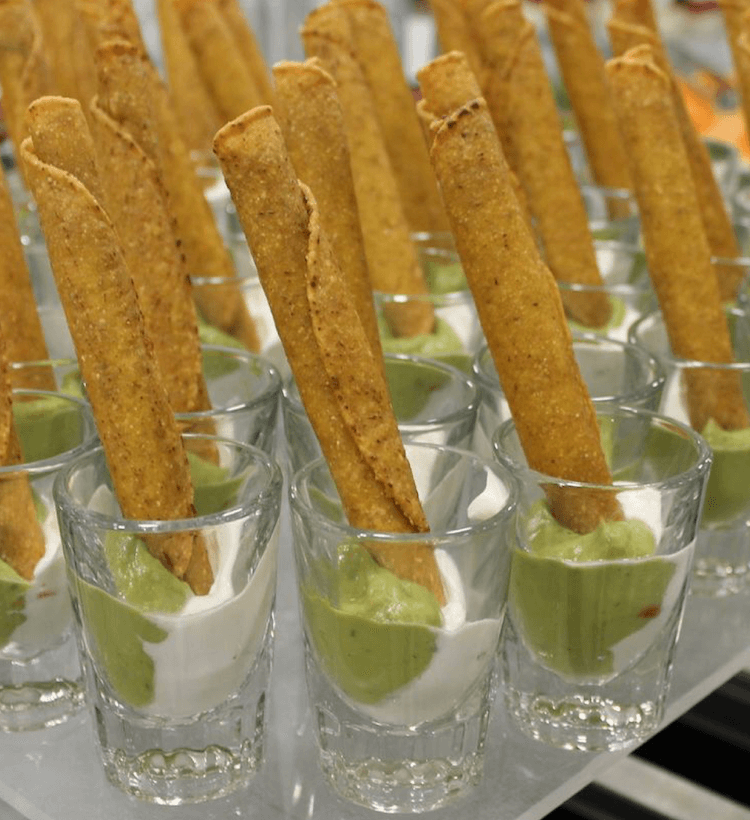 image source pinterest (original source unknown)
And last but not least, these delicious shot glass taquito appetizers! 
Buy some clear shot glasses, add some quac and sour cream, top with a cooked taquito! Yum!
---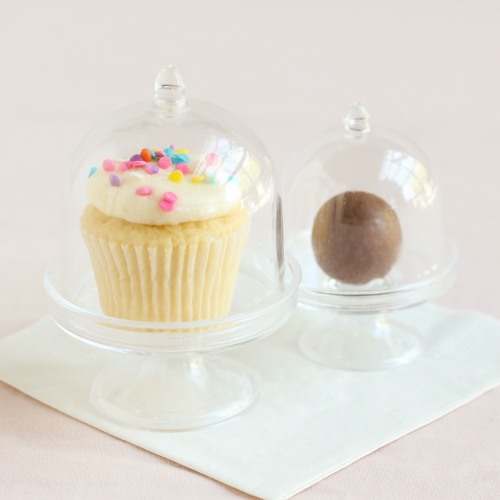 If you are looking for the perfect baby shower party favor for guests to take home - and that they can eat ...
then this is it my friend! These adorable acrylic cupcake / dessert stands only cost $1.40 each and your guests will love them!  You can get them here.
---
Hope these baby shower appetizer cup ideas inspired you! Happy cooking!

WHERE WOULD YOU LIKE TO GO NEXT:
FREE PRINTABLE BABY PREDICTIONS CARDS