Looking For A Sentimental
Baby Shower Poem Idea?
If you've been searching for the perfect baby shower poem idea , these cute verses are perfect for...baby shower invitations, framed art, scrapbooks, cards and more! Enjoy!

Sentimental Baby Shower Poems
Feet
Someday I'll jump through puddles
Take a stroll or run a race
Someday I'll walk across the street
Or maybe walk in space
Someday I'll scale a mountain
Or I'll join the ballet corps
Someday I'll walk a tightrope
Or explore the ocean floor
Someday these little feet will do
Some things that only heaven knows
But for today they're happy just to wiggle all their toes

Author Unknown

--------------------------

The Greatest of Gifts
Ten little fingers
ten little toes
the sweetest of smiles
and a cute little nose
All these add up
to a very special thing
a baby
the greatest gift
that life can bring

Author Unknown


cute baby shower poem idea

-------------------------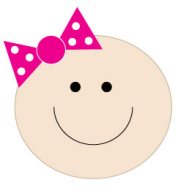 A Reader Needs A Baby Shower Poem Idea

One of our visitors, Nancy asks:
Baby Bootie Poem Help!
Hi,
There is a poem out there that you give to the bride at her shower and 1 baby bootie

"This shoe I give to you
Way before I know it's due.
But you won't know who it's from,
Until you need the other one!"

I now need the last part of the poem to give it's mate at the baby shower but can't find it, please help the shower is this weekend. THANKS!
Answers submitted from readers:
baby bootie poem
by: Anonymous

I have done this at several bridal showers. I'm sorry to say I can't remember the poem when you finally give the second bootie at the baby shower. Anyway this is the first part of the poem.

EVERYONE HERE IS THINKING OF THE DAY YOU WILL WED.
BUT I AM THE ONE WHO IS THINKING A HEAD.
BE IT PINK OR BE IT BLUE
YOU WILL HAVE TO WAIT TIL YOUR DUE
NOW YOU WONT KNOW WHO THIS IS FROM
UNTIL YOU NEED THE OTHER ONE !
Second Bootie Poem for the baby shower
by: MARIANNE T.

1st Poem: THIS SHOE I GIVE YOU TO YOU WAY BEFORE I KNOW IT'S DUE. BUT YOU WONT KNOW WHO IT'S FROM, UNTIL YOU NEED THE OTHER ONE.
2nd Poem: NOW THE TIME HAS FINALLY COME, FOR YOU TO GET THE OTHER ONE, AND TO FIND OUT WHO'S IT FROM YOU'LL HAVE TO ASK US ONE BY ONE. SO NOW IT'S TIME TO HAVE SOME FUN.
Hmm
by: Kayla

How about this? I just took your poem and added what i think might help under neath, I hope it helps = )

"This shoe I give to you
Way before I know it's due.
But you won't know who it's from,
Until you need the other one!"

"Now the time has come,
To get the other one,
And find out who their from,
So let's have some fun!"
--------------------------------------
cute baby shower poem idea
Sweet Baby Poem
a baby eats and sleeps
and grows everyday 
a baby plays and laugh's
and you love the baby in everyway
but then the baby begins to cry
but you know what to do
because your a mother,
it's just what you do 
you comfort and you snuggle 
the day the baby 
takes it's first step
is a day you cry for joy 
and your smile is the widest
it's just a day to be happy
and to enjoy
a baby is a baby
but they do grow up
so enjoy the time you spend together
the cuddle's, the smiles, the laughter,
and the warm, gentle moments
------------------------

Poem From Baby
With tiny hands and feet I hope that very soon we'll meet.
I hope that you will stay a while and make my mommy (daddy) smile. 
And although I cant be here today there is something I would like to say....thank you for all your gifts and wishes and please help mommy with the dishes. 

Love, 
The Baby

------------------------

Sentimental Baby Poem
It´s the time for hugs and kisses,
Reassurance when she cries.
It´s the time for making moments
Full of love and Lullabies.

For these golden days of childhood
come and go so very fast -
Hold her tight and love her dearly.
Make these precious moments last.
- By Britney
cute baby shower poem idea

------------------------

New Baby Poem
Being born was great for me,
Though I can't recall the chore.
But every moment I'm pleased to see,
That it's me they all adore.
My mom and dad stay close to me;
They claim to know me well.
They're proud to know a celebrity,
And me, I know they're swell.
They celebrate, they laugh and sing,
And gifts on me they shower.
I must have done a wondrous thing,
My birthday cries, BABY POWER!

------------------------
Baby's First Night Home
Tonight as you lie sleeping
For the first time in your bed
There must be something lasting
And profound that should be said

But as your face is gazed upon
Framed by your soft, dark hair
No words can tell or quite express 
The feelings that we share

The wait is finally over
You're home, at last, to stay
And there will always be the memories 
Of the joy that filled this day

With a love that's running over 
By the sight of you alone 
Welcome home, dear cherished one 
At long last welcome home!

Author Unknown 


cute baby shower poem idea

------------------------


Fingerprints
I know you get discouraged
because I am so small
and always leave my fingerprints
on furniture and walls

But every day I'm growing
I'll be grown up some day
and all the smudges that I did
will surely fade away

So here's another bunch of them
just so you can recall
exactly how my fingers looked
when I was very small

Author Unknown

cute baby shower poem idea

--------------------------

I Am Your Dad
When I heard the news of you
I did the things that most Daddies do
I opened up my heart so wide
For you to have a place inside

I tried to imagine the person you'd be 
would you look or act like me
I thought of the things we would do
The times we'd share, just us two

I would hold your hand in mine
be your protector, strong yet kind
I would be your hero and friend
give advice on which you'd depend

I remember the day you were born
I cradled a miracle, small and warm
What words I had were scarce and few
A tear was the best that I could do 

Life gave me a moment so rare
Bursting with pride, love and care
I promised you then all that I had
See you are my child, I am your Dad

Author Unknown
Return From Baby Shower Poem Idea -
See Our Main Poem Page for Cake & Invitation Wording Ideas
WHAT'S NEW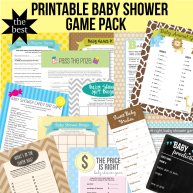 Get instant access to our popular baby shower game pack - 17 baby shower games that you can print from home! We picked the best games - baby shower bingo, the price is right, left right game, candy bar game, baby animal game, pass the prize, baby shower mad libs, baby predictions, sweet baby wishes, and more! It's all over at our printable site PrintItBaby.com ...