Easy Tips For Planning The Cutest Boho Tribal Baby Shower
free printable baby shower bundle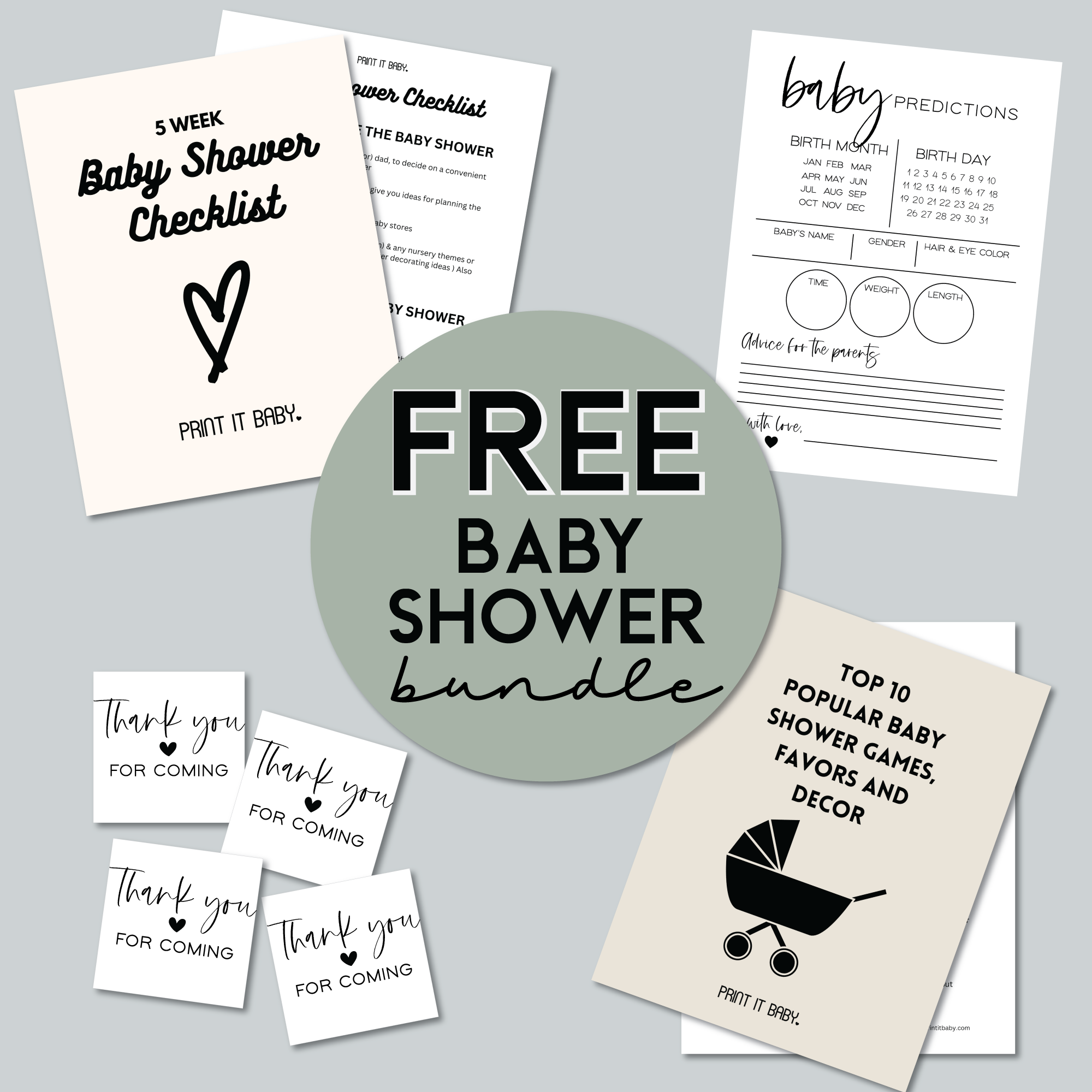 baby shower checklist • prediction cards • ebook • favor tags
---
Boho baby showers (also known as bohemian or tribal baby showers) are trending right now and I must admit, they are pretty adorable!
There are so many creative ways to decorate for this theme - and it doesn't have to cost a fortune! 
Below is a boho tribal shower 'round up' of the cutest ideas around! So put your planning hat on and get ready to be inspired!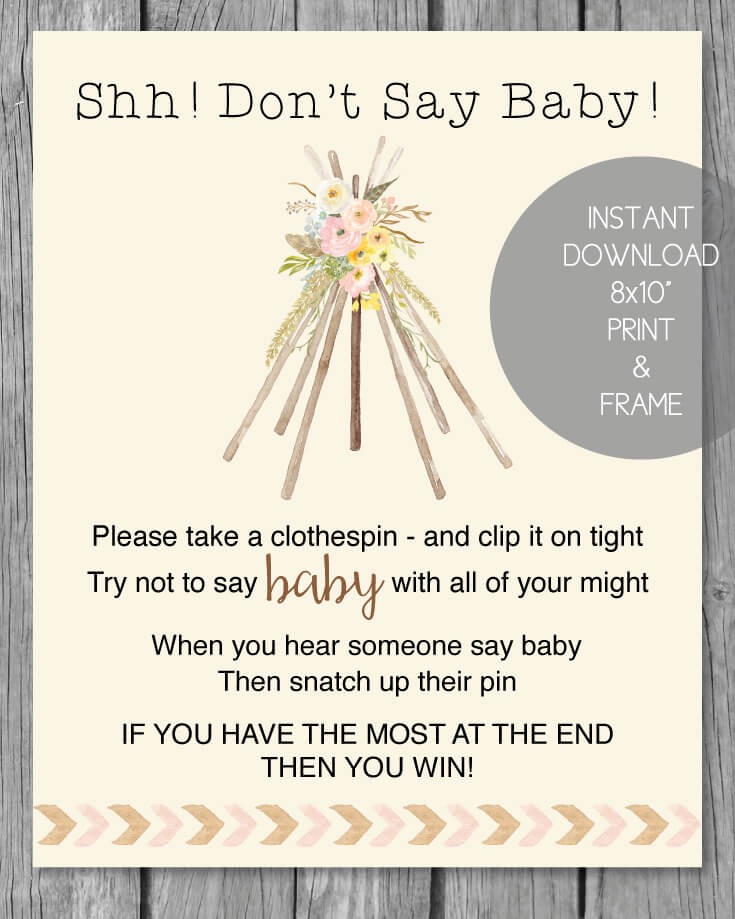 We have a ton of boho tribal themed baby shower printables for you! Shh, Don't Say Baby!, The Candy Bar Game, The Price Is Right - Check them all out here.


---

Boho Tribal Baby Shower Table Decor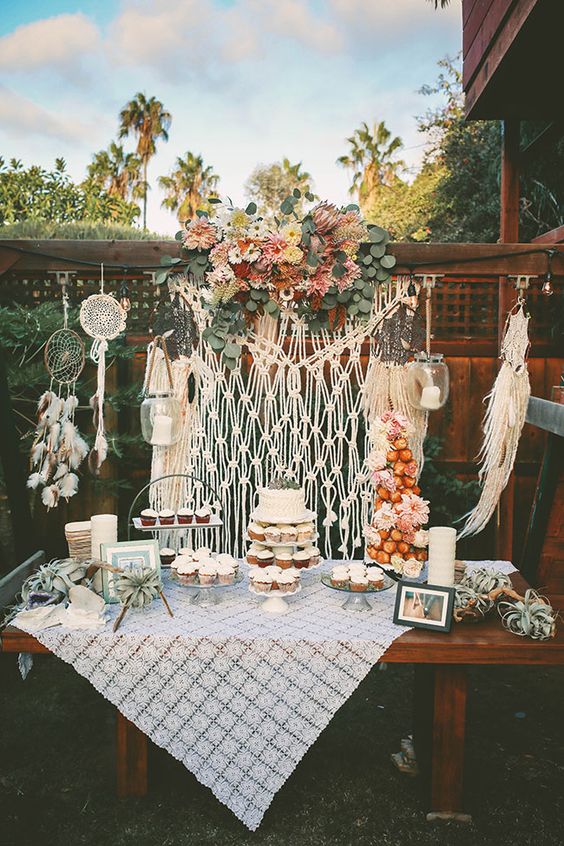 This beautiful baby shower tablescape is full of boho inspiration!
A doily tablecloth, whimsical flowers and succulents, candles, dreamcatchers, a macrame backdrop, and desserts galore!


---
Printable Boho Tribal Themed Candy Bar Game
---
Aren't these just the cutest tribal hats?! And the sign is so sweet - would also make a great wall hanging in the baby's nursery!
We whipped up some free party hat templates so you can make your own cute baby shower tribal hats! Simply open up the file, print onto tribal themed paper (found at any craft store,) cut and glue!
So easy and so adorable! download the free party hat template here.
---

Cute Glitter Arrow Cupcake Toppers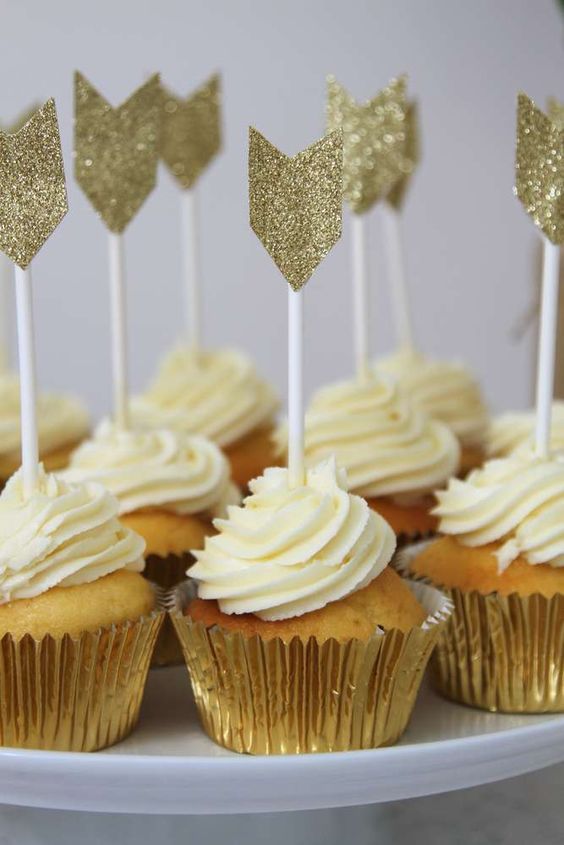 image source unknown
Easily make these cute glitter arrows by cutting arrow shapes out of glitter scrapbook paper.
You can Google 'arrow template' to find a free template to use.
Then simply trace the arrow onto the back of the scrapbook paper several times, and cut each arrow out.
Adhere to lollipop sticks using Scotch tape and poke into yummy baby shower cupcakes!
---

Boho Baby Shower Tee Pee Gift Station


You can easily make this adorable and festive baby shower gift tee pee by putting 3 pvc pipes together!
Add some pretty paper balls and lanterns and a blanket and you have the cutest boho baby shower decor ever!
---

Stay Wild My Child - Party Table Backdrop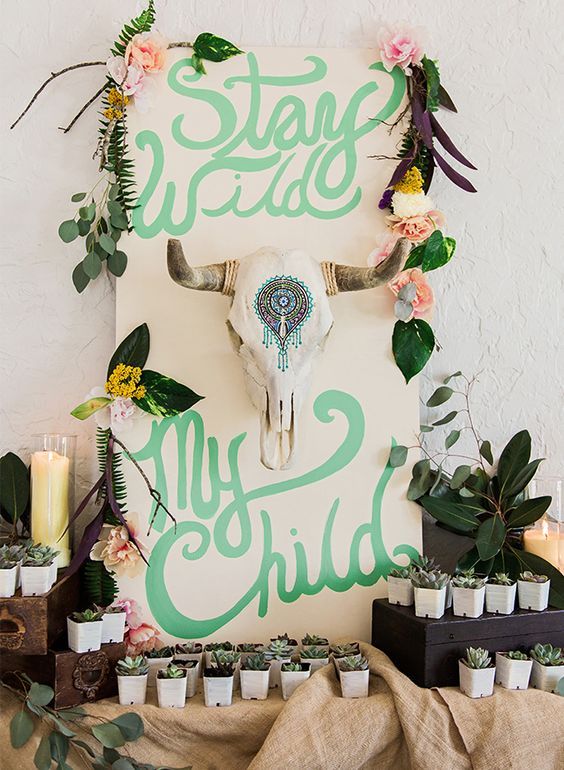 (image source: inspiredbythis.com)
This beautiful, hand-painted favor table backdrop really sets the entire theme and tone of the party. The rustic vibe makes guests feel welcome and at ease.
---

Baby Shower Dream Catcher


(image source: etsy)
This whimsical dream catcher is the perfect addition to any rustic, tribal baby shower! It is so unique and the colors are beautiful - especially with the twinkle lights flickering in the background.
These adorable dream catchers and fabric scrap garland make the perfect addition to any boho-themed tribal baby shower! 
---

Step-By-Step, DIY Dream Catcher Tutorial


Dream catchers are beautiful and can be adapted to match any color scheme or theme.
You can choose to make them bright and colorful - or calm and peaceful by using cream and pastels.
This 5 minute video, below, will show you all you need to know to make the perfect dreamcatcher!
---

Boho Paper Lanterns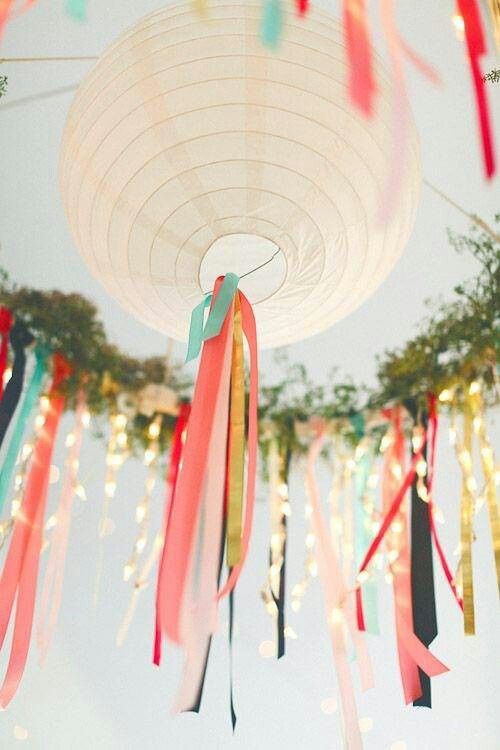 These adorable paper lanterns are so simple, yet make such a sweet impression.
They really fit in perfectly with any baby shower theme - change the color of ribbons to match you color scheme for the shower and you're all set!
---

Succulent Baby Shower Favors


(image source: kara's party ideas)
Finally, give guests the perfect baby shower favor that won't be unappreciated!
These cute little succulents are so popular as wedding favors - and now they have spilled over into the baby shower scene!
So adorable - guests will be reminded of the fun they had at the shower and the precious newborn baby every - time they look at them!
Grab printable some FREE, Pink Ombre "Thank You" tags for baby shower favors and gifts here.

---

"Thank You" Arrow Favor Tags


Printable Arrow "Thank You" tags for baby shower favors and prizes! 
---

Simple Arrow Garland For A Tribal Baby Shower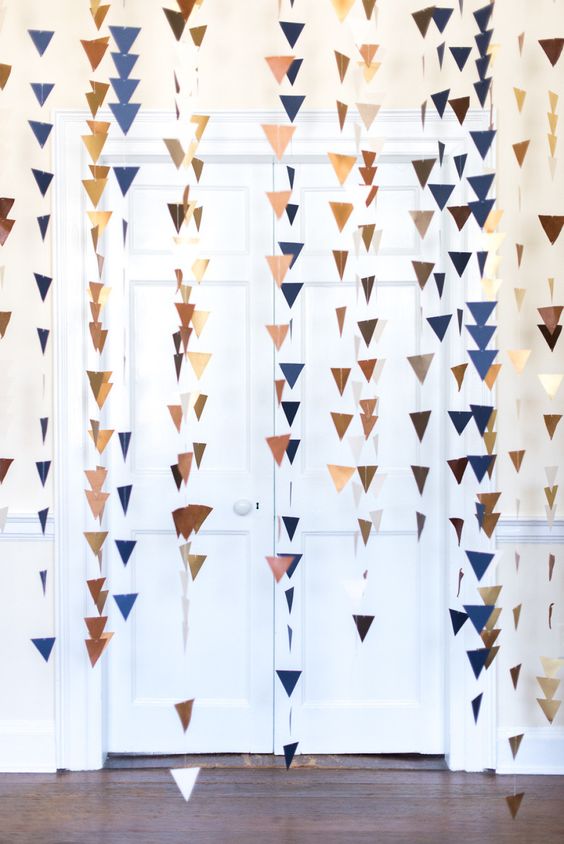 Whip up several strand of this stylish arrow garland, hang from the ceiling, and you have the perfect baby shower decor! And it doesn't cost a fortune!
All you have to do is purchase colored card stock to match the baby shower colors, cut our several triangles (they can actually be different sizes - that would look cute too!) sew, glue or tape the arrows onto long strands of string. Hang all around the room - and you're good to go!
free pregnancy prompts for journaling - helps to reduce stress & anxiety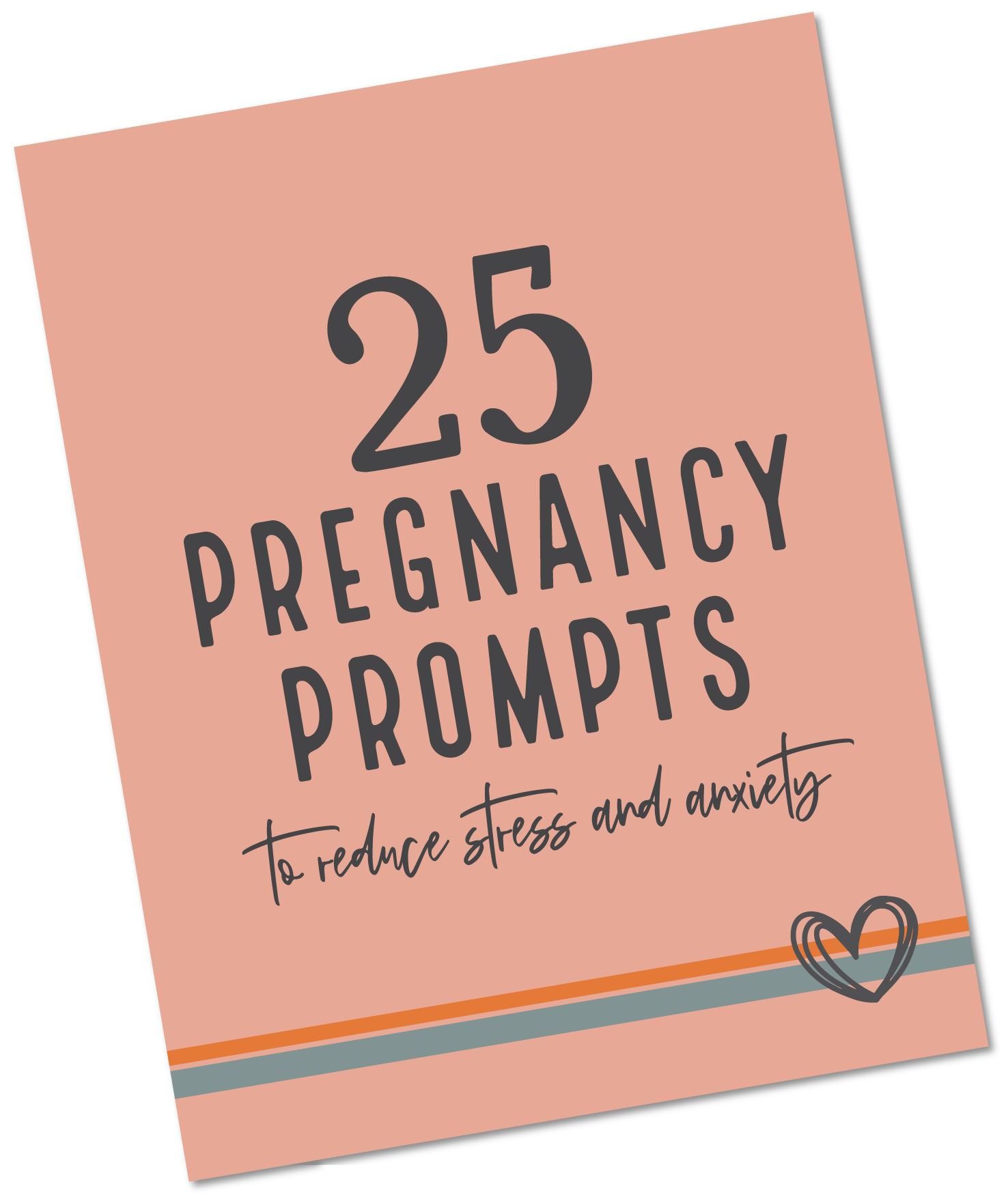 Reduce pregnancy stress with these helpful daily prompts for expecting moms