Moon and Star Cakes & Baby Shower Ideas You Will Love
Below are several cute Moon and Star Cakes and "Moon and Star-Themed" Baby Shower Ideas to inspire you!
Be sure to scroll all the way down to grab some FREE printables to match the theme!
All of the cakes below have been submitted by our talented readers! Get inspired by all of the cute baby shower cakes and cupcakes!

You can get some great ideas to make the cake yourself, or you can take it to your favorite baker and see if they can create it for you!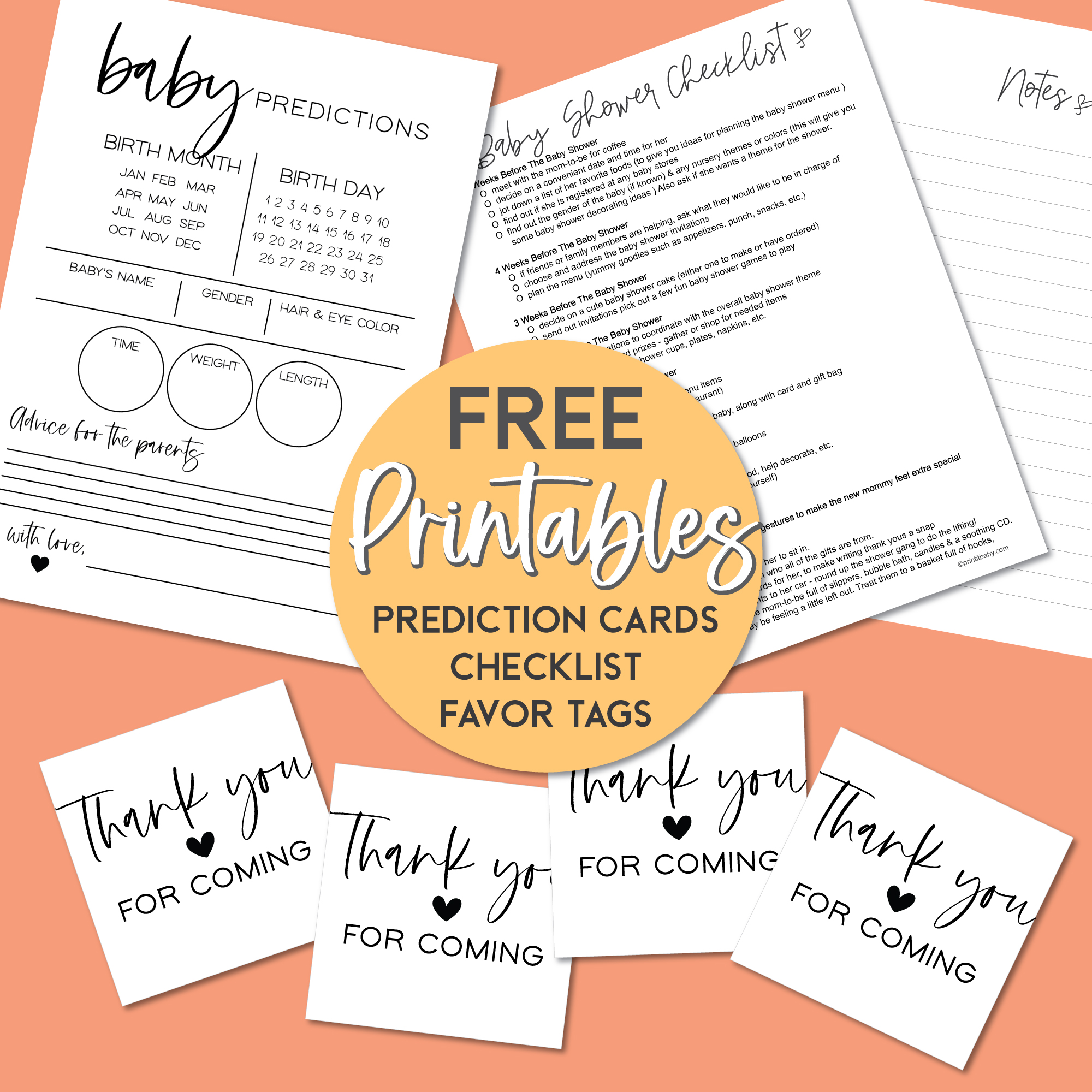 GRAB YOUR FREE PRINTABLES HERE
---
DIY, Moon Baby Shower Cake - with cute animals and a sleeping baby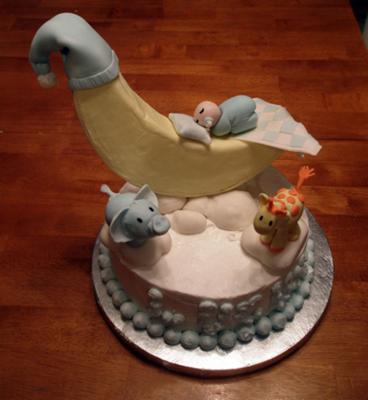 Baby Animals and Moon Cake - Ideas for moon and star cakes
Submitted By: Amy Savage from Rockford, MI
2nd Place Winner in our Baby Shower Cake Contest!

Cake - Duncan Hines Lemon w/ Lemon icing (out of can) used for filling.
Wilton butter cream icing covering cake.
Moon - is Styrofoam circle cut to moon shape and covered with yellow fondant mixed with white gum paste.
Baby, Giraffe, & Elephant are all gum paste and fondant blend and hand modeled to shapes.
---
Beautiful Twinkle, Twinkle Little Star Balloon Arch With Moon & Star Balloons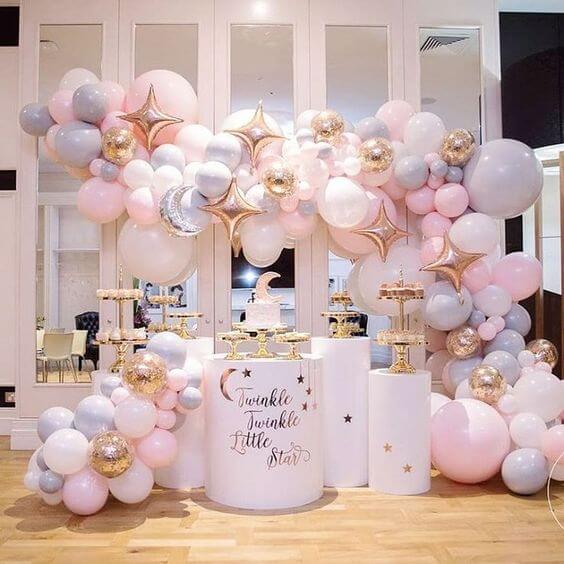 (img source: pinterest - original source unknown)
This is one of the fanciest party decorations I have ever seen! It is so pretty, that I knew I must share it with you.
This is truly a masterpiece! Hopefully, if you love it too, it will inspire you to create something similar for your baby shower or birthday party.
There are balloon garland / arch supplies you can buy that will help you get this same look.
I actually bought this same balloon kit and, surprisingly, it wasn't that hard to do at all. (of course I forgot to take pictures of it!) I was skeptical and thought I would just get frustrated and end up throwing it away, but the balloon arch actually turned out super cute!
---
Baby On The Moon Cake
Sweet Baby On the Moon Cake - Ideas for moon and star cakes
by: Livia Sendrea Van Heusen 
(Schenectady NY)

Strawberry cake with vanilla whipped icing.
Bake the cake, frost, and carve with a knife in shape of pillows cover with marshmallow fondant.

The topper is hand made from gum paste and can be saved a long time.

Stars made from fondant and glued to the pillows, baby bottle made from fondant too.


---
Baby Sleeping On The Moon Cake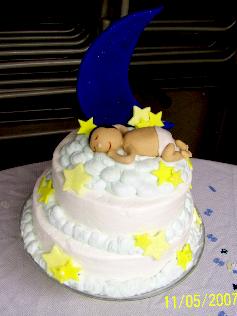 Moon and Stars Baby Shower Cake - Ideas for moon and star cakes
by: Rebekah Springer 
(Aberdeen, Washington)
I made this for a friend of mine, and had free reign over the design of the cake. It is one of my favorites.

I used a 2-layer 10" white cake with raspberry filling and a 2-layer 8" chocolate with raspberry filling. 

I made the baby out of fondant, painting on closed eyes, a mouth and black hair with watered down food color gel and let dry for several days.

I made the moon and stars out of colored fondant and covered in edible glitter. I made the moon quite a bit thicker than the stars to 
help it keep stabilized. I glued a wooden dowel on the moon with royal icing to stick it down into the cake. These also dried for a few days.

I frosted the cakes in white butter cream and piped on a very light blue cloud border and a large cloud on top in the middle. 

I put the baby on the cloud using wooden dowels to keep him from sinking into the butter cream cloud, and I placed the stars here and there and put the moon on last piping some "clouds" around the base to help keep stable.


---

"I Love You To The Moon & Back"
Moon & Star Baby Shower Decorating Ideas to Make Your Planning Easier


The "I Love You To The Moon & Back" has become a popular phrase that can be found on all kinds of things like jewelry, t-shirts and wall art!
It also makes the perfect theme for a baby shower! To make your planning easier, I made a cute little printable for you to frame and put on the gift or food table at the shower.
---
Sweet Dreams Moon & Stars Baby Shower Cake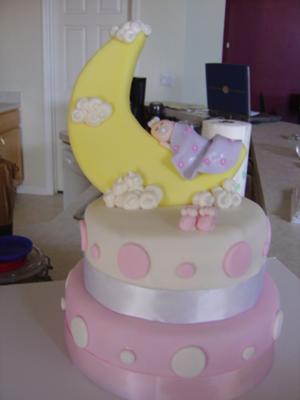 by: Kristienne Bottorf 
(Orlando, Fl.)
Sweet Dreams Moon Cake
Ideas for moon and star cakes

This Sweet Dreams Moon Cake was for my friend's baby shower. It was my first baby shower cake. 

I had So much fun doing it!

Sweet Dreams was the theme. Its an 8" and a 6" cake. They're covered in fondant and then stacked. The moon was made from rice krispies. 
I molded them to the shape of the moon then let it set. I iced it then covered it in fondant. The baby & booties are also made from fondant. She loved it!
---
Snoopy Moon & Stars Cake
Ideas for moon and star cakes - by: Junebug and Jenny, Moreno Valley, CA 
This Snoopy Themed Cake is a 3 tier round cake that we made in Wilton's 2" performance pan set 6", 10", 14" that I bought from Michael's craft store.

After baking and frosting we covered each tier in white marshmallow fondant.

After covering we then stacked the cakes using pvc pipe as dowels from home depot because they are thicker & will support the cake better than the small thin wooden dowels.
Once the cake is stacked we then added all of the moons and big stars which we made from gum paste by adding Wilton's gum-tex to the marshmallow fondant & colored with Wilton gel color rolled out then cut out with cutters from Wilton's 101 cutter set & small stars are from Wilton's fondant cut-out set.

The babies name was cut out of gum paste with letter cutters also from Wilton's 101 set.
We rolled out the gum paste but kept it thick enough to look like block letters. The baby blue ribbon around each tier was made from marshmallow fondant that I measured with a ruler then cut out with a pizza cutter.


The snoopy cake topper is a snoopy mold we bought on eBay that we greased & filled with white gum paste.
I let it sit in there for about 10 mins to set then took it out of the mold & let dry all the way through for about 30 hours then hand painted the eyes, nose, ears, mouth & collar with a thin paint brush & Wilton's black gel color.
---
Punch/cut out paper stars and moons from card stock or scrapbook paper and tape to string to make cute garland, food picks and favor tags.

Cut sandwiches into moon and star shapes using cookie cutters.
Make frosted sugar cookies and cut them into moon and star shapes.
You can also make yummy Rice Krispies treats and cut them into moon and star shapes.

You can use scrapbook paper in so many creative ways! Cut into strips and secure around cylinder glass vases (add flowers or candy to the vases)
Wrap strips around water bottles for instant water bottle labels - apply a strip of clear packaging tape to the labels to make them waterproof.
Punch out circles to make confetti
Use scrapbook paper as place mats or to place food dishes on
Make name tags, favor tags and gift tags




Printable Star Clipart Decorations 


We whipped up some printable star graphics that you can add to toothpicks, lollipop stick, etc. and poke into cupcakes and food dishes!
Another cute way to use these little star is to make mini garland! print out several and attach them to a string using mini clothespins - string across a cake, table or doorway!
---
FREE Printable Moon Clip Art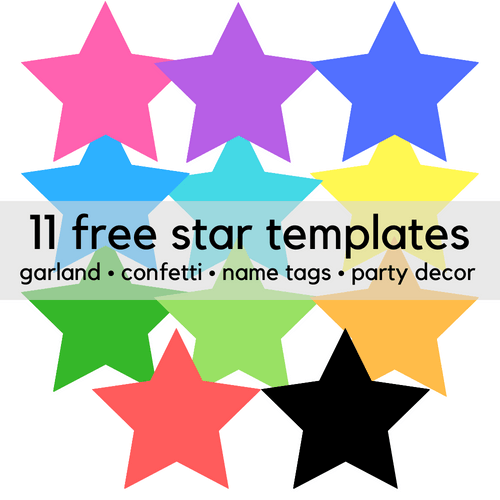 Click the button below to grab your FREE printable moon and stars template clip art to use for decorations.

Return From Moon and Star Cakes -
Back to Main Baby Shower Cake Index
Get Ideas For Baby Shower Favors


FREE PRINTABLE BABY PREDICTIONS CARDS