She's About To Pop Baby Shower Favors & Prize Ideas

This theme has really taken on a life of its own! It is so much fun to plan a "About To Pop" baby shower because the creative possibilities are endless!
(Be sure to read below - I designed some free favor tags for you!) Start out by giving away a "Movie Gift Basket" to one of the big baby shower prize winners!

See where to get these "About To Pop" baby shower balloons
---
printable "Pop it when she pops" baby shower favor tags
---
A Fabulous DIY Popcorn Bar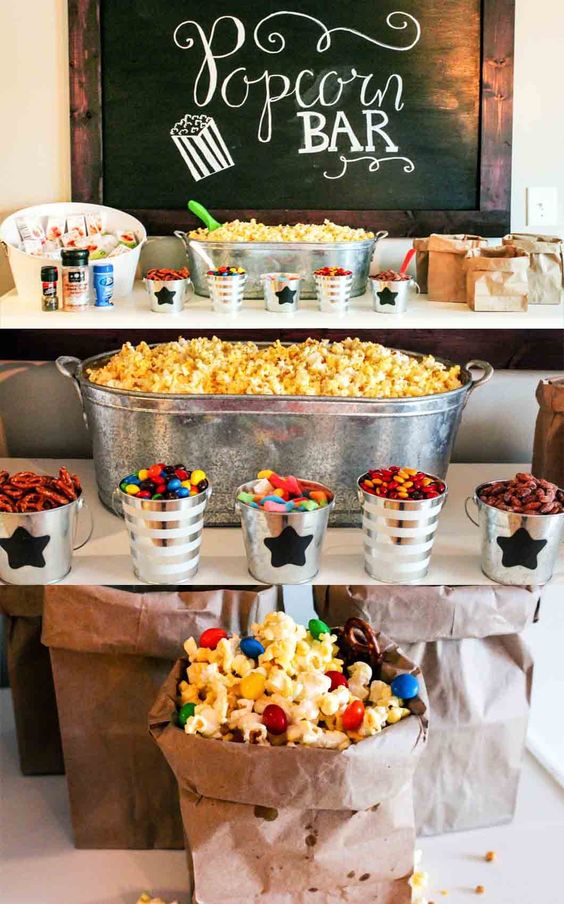 Holy moly! Isn't this just the most clever idea you have ever seen!?
Talk about creative - easy - and best of all ... affordable! Let guests scoop up a bag of yummy popcorn and add all of their favorite ad-ins!
Ideas for your Popcorn Bar:
Any kind of chocolate! The saltiness of the popcorn and the sweet chocolate are pretty much the best combination ever! 

M&M's, 

Rolos, Milk Dud's, Mini Snickers, Junior Mints, Reese's Pieces, chocolate chips, toffee chips

Pretzels

Nuts

Gummy Candy

Sprinkles

Caramel Sauce & chocolate sauce

Mini Marshmallows
Popcorn toppings - cheese powder, salt, pepper, garlic salt, etc.
You can have paper bags or popcorn tubs for guests to fill up and take home as baby shower favors!
...let your imagination run wild!
---
Popcorn Favor Boxes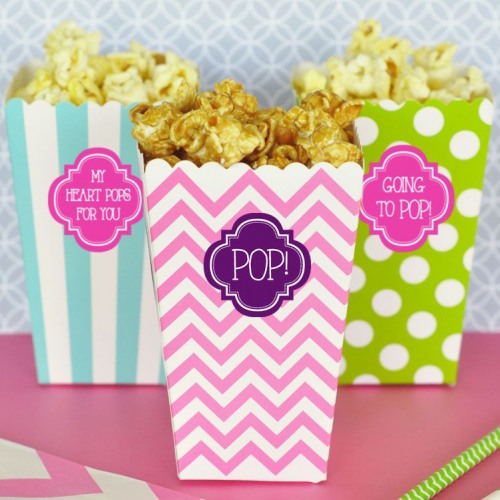 see where to get these cute popcorn holders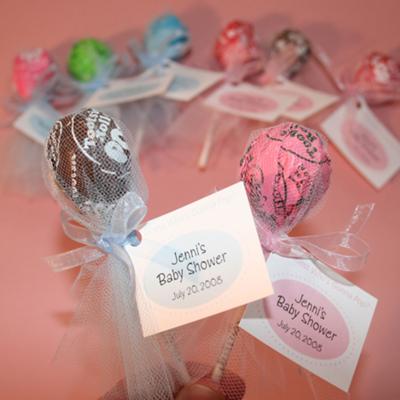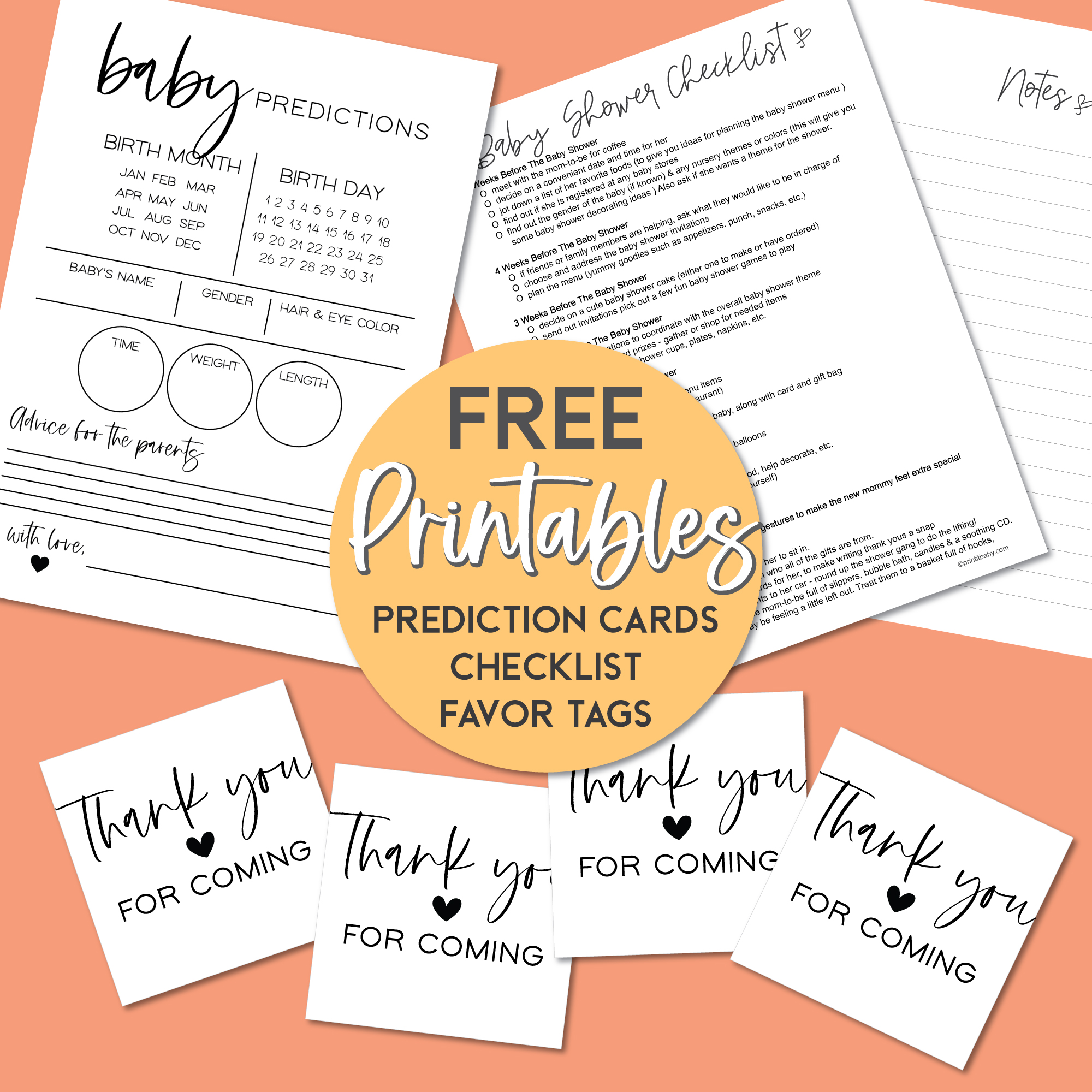 GRAB YOUR FREE PRINTABLES HERE

Another cute idea that was submitted by one of our readers, Erin was:

"I bought Tootsie Pop Lollipops and covered them with tulle and attached a gift favor tag with ribbon that read Look Who's Gonna Pop!
I also included the mommy to be name and the date of the baby shower. You can also do "Guess Who's Gonna Pop?" They were easy to make and affordable"

This is such a great idea! A way to add to this would be to buy a Styrofoam cone (tree shaped) and spray paint it to match the color of the baby shower theme.
After it is dry, poke lollipops into the tree and add to the food table. Add a cute sign saying (mom's name) Lolli"POP" tree!

To add to this even more, mark the bottom of one or two of the lollipop sticks before inserting them into the tree.
When guests arrive have each guest pick a lollipop. The ones who grab the colored stick lollipops win a prize!
Comments for She's About to Pop Baby Shower Favors and Prize Ideas:
She's About to Pop Ideas 

by: Anonymous

I went to a baby shower where they served:

• Packages of Pop Rocks

• Izze Natural Soda (pop) in the cute glass bottles

• There were several cute bowls full of all different kinds of gourmet POPcorn (caramel corn, white chocolate drizzle popcorn, kettle corn, etc.)

• The favors were bright colorful bottles of nail polish that had cute favor tags saying "Here is a POP of Color For You"

I love this baby shower theme - it really lets you get creative and have fun with the planning!
This theme is so much fun!
by: Anonymous

I recently threw a baby shower for my best friend Lauren and she wanted the "About to Pop" theme!

She actually found this site and referred me to it. I bought the cute About to Pop theme pack and it was wonderful!

Everyone loved all of the decorations, games and favors/prizes!

We also played a fun game where I handed everyone a piece of Hubba Bubba bubblegum and we had a bubble blowing contest! Whoever blew the biggest bubble won an old fashioned popcorn maker.

My best friend loved the shower and I just wanted to take a minute to say thank you for all of the cute ideas!
Editor's Note (Amy):

For baby shower decorations you can have several balloons floating around with cute tags attached to them saying "POP"

Have a large cylinder glass vase filled with colorful gumballs and include a scoop and little bags for guests to scoop out gumballs and fill their bag to take home as a favor! This is a great idea if children are attending the baby shower!

You can also take the same gum ball idea and put colorful flowers into the
vase! The gumballs make them so much cuter! Only don't let guests eat them ;)

Serve a large bowl of popcorn with M&M's mixed in with it.
---
More Fun She's About To POP Ideas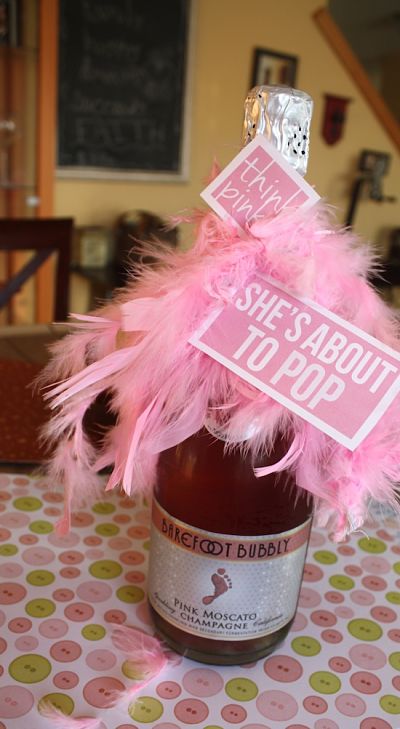 We have a ton of favor tag ideas and designs (including more "She's About To POP" designs.)
The first picture above is a fun baby shower prize or favor idea - take a regular sized bottle of champagne, add some feathers or any embellishments to it - (this is a pink feather boa from a craft store) - print out these favor tags and add them to the bottle!
Guests will love receiving this as a prize or favor!
The 2nd idea is to print off these mini champagne labels onto sticker paper - wrap around mini bottles of champagne and you have instant baby shower favors! Tie a cute striped or polka dot straw to each one to jazz them up a bit!
---
FREE Printable "About To Pop" Favor Tags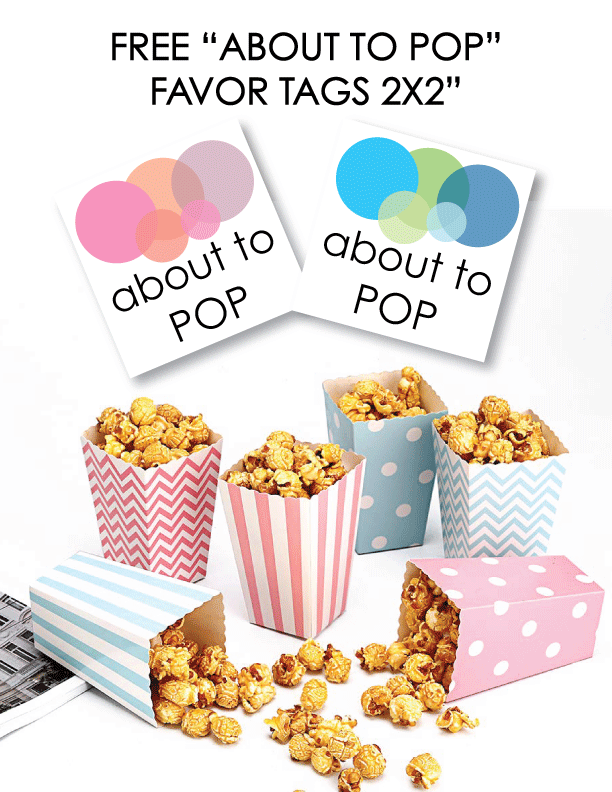 FREE PRINTABLE BABY PREDICTIONS CARDS