DIY Cloth Diaper Cake

This unique and adorable cloth diaper cake was made by Jackie from Kansas City, Missouri. Below are her instructions for making this cute masterpiece!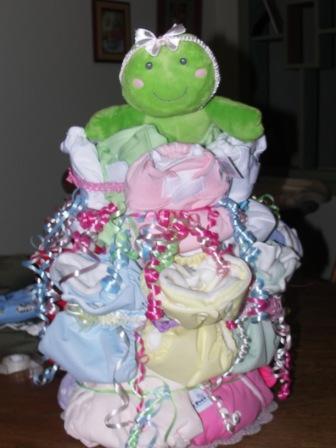 How To Make Cloth Diaper Cake


• When making this diaper cake, I used a big round colored gift cylinder (you can find cylinder shaped gift boxes at party stores or card shops.)
• Then I put large rubber bands around the container
• Next, Roll the inserts for the diapers and fasten them to the rubber bands.

• Then used a larger band and placed the fuzzi bunz and bum genius diapers over the inserts. Tie all together with curly ribbon.

• In the cylinder I placed a wet bag and lemon scented diaper crystals

• On top of the cake I placed a little frog with wearing a cloth diaper I found at a gift shop.
• Around some of the diapers I place little girl hair ribbons.
• This cake has 18 cloth diapers with inserts.

Additional Diaper Baby Shower Ideas & Cloth Diaper Cake Ideas
Some other things you could add are booties, bibs, pacifiers, socks, rattles and lotions.

You could also fill the cylinder with baby goodies such as onesies, bath supplies, nail clippers, etc.

This is a wonderful gift for a mom-to-be that is concerned with using disposable diapers. Very earth friendly!
Easy, DIY Washcloth Flower Bouquets

Source: DisneyBaby.com
If you are looking for cute and unique baby shower decorations that also make a great baby gift, this is perfect!
All you need are:
8-10 soft baby washcloths (per bouquet)
8 1/2 x 11" scrapbook paper
scissors
tape
cute ribbon (optional)
free paper paper cone template (click to open and print)
Download and print off as many free paper cone templates as you need. Cut out, roll and secure with tape.
Roll each baby washcloth diagonally, secure with a small piece of clear tape.
Place 8-10 baby washcloths into each paper cone.
Tie ribbon around each cone (optional)
Place on tables for cute decorations and give them all to the new mom as a baby shower gift after the shower!
Other uses for our free paper cones are: fill with candies or bath bead, wrap cellophane around and tie at top with a ribbon. Give to each guest to take home as party favors! Don't forget to add one of our free baby shower favor tags!
Where would you like to go next?
Get creative baby shower game ideas
See tons of yummy baby shower punch recipes

---
Click the pic to grab this free printable of the popular "Guess the size of mommy's waist" game! Print, trim, pop into an 8x10" frame, place on a table with yarn and scissors - and you're all set! Have guests cut the yarn to the length they think will fit around mommy's belly! So fun!

---