Adorable & Crafty Baby Cakes -
You Must See! 
free printable baby shower bundle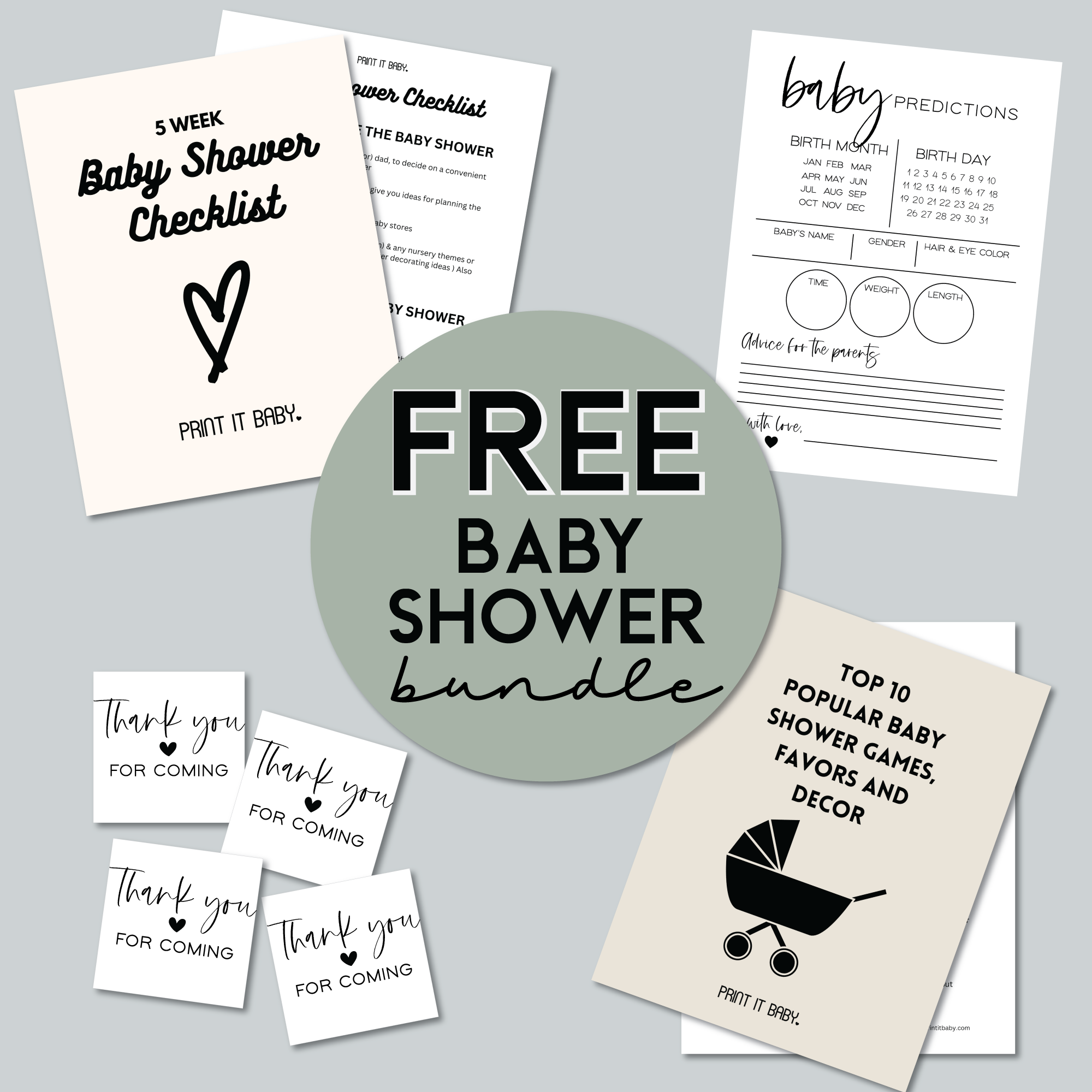 baby shower checklist • prediction cards • ebook • favor tags
---
free printable kids coloring christmas bundle - 100 pages!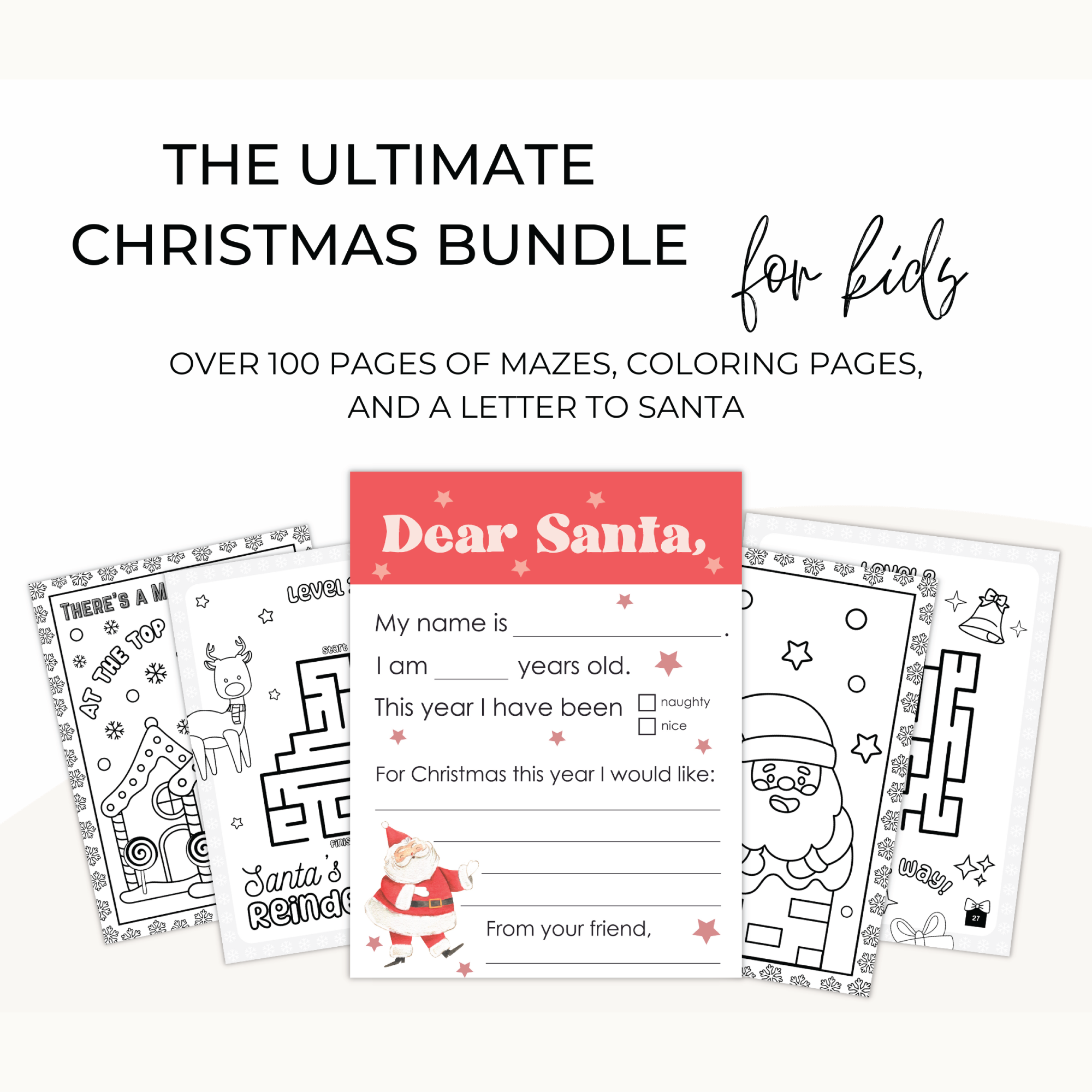 get your free coloring and activity pages
We've got gobs of cute baby cakes for you to see! You will find cakes with baby faces, babies in blankets, sleeping babies, you name it! If you are planning a baby shower and are looking for a traditional cake with a cute baby on it - then this is the place to be!
All of the cakes below have been submitted by our talented readers! Get inspired by all of the cute baby shower cakes and cupcakes!
You can get some great ideas to make the cake yourself, or you can take it to your favorite baker and see if they can create it for you! We also found some affordable and adorable baby cake supplies!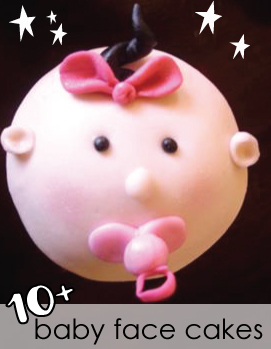 ---

Peek A Boo Baby Shower Cupcakes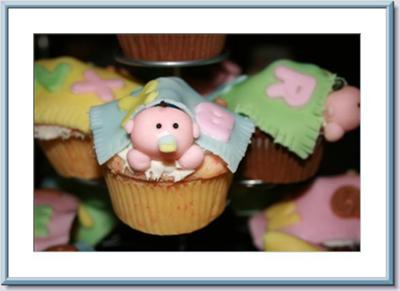 Baby Cakes Submitted by Tammy from Kelowna, BC, Canada
PURCHASE:
cupcake batter
icing sugar

Fondant:
Skin color (pale pink)
black
baby blue
yellow
*any other colors*
edible black pen
chocolate chips

NIGHT PRIOR TO SHOWER (or event)
Bake cupcakes in cupcake cups

SET UP:
- cup with water
- sm. paint brush
- lay out wax paper
- rolling pin
- flour
- clean pen cap
- knife
- ruler * or eye it*
- dowel or something to rest your creation on
- zip lock bags

NOTES: 
* roll on wax paper
* if fondant gets sticky brush a little bit of flour on work area.
* always put excess fondant in zip lock when not using it
* HAVE FUN!!!

TIME TO CREATE: (using one for example)
1) using skin color rolling to balls 1 = 3/4", 2 = size of peas (or smaller), 2 = very small oval type ones these are ears

2) take paint brush dab in water tap off excess water. paint small amount on bottom on the 3/4" ball attach the two pea shape balls (these are little arms), dab paint brush again, tap off excess water apply small amount of water on both sides of the lg. ball where ears would go

3) lay it against the dowel - so that its basically standing on its hands (work on the others)

*** make sure to put excess fondant into zip lock***

4) Using small amount of black fondant roll it out so that you have a thin string cut just a little more than 1cm. take it and make one single curl in the middle. take paint brush apply water to the top-middle of the lg ball and place curl.

5) *depending on sex of baby * in the picture provided my sister was expecting a boy therefore I took the baby blue fondant rolled it out flat. This is where the clean pen cap is VERY useful. cut out circles. place to the side.

6) roll out yellow (or any color you choose) into a thin string cut into little under 1cm. bend twice looking like a handle.(I know hard to handle but trust me it will be worth it)

7) take paint brush dab water on the circle your just cut out with the pen cap. Attach the handle to it... Now you have a mini pacifier.

8) Again dab water head where you want the pacifier to be(remember you haven't put the eyes on yet)

9) Take your edible black pen and just dot where you want the eye... there is no need to be fancy. 

*** welcome to the baby **** now he/she needs to sleep for the rest of the night in a safe place.

DAY OF SHOWER:

SET UP YOUR AREA AGAIN (have your cupcakes near by)

1) Apply icing to the tops of the cupcakes.

2) roll flat any color of fondant you wish. Cut a square that would just drap over the cupcake (approx 3.5" by 3.5") decorate the top as you wish (I put random letters)

3) The baby head will be dry now (how cute). Apply a gob of icing to the edge of the cupcake and gently snuggle the baby into it... clean up any icing that would have drooped in front of the baby. (baby now should stand there securely)

4) take chocolate chips and place about three behind baby ** just lay them there don't push them in** these represent the body.

5) take the square you just decorated, easiest gentle hold in the center of the square place it right behind the curl on the baby head. let it drape down. Baby should look as if he/she is peeking out through it.

**now you have a peek-a-boo baby **

NOTE: people find it difficult eating them - too cute
---
Adorable Baby Cakes Baby Face Girl Cupcakes


Submitted by Pam Cake Designs 
Chocolate Fudge Cupcake with Cream cheese filling + Soft Marshmallow Fondant
Instructions:
First mix chocolate cake recipe. Bake with cupcake liners. Then mix the cream cheese filling.  

While cupcakes are cooled down fill the inside of each cupcake with cream cheese filling. Start making the marshmallow fondant.  

Color them & make each individual piece of decoration. Be creative with the faces. I also applied pink edible petal dust at the end on the cheeks to give them those pinch-able cutie pie cheeks!!!  

So adorable & so yummy!
---
Popular Boy Baby Cakes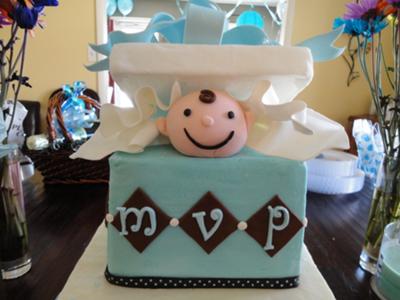 This is the perfect Baby Shower Cake for a Boy!

Baby Cakes Submitted by Jan from Tulsa, OK

It is a blue, white and chocolate brown, two tier cake for a baby shower. 

The cake is supposed to be gift boxes with top box open and baby peeking out.

Fondant decor, smooth butter cream background.

MVP are initials of baby-to-be in Tappit's funky alphabet letters.  

The gift box top is Styrofoam covered in fondant and topped with a gum paste bow that I dusted with pearl luster dust.  

The lid is held open by a wooden dowel toward the back inserted in the cake.  

The baby is also gum paste as are the sheets of 'paper' around the baby's face. 

The Bottom tier is a 9" square french vanilla with lemon curd filling and top tier 6" square chocolate cake with whipped chocolate panache filling. 

A fun cake for a very sweet mom-to-be.
---
Crying Baby Cake #1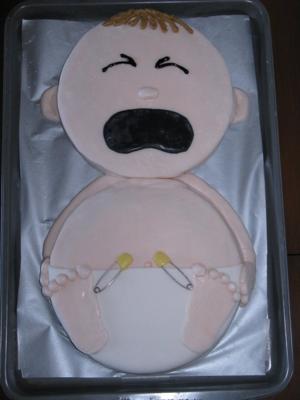 Submitted by Sharon from Halifax, Nova Scotia, Canada
For this "Crying Baby Face Cake" I made one 8" cake for the head and one 9" cake for the body. Then I covered them in butter cream.  

I covered each with flesh tone fondant. I then covered half the 9" with white fondant for the diaper. I cut out flesh colored feet with a cookie cutter and added toes.  

Then added real diaper pins and I poked a belly button. I made little arms and hands from fondant and attached them to the body.  

I then added ears and a nose to the head and made a crying mouth out of black fondant.  

I added the eyes and hair and then attached the head to the body.
---
Crying Baby Cake #2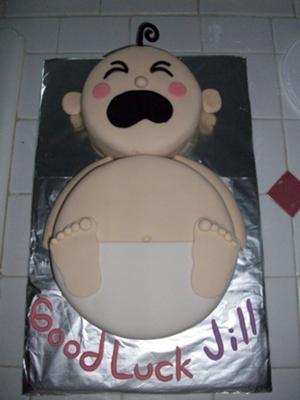 Submitted by Courtnay from Raleigh, NC
This cry baby cake is a 6 inch for the head and a 8 inch for the body.  

The arms are made from fondant.  

I've made it at least 4 times for baby showers.
The feet above were handcrafted, but you can easily make the feet by using silicone baby feet molds.
---

Yellow 2 Tier Moon & Stars Baby Cake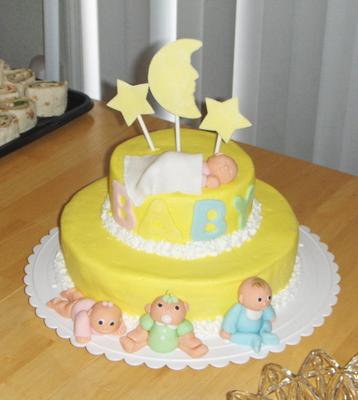 Submitted by Tricia from Columbia, MO
For this Sweet Dreams baby shower cake, I used 10" and 6" cakes.

The moon, stars and babies are all made of fondant. Poke lollipop sticks or wooden dowels in the bottom and allow to dry for a couple of days.  

The cakes are lemon-butter flavored with Strawberry filling.  

I used butter cream frosting, with a hint of almond extract, tinted sunshine yellow. 
---



Pink Sleeping Baby Cupcakes For A Girl Baby Shower




Submitted by Liz from Staten Island, NY
I made this Sleeping Beauty Baby Shower Cake for my nephew's first baby Sofia.  

I used yellow cake with pink food coloring and used pink butter cream. 

The sleeping baby is made out of fondant and I used a silicone mold. You can find them here.

I dressed the baby with a light pink, fondant diaper and a bow on her head. 

Everyone loved the cupcakes but were afraid to eat the baby because it was too precious. Many people saved it as a souvenir.
---
Pink & Yellow Sleeping Baby Cake


Submitted by Florence from Caracas, Estado Miranda, Venezuela
This is my grandmother's recipe, regular pound cake, with fresh sweet orange juice, orange peel and walnuts.  

No layers, other taste than the fresh orange flavor with walnuts, just a single layer cake. 

The baby shower cake decorations were made two days in advance.

I made a little baby, a baby blanket, mosaics, a rubber duck, a baby bathtub, etc. 

The day just before the baby shower I baked the cake and made the frosting. 

Since here in Venezuela, we are always in summer, sometimes the frosting does not stay as firm as I would like.
---
Precious Sleeping Baby With Baby Blanket Cake


Submitted by Norma from Glassboro, NJ
The cake is completely edible!

The bed is made out of vanilla cake and fresh strawberry and custard for filling and covered in white fondant.

The baby made with vanilla cake.

After carving the baby, I covered the baby with a flesh-colored fondant.

I made the blanket by cutting several squares of both color and paste them over a very thin rolled fondant and put it over the baby simulating a blanket.

Get the recipe for making homemade fondant.
---
Free Baby Shower Clip Art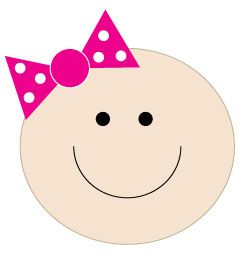 Visit Our Baby Shower Clip Art Page
There are so many creative ways to use our free baby clipart! It is a great way to save money while still throwing an adorable baby shower! We whipped up this fun baby clip art just for you! You can see more over at our free clipart page. There are bottles, signs, pacifiers and more!
Add the clip art to cards, sign-in sheets, signs, or banners


Use as favor tags, gift tags, or name tags


A cheap and easy favor idea is to bake round sugar cookies, frost a cream color, add eyes and a mouth with a cake decorators pen. Place each cookie into a cellophane bags, tie with a cute ribbon and attach a clip art favor tag thanking the guests for coming!


An easy baby shower cupcake or cake idea is to print onto card stock, cut out and adhere a wooden skewer. Poke into frosted cupcakes or a frosted cake. This is an easy way to cuten' up a cake without getting too fancy.


Another Idea is to use baby clip art as photo booth props. This has become extremely popular at parties. Enlarge baby related pictures such as baby bottles (which you can find on our clip art page), baby faces, pacifiers, hats, etc. Glue to a foam board and cut out.

This will give the picture a sturdy backing so it doesn't get bent during the party. Add a wooden dowel or stick to each prop and create a fun photo station that guests can pose at! You can also enlarge baby pictures of the expecting mom and use those as props.

Return From Baby Cakes ... Back to Main Baby Shower Cake Gallery
See All Of Our Discount Baby Shower Supplies
Learn How To Make A Diaper Cake
free pregnancy prompts for journaling - helps to reduce stress & anxiety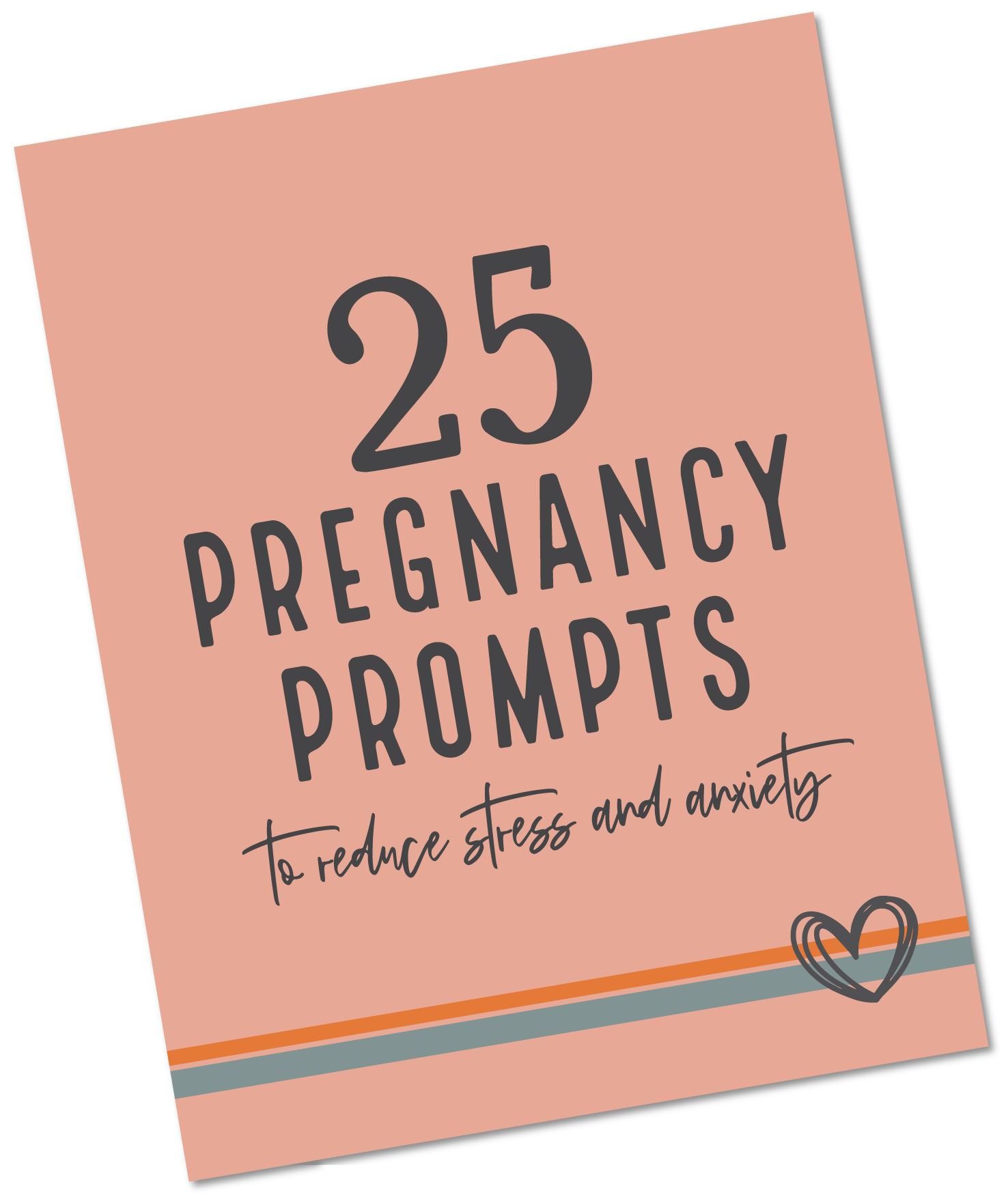 Reduce pregnancy stress with these helpful daily prompts for expecting moms