6  Baby Block Cake Ideas That Will Transform Your Baby Shower

Below are several "Baby Block Cake Ideas" submitted by our talented readers! If you are planning a "Baby Block-Themed Shower," there are a wide range of cakes from all skill levels - get inspired by all of the cute baby shower cakes and cupcakes!
The easiest way to make a "baby blocks cake" is to bake to 9x13" cakes and stack them on top of each other (shave off a thin piece of the top layer on both cakes to make the cake flat.) Cut into square shapes and frost with butter cream frosting. Add some marshmallow fondant and some fondant letters or numbers.
Get instructions for making easy (and yummy) marshmallow fondant
(it tastes so much better than traditional fondant)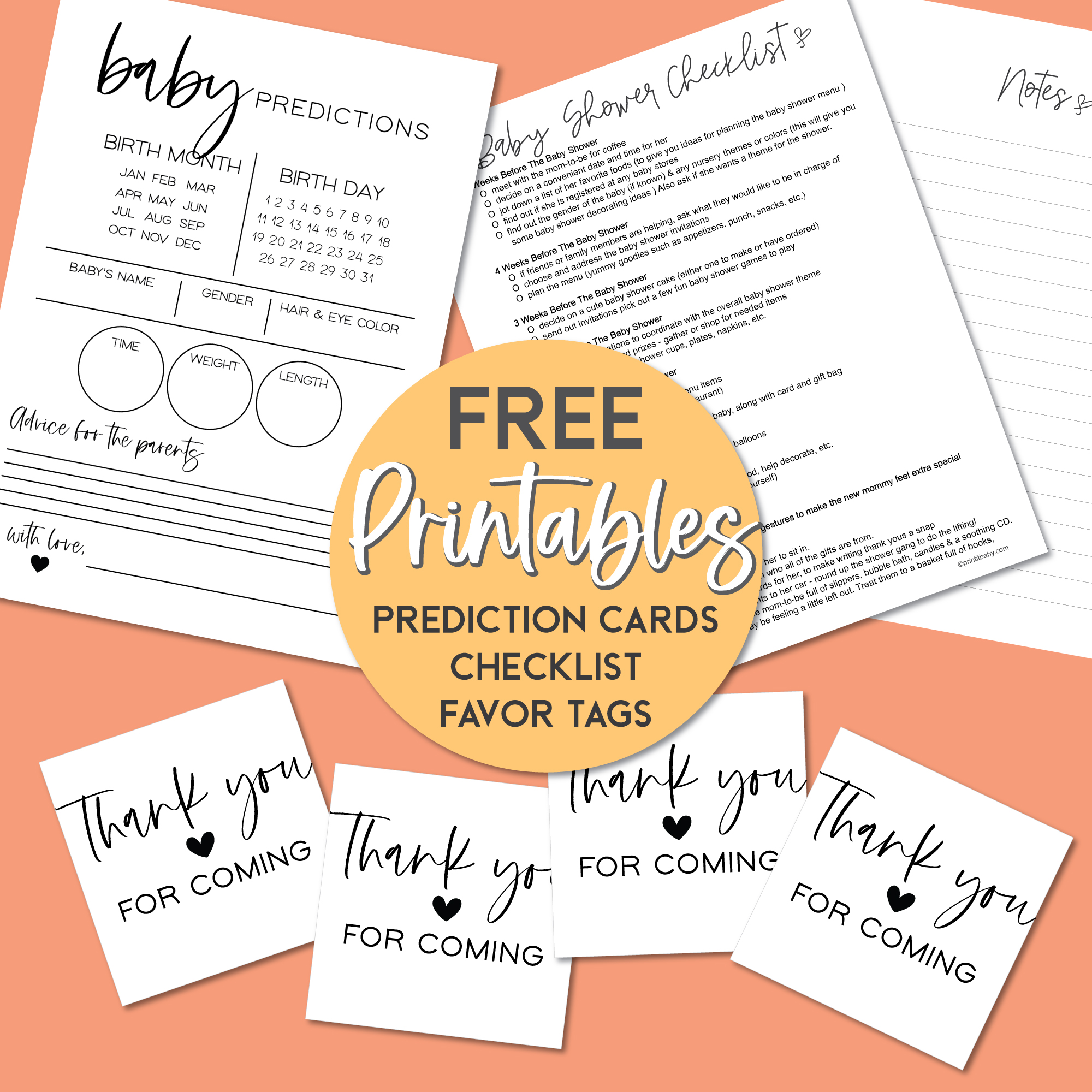 GRAB YOUR FREE PRINTABLES HERE
Creative Baby Block Cake Ideas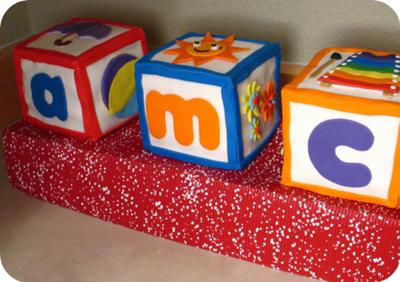 Submitted by Julia from Seattle, WA
This colorful baby blocks cake consists of 3 square cakes.

Each cake has three layers of chocolate cake with cocoa Swiss butter cream in between each layer.

Each of the square cakes were covered in white fondant and decorated with various baby-block like images which were also made out of fondant.
---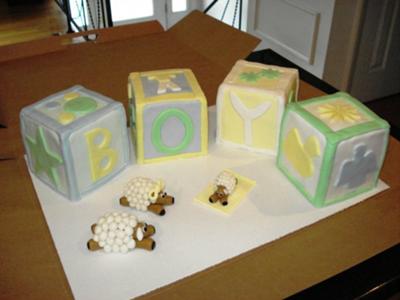 Submitted by Cricket from Charlotte Hall, MD
I made 2 double batter 11/13 Sheet cakes. I cut lengthwise and crosswise making 4 blocks. I filled each layer with raspberry buttercream. I frosted the outside with a thin layer of vanilla buttercream. The outside is vanilla fondant. The sheep are all fondant. Then each block was decorated and placed. I designed as went with an idea in mind. 
---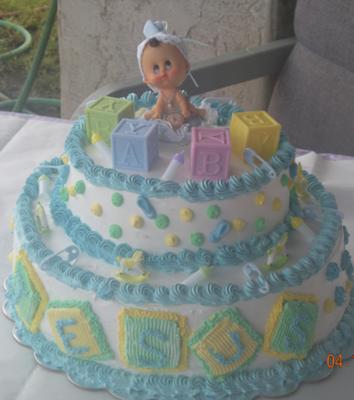 Submitted by Herlinda from Glendale, AZ
personalized baby boy 2 tier cake

The bottom of this baby boy cake is a 12 inch round cake, and the the top tier is a 6 inch round. both frosted with whip cream. the name was piped use the frosting x-large tip with the textured side. 

Added baby blocks and baby.
---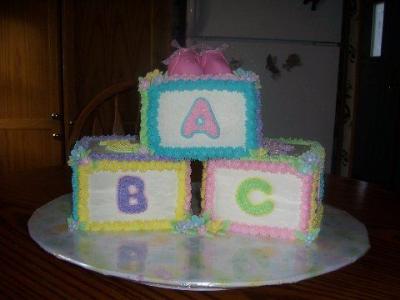 Submitted by Mary from Fletcher, NC
For this baby blocks cake:

I used the 6 X 2 inch square pans and stacked the cakes on top of each other to make blocks. Each block is about 6 X 4 1/2 in size and I used cookie cutters to make the impressions to make the letters and designs.

Each cake is on its own cake board, I decorated all the cakes first, leaving the lower border off the cake I wanted to sit on top the other black cakes, and then placed them in their place on the main cake board, I had my hubby cut a piece of plywood for the cake board to support the cakes they are heavy!!!... and I covered it in wrapping paper and then plastic wrap.

Once I got the cake to the site, I stacked the cake that's sitting on top, first I doweled the two cakes it would be sitting on with drinking straws cut to size,with two straws on each side, and then I carefully placed the cake on top, once I had it in place I used bamboo skewers on each side of the top cake stuck threw to the bottom cakes and cut to size to hold and support the cake from lean or falling, after I had it secured I then applied the bottom trim to the top cake.

Each cake is a different flavor. One is chocolate, one white and one strawberry. For the icing I used Cream Cheese flavored icing.

Here's the icing recipe I used: Cream Cheese Icing: Makes about 2 1/2 cups.. 1-package ( 8 ounces ) cream cheese,softened 1-tablespoon milk 1-teaspoon vanilla 4-cups powdered sugar Beat cream cheese, milk and vanilla in large bowl on low speed, until smooth. Gradually add in powdered sugar,1-cup at a time, until smooth and of spreading consistency.

For the fondant booties I used a template, and fondant icing to make them.
---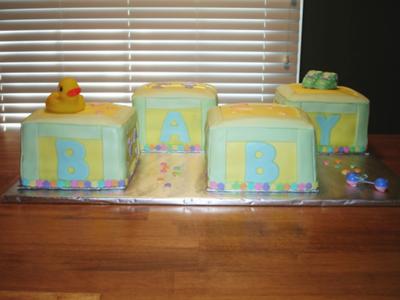 Submitted by Lani from Pittsburgh, PA
I baked four 8 inch square layer cakes (each cake had three layers) from scratch and iced them first with buttercream icing and then with fondant.  

The letters, numbers and shapes were done with cookie cutters.  

I used Wilton large confetti as a border for color.  

The shoes, rubber duck and baby rattle were purchased items that were included on the cake.  

The front of the cake read "BABY", while the back of the cake had the year the baby was born on it.
Comments:
Adorable Baby Blocks Cakes 
by: Anonymous 

This is so cute. I am wondering how many guests the cakes served. I know someone mentioned a large baby shower, but would it serve 25 people or so? What flavor cake batter did you use? Thank you.

Answer to question 
by: Lani E 

This cake was made to serve 80 people. It was three cake layers and was 6" high. I used drinking straws inserted into each cake (but you could use dowels) to keep the layers from shifting when I covered in with fondant. 
---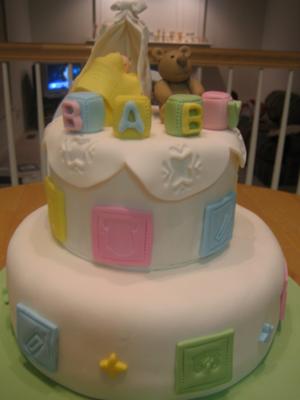 Submitted by Eufrasia-Audy from Ypsilanti, Michigan
A couple days before I baked the cake, I handmade the figurines (mix of fondant and gumpaste) of:

1. Baby in its cradle 
first I made an oval tubular shape for the base of the bed and bed skirt. the baby which is a teardrop shape for body and a ball shape for its head. I used a candy stick to hold the drappery which i made from gumpaste and stick a bow on the top of the drapery. baby quilts is thinly roll fondant and pressed with motif stamps.

2. Brown Bear
a teardrop shape for the body, sausage shapes for hands and legs, and I shaped a round with protuding nose for the head. two ears by pressing two small ball shapes. a small triangle shape for his nose.

3. Baby Blocks
four blocks and use a tracing wheel to make stitches at each sides of the blocks and stick a letter cutout to each block.

4. Rug
thin flower shape cutout and embosse each petal with the wilton flower embossing

5. Baby's stuff stamps on each square cutouts and outlined each side with the tracing wheel.

The cake itself is a basic yellow cake with swiss meringue buttercream and covered with satin ice fondant. The bottom is 9" round cake. The top is 6" round cake.
---
FREE Printable Baby Blocks For Cupcake Picks, Food Picks, Favor Tags, Invitations & Bookmarks

If the idea of baking your own cake frightens you, we have an easy (and cute) solution that we think you might like! Bake up a batch or 2 of yummy baby shower cupcakes and poke these cute baby blocks cupcake picks into each one!
Click on the baby blocks picture to download and print

We designed these baby blocks printables just for you and they are FREE of course! Simply click on the picture below to download, print onto white card stock, cut out, attach a lollipop stick or toothpick to each one, and poke into each little cupcake! You can also poke small holes into each block and hang from the ceiling using clear fishing line to make the perfect baby shower decor!
---
Cute Baby Blocks Idea

A reader submitted this cute idea - you can spell out the baby's name, if known, or spell the word baby. You could also visit your local craft store or go online and buy some cardboard square boxes. Spray paint them and draw letters and numbers onto each one. Stack them and use as baby shower decor!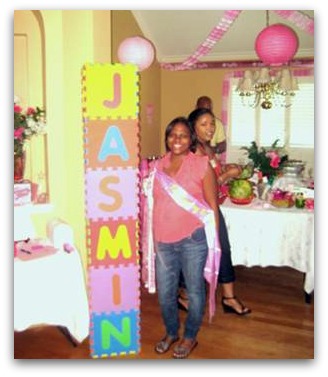 Where would you like to go next:
Return From Baby Block Cake Ideas - Back to Cake Gallery
See Our Top Picks For Baby Shower Invitations
Visit Our Baby Shower Theme Page
FREE PRINTABLE BABY PREDICTIONS CARDS