The Cutest Animal
Baby Shower Cakes

---
BABY SHOWER EBOOK:
PRINTABLE BABY SHOWER HOSTESS SURVIVAL GUIDE
---
Cute cakes that are perfect for a baby shower! There are animals of all kinds - elephants, lions, frogs ... oh my! Jungle baby shower cakes seem to be the most popular! If you are planning an "Animal-Themed Baby Shower" - we've got some adorable animal cakes for you to see!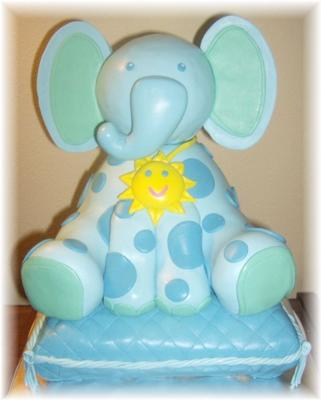 To take the animal baby shower theme a step further, you could also serve Goldfish crackers, animal cookies and Swedish Fish


Cut sandwiches into animal shapes using animal cookie cutters


Make animal-shaped sugar cookies and serve as snacks or bundle them up and give them away to guests as a baby shower favor. Use the FREE printable jungle elephant tags (below) as favor tags for the cookies


Have stuffed animals displayed throughout the room of the shower. Hanging from plants, rope, etc
The baby shower animal cakes below have been submitted by our amazingly talented readers (like you!) Get inspired by all of the cute cakes!
DIY Animal Baby Shower Cakes


Tip: Instead of making an elaborate baby shower cake, you can opt for making cute cupcakes and poking a simple cupcake pick into the top of each one! And then pop them into  cute cupcake wrappers! Same level of cuteness, only much simpler!
---

Free Printable Elephant Clipart And Favor Tags

Print these cute elephants out from your home computer and use to decorate the baby shower! Click on the picture to print and get ideas for using them.
---

Printable Baby Animal Game


This popular baby shower game has guests matching the momma animals to their baby names. We designed this fun Elephant Baby Animal Game in 4 colors to match any baby shower theme. This game is an instant download and can be found over at our printable site. 
Where would you like to go next:
---
Click the pic to grab this free printable of the popular "Guess the size of mommy's waist" game! Print, trim, pop into an 8x10" frame, place on a table with yarn and scissors - and you're all set! Have guests cut the yarn to the length they think will fit around mommy's belly! So fun!

---