The Perfect Baby
Boy Shower Theme
Little Man Mustache Party Ideas

If you are planning a baby boy shower for a little guy, then I suggest you take a peek at this adorable "Little Man Mustache Baby Shower!"
The creativity that went into this celebration is sure to give you gobs of inspiration when planning your boy baby shower!
This baby shower was styled by the talented Mary Beth of Nothing But Country!
Baby Boy Shower
Little man mustaches are so popular right now and they bring a fun and playful vibe to the shower!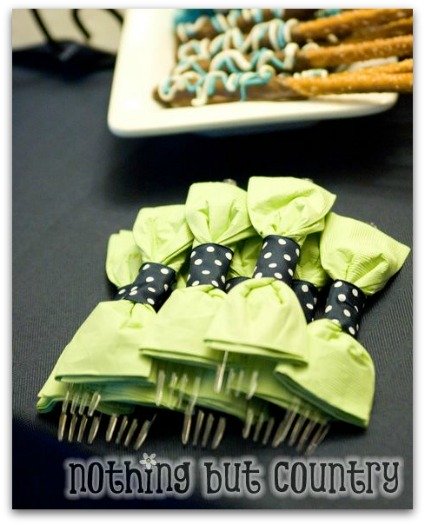 These cute bow tie napkins are my favorite part of this whole baby shower! I think it is the creativity and simpleness of them! This proves that cute doesn't have to be hard!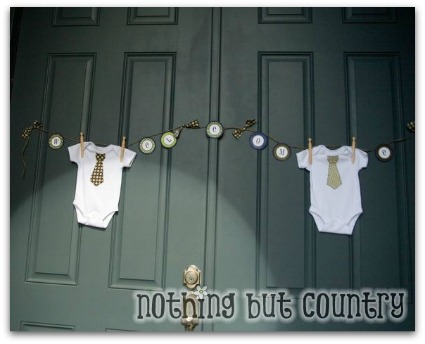 What a festive way to greet guests as they come through the door! A welcome banner along with little man onesies! You can find little man tie appliques for ironing onto shirts at most craft stores. Hobby Lobby has them!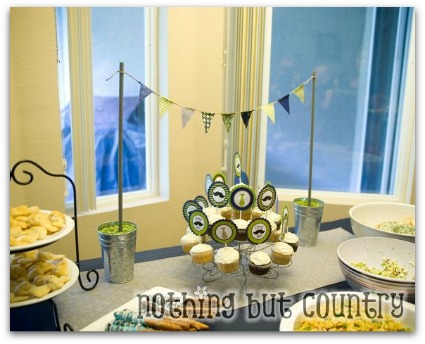 The mini pennant banner is displayed in such a cute way! You could use empty soup cans (even wrap them in scrapbook paper if you want), fill with colored pebbles and poke skewers into them! For the pennant, simply cut small triangles out of scrapbook paper that matches the baby shower for a boy theme! What a wonderful food table!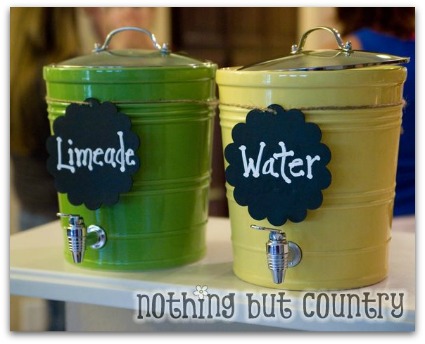 So clever! What a great way to serve drinks! Look at how she used chalkboard labels to write the names of the beverages on! There are so many wonderful, refreshing drinks you can make - Make healthy fruit-infused water by adding slices of fresh strawberries, limes, oranges and/or lemons to regular water! This tastes delicious and has no calories! Cucumber water tastes great too! We also have tons of great baby shower punch recipes!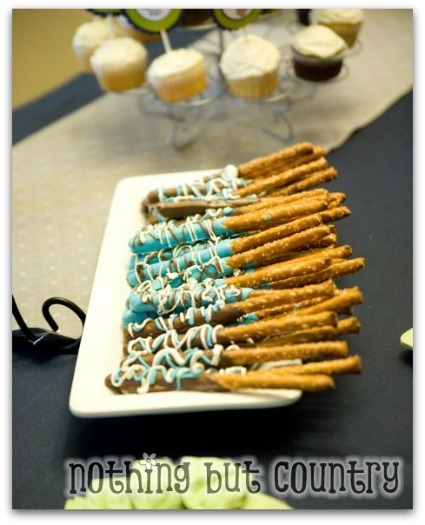 Chocolate covered pretzels are an easy way to make a wonderful impression! Simply dip pretzel rods (or any kind of pretzel) into melted chocolate (you can tint white chocolate with food coloring to match your color scheme) - sprinkle with colored sugar and let dry on waxed paper! So delicious!
Cute little cloth bow ties for the guests to wear at the shower - and also a great baby shower favor to take home!
Baby Boy Shower
Again, a huge thank you to Mary Beth from Nothing But Country! Your adorable ideas are so inspiring and I know they will help baby shower hostesses create the cutest baby shower ever!
Printable Mustache Themed - Pass The Prize Baby Shower Game - From Our Shop

---
Click on the picture for another cute "Little Man" baby shower!

---

Click on the picture to visit our Baby Shower Corsage Page and grab our FREE baby shower corsage tags!
Return from Baby Boy Shower Ideas ... See More Cute Shower Themes
Plan Your Baby Shower Menu - Top Baby Shower Recipes
See Some Crafty DIY Baby Shower Craft Ideas