10+ Of The Best Boy Baby Shower Ideas - You Must See!

Hosting A Boy Baby Shower? If a boy is on the way, we all know that blue is the universal color for little boys - but don't feel like you have to go with the masses! We have come up with all kinds of fun ideas to welcome a new little guy into the world! This page is overflowing with baby boy cuteness!

---

Clever Snack & Favors Ideas For A Boy Baby Shower


How To Make Nutter Butter Babies
If you are looking for the cutest and tastiest baby shower food to serve, look no further my friend! These are adorable and super simple to make. Go to your local grocery store and scoop up some:
Nutter Butters
White Candy Melts
Blue food coloring (or pink for a girl - or any color to match your theme)
Mini chocolate chips.
Melt the chocolate in the microwave according to package directions. Add food coloring, stir, and dip the ends of each cookie into the colored chocolate.
Add the mini chocolate chips for the eyes. Lay on waxed paper or tin foil to dry.
Serve on a platter for guests to enjoy at the baby shower, or bundle them up in cellophane bags and give as baby shower favors! The perfect baby shower treat!
The best food coloring in the entire world is Wilton Icing Colors - produces such vibrant colors and you only have to use a tiny bit, which makes it last forever.
---
Easy DIY Popcorn Favors
Another easy baby shower favor or snack idea is this popular popcorn favor idea! They are super simple to make:
pop some popcorn
package into cellophane bags
add a cute ribbon and a favor tag that says "Ready To Pop!" Or "She's About To Pop!" 
Visit our "She's About To Pop" baby shower ideas page - we made some FREE printable tags that would be perfect for this favor idea!


---

Baby Boy Shower Gift Ideas
Qooble Silicone Placemat and Tray for Babies
I saw Whoopi talking about this on The View the other day and thought it was so cool! And it makes a wonderful and practical baby shower gift! The silicone material keeps everything in place so you will no longer have spilled plates and bowls. And it's cute and easy to clean!


Free Printable Baby Boy Nursery Decor
I designed this free printable wall art to cut down on the costs of your planning! Simply print, trim and place in a picture frame! Place on the counter at the baby shower for a cute decoration - then give it to the mom-to-be to decorate her nursery!


---
There are "diaper and wipes" baby showers too - sometimes mom's with more than one child already have all of the baby gear needed - and just want the necessities such as diapers. Be sure to play the Diaper Raffle Game if you decide to host a diapers and wipes shower!

Fill a cute basket with "everything boy!" Onesies, socks, blankets, rattles, clothes and stuffed animals, trucks, a personalized soft blanket, a big blue piggy bank, or a hooded baby bath towel.

Be sure to hop over to our "Baby Shower Gifts" page! It is overflowing with handmade baby shower gift ideas, cute gift sets, baby basket ideas and more! Check out this "FREE printable baby nursery sign!"


---
Boy Baby Shower Decorations

First ask the mom-to-be if she is doing her nursery in a certain color scheme. There are so many fun and stylish patterns and color combos in stores today! Boring boys themes have been jazzed up and are so cute!

If the expecting mommy has a certain theme in mind, jot down her ideas and thoughts.

Decorate with color coordinated plates and napkins and supplies. Target is my go-to store for finding the cutest baby shower supplies! They have the cutest boy baby shower plates, napkins, cups, balloons and banners! If you don't have a Target near you and love to shop online - You can never go wrong with Amazon! 
More cute and easy boy baby shower decorating ideas:
Fill empty baby food jars (labels removed) with colorful jelly bellies and place a tea lite on top
Sprinkle counter tops with baby-themed confetti in boy colors (found at craft stores)
Float colorful balloons all around - my new favorite way to use balloons are to sprinkle confetti inside before blowing them up. For a boy baby shower, use clear balloons and sprinkle in blue confetti - or whatever color matches your baby shower theme.


---
Baby Boy Shower Favors - Baby Shower Ideas For Boys On A Budget
Hand out cute hand soaps, bath salts or bath beads


Blueberry scented decorative candles


Bundle tea bags in organza pouches and include a favor tag saying "A baby is brewing!" - or hand out coffee cup with $5 coffee cards in them (I do this for baby shower prizes for the game winners)


Make a batch of yummy sugar cookies, cut into cute airplane shapes. Frost with blue frosting, wrap in some cute bags and tie with a blue ribbon.


Package up some jelly bellies in an organza bag and attach a cute "babies are sweet - take a treat" tag


---
Boy Baby Shower Games
Baby shower games are always fun. One of the oldest games is the toilet paper game. Have each guest to pull off the amount of tissue they think will perfectly fit around the pregnant mom. The one closest to the measurement wins. 

There's the clothes pin game. Give everyone one clothes pin. Pick a "word" that if the word is said out loud the person that first hears the word can steal the pin. Normally it's words like "baby" or similar. Make it a word that will be centered around having a baby, so it will be hard to not say it. At the end, the person with the most pins win.
There's the baby items on a tray game. Put some random baby items on a small tray, like pacifier, diaper, thermometer, baby spoon, etc, and pass the tray around. Put the tray away and have everyone write down the items that were on the tray. The person that got all the items right wins.

Be sure to have a few good baby shower prizes and gifts for the winners of the games. Things like scented lotions, candles, costume jewelry, etc makes good 'shower winner' gifts. Just place them in a gift bag with tissue paper to make it festive.
---


Unique Boy Baby Shower Themes & Ideas
We have several pages of cute boy-themed baby showers! Click on the pictures below to take a peek!

Going With A "Ships Ahoy, It's A Boy Theme?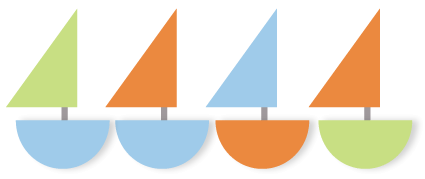 We made some FREE printable boat decorations for you! Click on the picture and scroll to the bottom of the page to open and print.
---
Baby Shower Menu Ideas
Serve up some yummy blue punch and place little plastic duckies in the bowl


Serve blue jelly bellies and gumdrops in cute dishes


Dip big pretzel rods into white chocolate and sprinkle with blue sprinkles


Dip Oreo's into blue tinted white chocolate


Dip mini pretzels into blue tinted white chocolate


Have finger foods such as little sandwiches, melon balls, cookies, mints, nuts, chips or party mix, displayed on another table along with paper plates, plastic forks and napkins to match the shower theme. Have a big bowl of fruit punch (in the mom's favorite flavor) for the drink. You can offer bottled water on ice too for those who may prefer water.


Below is a scrumptious baby shower treat to make - you can alter the colors to match any cute theme or color scheme. Click on the picture to see more.




Jodie, from Party NV made these cuties